Blaze[1] is the boss of Dead Line in Sonic the Hedgehog's storyline and the seventh boss of Sonic Rush in said scenario. She is encountered after clearing Dead Line Act 2, and is fought with Sonic the Hedgehog.
Boss guide
Like other boss battles in Sonic Rush, the battle against Blaze is fought on an linear plaform that the player cannot fall off, but is unable to perform the Super Boost/Fire Boost on. The entire battle takes place in a 2.5D perspective, except for the final part where the camera shifts perspective depending on which character is winning, with Eggman Nega hovering in the background in his Egg Mobile.
When fighting Blaze, Sonic can walk into Blaze without talking damage, although he will get slightly repelled when touching her this way. In battle, the player's best option is to avoid Blaze's attacks and hit her with an Spin Jump or Spin Dash while she walks around or is standing still, which is when Blaze has finished an attack or is not actively making any movement. At times though, Blaze will jump backwards to avoid Sonic's attacks. Also, as Blaze's Health Gauge is depleted, Blaze will start utilizing more attacks. The attack patterns exhibited by Blaze over the course of most of the boss battle include the following:
Blaze will perform a simple Axel Jump into the air and land safely on the ground. Attacking Blaze while she is performing the Axel Jump will only slightly repel Sonic away from her without either character taking damage. The player's best option is to dodge this attack and wait for Blaze to land and then attack her themselves
Blaze will rev up in one place and launch a Burst Dash about two seconds later. If Sonic gets rammed by Blaze while she is twirling around as a tornado, he will take damage. However, the attack can be avoid by jumping over Blaze as she rolls forward. While Blaze is revving up, she will be invulnerable to damage and bounce Sonic away from her if he attacks her. The player's best option is to wait for Blaze to launch the Burst Dash, dodge it, and then attack her when she stands up.
Blaze will Axel Jump into the air before starting to hover in midair while emitting fire. Blaze will then begin locking onto Sonic's position before trying to launch herself into Sonic at high speed. Getting hit when Blaze launches herself will damage Sonic. Furthermore, the attack cannot be interrupted. However, the attack can be avoided if the player moves away just as it is launched. Once Blaze is standing upright on the ground after landing, she will be open to attack.
Blaze will jump into the air and float while creating a fire pillar on the group that stretches up to the top of the screen and lasts for little over a second. Touching the pillar in any way will damage Sonic. However, the player can predict where the fire pillar will emerge from by spotting the immobile and harmless fire circles that appear beneath Sonic. A few seconds after creating the fire pillar, Blaze will then begin creating a new one. This pillar maneuver can be performed up to four times in a row. The player's best option is to watch where Blaze's fire pillars will emerge and get away from them, while keeping themselves from getting backed into a corner by sequential pillars. After finishing with the fire pillars, Blaze will then either fall down on the ground or home in on Sonic, leaving her open to attack.
When Blaze is down to her last hit point, a small cutscene will play. Afterward, Sonic and Blaze will charge up their respective boost maneuvers and ram into each other, trying to push each other off the platform. When this happens, a Real-Time Interaction will appear on the screen that tells the player to rapidly press

and

. If done correctly, Sonic will slowly push Blaze towards her respective edge on the platform and eventually send her flying off of it, ending the boss battle in the player's victory. The player can see they are winning when the white flashes that appear are mostly toward the opposing character. If the player fails this Real-time Interaction, however, they will lose this boss battle, regardless of Rings they have on them.
Music
Name
Artist(s)
Length
Music Track
"Vela Nova"
Composed by: Hideki Naganuma
Arranged by: Hideki Naganuma
2:08
"Vela-Nova (Part 2)"
Composed by: Hideki Naganuma
Arranged by: Hideki Naganuma
0:36
Video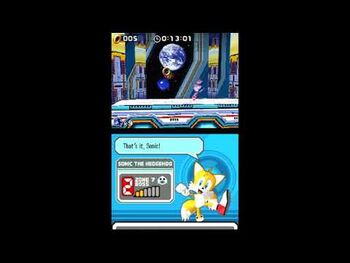 See also
References
---
Main article | Staff | Script (Sonic, Blaze, Extra) | Glitches | Gallery
Playable characters
Sonic (Super Sonic) | Blaze (Burning Blaze)
Non-playable characters
Tails | Knuckles | Amy | Cream | Cheese | Vanilla | Dr. Eggman | Dr. Eggman Nega | Animals (Camel, Cat, Elephant, Gorilla, Koala, Kangaroo, Lion, Mole, Monkey, Parrot, Peacock, Penguin, Rabbit, Robin, Seal, Skunk, Flicky, Ricky, Pocky, Wocky)
Stages
Leaf Storm | Water Palace | Mirage Road | Night Carnival | Huge Crisis | Altitude Limit | Dead Line | Unknown | Exception | Special Stage
Enemies
Battle Flapper | Bomb Hawk | Cannon Flapper | Egg Bishop | Egg Diver | Egg Hammer | Egg Pawn | Egg Pawn (spear) | Egg Pawn Bunny | Egg Pawn Manager (gun) | Egg Pawn Manager (SF gun) | Falco | Flapper | Gun Hunter | Klagen | Laser Flapper | Rhino Spring | Solid Pawn
Bosses
Egg Hammer Mega | Egg Turtle | Egg Scarab | Egg Libra | Egg Hammer Fortress | Egg Eagle | Sonic/Blaze | Egg King | Egg Salamander
Moves/Techniques
Axel Jump | Axel Tornado | Boost Mode | Burning Fire Boost | Burst Dash | Burst Hover | Fire Boost | Grinding | Homing Attack | Hop Jump | Humming Top | Jump Dash | Jump Step | Scroll Screen | Spin Attack | Spin Dash | Spin Jump | Super Boost | Super Sonic Boost | Trick Action
Gimmicks and obstacles
Bungee Rope | Cannon | Checkpoint Marker | Dash Panel | Dash Rail | Dash Ring | Giant Waterwheel | Grind Rail | Hang Glider | High-speed warp tube | Jump Panel | Rainbow Ring | Special Generator | Spring | Spring Pole | Switch | Winding Rope | Zip Line
Items
Air Bubble | Chaos Emerald | Floating Item Box | Goal Ring | Item Box (5 Ring Bonus, Attract, Barrier, Confusion, Invincible, Magnetic Barrier, Max Tension Bonus, Max Tension Bonus (multiplayer), Random Ring Bonus, Slow, Tension Bonus) | Ring | Sol Emerald
English voice actors
Jason Griffith (Sonic) | Mike Pollock (Eggman, Eggman Nega) | Amy Palant (Tails) | Rebecca Honig (Cream) | Bella Hudson (Blaze)
Japanese voice actors
Jun'ichi Kanemaru (Sonic) | Chikao Ōtsuka (Eggman, Eggman Nega) | Ryo Hirohashi (Tails) | Sayaka Aoki (Cream) | Nao Takamori (Blaze)
Music
Songs
A New Day | Right There, Ride On | Back 2 Back | Ethno Circus | Ska Cha Cha | Jeh Jeh Rocket | Get Edgy | What U Need | Metal Scratchin' | Vela Nova | Bomber Barbara | Wrapped in Black | Raisin' Me Up
Albums
Original Groove Rush
Other
Blaze's world | Corkscrew loop | Health Gauge | Rank | Real-Time Interaction | Shuttle loop | Time Attack | Tension Gauge
Community content is available under
CC-BY-SA
unless otherwise noted.