For other uses of the term, see Big Arm (disambiguation).
Big Arm (ビッグアーム[1], Biggu Āmu?), or Big Arms,[2] is a vehicle that appears in the Sonic the Hedgehog series. It is a modified, combat-oriented Egg Mobile created by Dr. Robotnik. The vehicle was used by its creator to defend his Death Egg during its first re-launch from Angel Island.
Description
Appearance
Big Arm is a heavily armored, egg-shaped Egg Mobile. Significantly modified compared to the regular Egg Mobile, it possesses two giant mechanical arms on the sides. These arms are gray with red shoulders, wrists and finger joints. It also possesses a windshield and a red canopy with gray spikes on top of it, and two small red thrusters on its back.
Modern depictions of Big Arm depict it with retractable spikes on its forearms, red shoulder disks, and red plating on top of its fingers and knuckles.
Powers and abilities
Big Arm is able to hover or fly through the air using the thrusters on its back. Its arms also give this vehicle the ability to grab its opponents and throw them into the ground with lethal force, enough to harm even Super Sonic in Sonic the Hedgehog 3.
History
Sonic the Hedgehog 3 & Knuckles
In Sonic the Hedgehog 3, when Sonic the Hedgehog got onboard the Death Egg during its first re-launch from Angel Island, Dr. Robotnik returned to defeat Sonic using excessive force (which meant using Big Arm and other vehicles to fight Sonic). However, that force proved to be Robotnik's undoing. As Sonic defeated Big Arm, the Death Egg succumbed to the damage Sonic's fight with Robotnik had inflicted on it, causing it to crash-land on Angel Island once more.[3]
Battle
Big Arm is the last of three bosses fought in Launch Base Zone Act 2. It is the final boss of Sonic the Hedgehog 3, and the fourteenth boss in Knuckles' story mode in Sonic the Hedgehog 3 & Knuckles.
In Sonic the Hedgehog 3, Big Arm is fought with Sonic or Tails. In Sonic the Hedgehog 3 & Knuckles, it is fought by Knuckles directly after defeating the Beam Rocket.
Boss guide
After defeating the previous two of Dr. Robotnik's vehicles, the doctor uses his last vehicle, which he flies to pick up from the Death Egg. At that moment, the sky changes to a darker tone as Dr. Robotnik flies down to the arena and the climatic battle begins. Because it has spikes on the top of its cockpit and wide arms below, Big Arm has a limited amount of space where it can be safely attacked. Additionally, with its two big hands, Big Arm can grab the players, rolling them into a ball and slamming them down. Normally, the player's only real chance to attack this boss is when it swoops across the screen. The player must use a well-placed Spin Attack to attack the cockpit; too high and the character will hit the spikes, too low and they will be grabbed by the hands. While playing the standalone Sonic the Hedgehog 3, using the Insta-Shield is an effective tactic for Sonic.
It takes eight hits to destroy this vehicle, after which Big Arm will be destroyed, and Eggman with the Egg Mobile will fall from the arena. The explosions from Big Arm will start to affect the Death Egg itself and the (arena along with Sonic/Tails) will be detached from the space station. The player will see the destruction of Death Egg in the background, thus ending the first part of Sonic the Hedgehog 3, and the game will then progress to the end credits.
If Sonic the Hedgehog 3 is locked on to Sonic & Knuckles (in the form of Sonic the Hedgehog 3 & Knuckles), Sonic and Tails do not fight this boss, and the Death Egg will instead fall like it is supposed to, but then Sonic and/or Tails will enter Mushroom Hill Zone. However, if the player is playing as Knuckles, he will still have to fight this boss vehicle, which will be piloted by EggRobo. Because Knuckles' story takes place after Sonic and Tails' adventure, the battle will take place on a different arena at the end of the second Act. The sky will not turn dark after destroying Eggrobo's first vehicle, but the battle will be more challenging for Knuckles due to his low jumping abilities. Despite this, however, the boss fight is easier due to its modified attack patterns.
Music
In other media
Sonic the Comic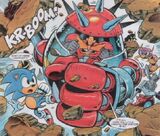 In Sonic the Comic, Dr. Robotnik pilots the machine, here referred to as the "Squeeze Tag Machine", when he invades Sonic's Secret Underground Base in Emerald Hill Zone. The "Squeeze Tag Machine" is built so solidly that Sonic cannot damage it. Luckily, he is helped by Knuckles, who cracks the small windscreen with a punch, weakening it enough for Sonic to tear the top of the machine off.
Archie Comics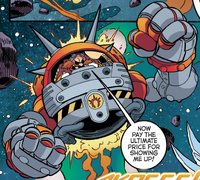 In the Sonic the Hedgehog comic series and its spin-offs published by Archie Comics, Big Arm appeared in Sonic the Hedgehog #276, where it is piloted by Dr. Eggman in his effort to rescue Metal Sonic from the Distant Abyss Zone.
Trivia
If Big Arm grabs Super Sonic, the character will lose their Rings, and thus lose their Super State. However, if it grabs Super/Hyper Knuckles, it will create a Spring sound effect and Super/Hyper Knuckles will not lose any Rings.

This makes Big Arm the first boss that is capable of harming Super Sonic.

If a character is in their Super or Hyper form, they will be able to damage Big Arm when it comes down to sweep across the platform. This can also be done without transforming, requiring a well timed Spin Dash.
When playing Sonic the Hedgehog 3 & Knuckles, this boss fight doesn't appear if playing as Sonic and/or Tails, and the player will move on to Mushroom Hill Zone.
The music heard during the battle against Big Arm is reused for the battle against Mecha Sonic in the Sky Sanctuary Zone during Knuckles's playthrough and the battle against the final boss of Sonic & Knuckles.
Gallery
References
---
Main articles (Sonic 3, Sonic & Knuckles, Sonic 3 & Knuckles, Sonic & Knuckles Collection) | Staff (Sonic 3, Sonic & Knuckles, Sonic & Knuckles Collection) | Manuals (Sonic 3, Sonic & Knuckles) | Glitches (Sonic 3, Sonic 3 & Knuckles, Sonic & Knuckles Collection) | Beta elements (Sonic 3, Sonic & Knuckles, Sonic 3 & Knuckles) | Galleries (Sonic 3, Sonic & Knuckles, Sonic & Knuckles Collection)
Playable characters
Sonic (Super Sonic, Hyper Sonic) | Tails (Super Tails) | Knuckles (Super Knuckles, Hyper Knuckles)
Non-playable characters
Dr. Robotnik | Rock Drill | Mecha Sonic (Mecha Sonic's Super State) | Animals (Flicky (Flicky's Super State), Pocky, Pecky, Cucky, Ricky, Rocky)
Badniks
Batbot | Blaster | Blastoid (Carnival Night Zone) | Blastoid (Hydrocity Zone) | Bloominator | Bubbles | Bugernaut | Butterdroid | Catakiller, Jr. | Chainspike | Clamer | Cluckoid | Corkey | Dragonfly | EggRobo | Fireworm | Flybot767 | Hyudoro | Iwamodoki | Jawz | Madmole | Mantis | Mega Chopper | Monkey Dude | Mushmeanie | Orbinaut | Penguinator | Pointdexter | RhinoBot | Ribot | Rock'n | Sandworm | Skorp | Snale Blaster | Spikebonker | Spiker | Star Pointer | Technosqueek | Toxomister | Turbo Spiker
Zones
Sonic 3
Angel Island Zone | Hydrocity Zone | Marble Garden Zone | Carnival Night Zone | IceCap Zone | Launch Base Zone | Special Stages | Bonus Stages
Sonic & Knuckles
Mushroom Hill Zone | Flying Battery Zone | Sandopolis Zone | Lava Reef Zone | Hidden Palace Zone | Sky Sanctuary Zone | Death Egg Zone | The Doomsday Zone | Special Stages | Bonus Stages
Competition
Azure Lake Zone | Balloon Park Zone | Chrome Gadget Zone | Desert Palace Zone | Endless Mine Zone
Bosses
Sub-bosses
Doctor Robotnik's Flame Craft | Doctor Robotnik's Whirlpool Machine | Tunnelbot | Self D-Struct Machine | Iceball | Swing'm Spikez | Hei Hou | Gapsule | Barrier Eggman | Guardian | Heat Arms | Egg Mobile-H | Flying Eggman | Red Eye | Death Ball
Zone bosses
Doctor Robotnik's Flame Craft | Doctor Robotnik's Waterspout and Depth Charge Machine | Doctor Robotnik's Jet Drill Pod | Doctor Robotnik's Energy Ship | Doctor Robotnik's Freeze-O-Matic | Ball Shooter | Beam Rocket | Big Arm | Jet Mobile | Hang Mobile | Egg Golem | Hot Mobile | Knuckles | Mecha Sonic | Mecha Sonic's Super State | Great Eggman Robo | Final Weapon
Moves/Techniques
Bound Jump | Crouch | Double Jump | Fireball Spin Dash | Glide | Gliding Knuckles Attack | Hyper Flash | Insta-Shield | Propeller Flying | Spin Attack | Spin Dash | Spin Jump | Wall Climb
Items
Air Bubble | Balloon | Banana | Bomb | Booster | Bumper | Bumper wall | Cannon | Capsule | Change | Chaos Emerald | Cloud | Continue | Fan | Jump Stand | Monitor (Water Shield, Flame Shield, Invincibility, Lightning Shield, Super Ring, Super Shoes, Extra Life, S, Eggman) | Movable box | Mushroom | Pulley | Ring | Signpost | Self-Propelled Bomb | Slow-Down Shoes | Snowboard | Sphere | Spikes | Spring | Spinning Top | Star Post (Star Circle) | Super Emerald | Switch | Transport | Vine | Zip Line
Other
Barrel | Conveyor Belt | Corkscrew loop | Crusher | Death Egg | Debug Mode | Fireball Cannon | Flipper | Floating Island | Flywheel | Freeze | Giant spear | Goal | Gravity Control Switch | Gumball | High-speed elevator | High-speed warp tube | Icicle | Iron ball | Jewel Radar | Perfect Bonus | Platform-raising Wheel | Pole Elevator | Relief | Reverse | Ring Shooter | Seesaw | Shuttle loop | Slot machine | Snowblower | Sonic & Knuckles • Sonic the Hedgehog 3 | Strange Relief | Time Attack | Tornado | Warp Point | Winding Tunnel | "Wonderman"
Community content is available under
CC-BY-SA
unless otherwise noted.