Raise a Floppa - The Loop
Play Sound
For other uses of the term, see Beat (disambiguation).
Beat is the main protagonist of Sega's Jet Set Radio/Jet Grind Radio series. He is a seventeen-year-old, laid back, and level headed "Rudie" that loves to skate and is okay with breaking the law. He is originally from the town of Fukuoka, and ran away from home like many other Japanese Rudies, where he befriended Gum and Tab.
Appearance
Beat is a seventeen year old boy with auburn hair and peach-tan skin. He wears a yellow t-shirt with his name written in orange Japanese print on it, which also has a green collar and green sleeves. He also wears a brown belt and black gloves. His goggles are green with darker green wavelength designs, similar to a radio. He wears a pair of greenish-tan headphones, black jeans, and orange, green, and yellow roller skates.
In Sonic & Sega All-Stars Racing, Beat appears wearing his Jet Set Radio Future styled outfit. Unlike his original, he wears a pair of drill-like headphones, blue shades, a neon green shirt with neon blue Japanese text that reads his name, bigger black gloves, a black belt, black jeans, and neon blue and green roller skates.
Game appearances
Sonic Adventure 2
In Sonic Adventure 2, Beat appears as a cameo character, alongside Gum and Professor K. Mostly in the City Escape levels, multiple identical posters with the characters on them can be seen throughout, mostly on walls and billboards.
Sega All-Stars series
Sega Superstars Tennis
In Sega Superstars Tennis, Beat and one of his close friends from the GGs, Gum, appear as playable characters. Their designs are taken from the original Jet Set Radio. His tennis racket is red, green, and yellow, just like his color scheme. On the court, Beat will skate across and hit the ball on his side when it gets near. His ability type is Speed.
Beat's Superstar move has Combo, a member of the GG's who is always carrying around a boom box, grind on the net of the tennis court while spray painting on the opponent's side. The paint trips up Beat's opponent, and distracts them from the game.
In the Nintendo DS version, Beat dances a little and when the player hits the ball back, it will make a squared zig-zag pattern.
Sonic & Sega All-Stars Racing
In Sonic & Sega All-Stars Racing, Beat makes an appearance as a playable character, and is the only playable character from the Jet Set Radio series. In this game, he takes on his Jet Set Radio Future appearance, wearing blue shades and drill-like headphones, while having neon-green and blue colors.
Beat is an unlockable character in the game, and costs around $12500 Sega Miles (an in-game currency).
Beat drives the De La Custom GGs, a vehicle customized and built by him and his two rudie friends, Tab and Gum. The vehicle is orange and has the Jet Set Radio Future logo icon on the front of his car. In the back, there are several radio-like boxes with what appears to be lights resembling those of Christmas lights, but only green and pink.
Beat's All-Star Move is titled Tag Jamming, which allows him to hop out of his vehicle and skate himself across the racetrack. Doing so, he pulls out his spray can and begins spraying racing opponents which blinds them with several graffiti icons and logos. During the All-Star Move, the song Jet Set Groove 3 from Jet Set Radio Future plays in the background.
Beat also appears as one of the required playable characters during several Missions. His missions in the console versions are Graffiti Speed Star!, Jet Set Slide!, Tokyo-To Cup, and Tokyo-To Show!. His missions in the Nintendo DS version include 2 Beats per Minute, Hit 'N' Miss, and Jump to the Beat.
Based on his in-game profile, Beat's favorite hobby, other than art and graffiti, is breakdancing, which he does at the end of each race, if he wins 1st place, or if he wins 1st in a Grand Prix.
Sonic & All-Stars Racing Transformed
In Sonic & All-Stars Racing Transformed, his vehicle, the De La Custom GGs gets replaced by a quad bike presumably made for the streets, with styling after himself, his gang, the GGs and his game's titular radio station, Jet Set Radio. Being that the main focus in this game, aside from racing is transformations, his bike does transform. As a boat it looks strange, with the wheels being replaced by skis, like a snowmobile, but instead of treads that complete this 'snowmobile', there are a set of propellers at the back, thus making it a jet ski, or a Seadoo. Its jet mode is a hover bike, with flipped up wheels and two small propturbo engines. In this game, his design is taken from Jet Set Radio.
During his All-Star Move, Beat's vehicle will change from whatever mode it's currently in and change into plane mode. Several radios will surround Beat's vehicle when he uses the All-Star's ability, which will cause racers to slow down and slide off-track, similar to a Hot Rod. During the All-Star Move, several red, green, and yellow music notes will surround the lower part of his vehicle as he dashes past his opponents. The song "Grace 'N' Glory" plays in the background.
Sonic Forces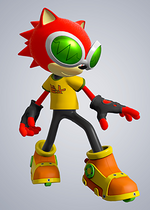 In Sonic Forces, Beat himself does not make a physical appearance. However, his iconic and standard outfit does. His Costume parts can either be purchased with real money, or can be received as bonus content from selective versions of the game. His outfit (alongside NiGHTS, AiAi, and others) can be equipped to the customizable Avatar.
The outfit includes his orange and yellow t-shirt, his black headphones, green and orange-colored roller skates, green goggles/glasses, black pants, and black gloves. Most of the costume's pieces can be equipped separately, like most other Costume parts.
SEGA Heroes
In SEGA Heroes, Beat appears as a supporting protagonist in the Campaign mode. He eventually joins Amy, Death Adder, AiAi, Blaze Fielding, and some other heroes in their quest to stop Dremagen from conquering the universe. During their mission, Beat develops a small friendship with Big the Cat. Beat compliments Big several times, including his height and his fishing abilities. However, because of Beat's figurative tone, Big does not understand Beat's compliments. Beat later gives compliments to AiAi, telling him the idea of traveling around in a ball is quite "cool."
Beat was a red rare hero that was playable exclusively in Beyondering. Achieving 25 Beat shards would unlock the character, and he would be a playable character in selective modes. Beat was released to the game on 15 October 2018, alongside several other Jet Set Radio characters.
Skill Name
Skill Type
Icon
Reagents
Description
Effects
Theater of Sound
MAX
Star Charm
"Beat makes his mark on the battlefield, covering everything with a stylish green and blue mist."

Restores x health to the team.
Creates 2 Green and 2 Blue Star tiles.

Beat This
Star
Ember Vial
"Beat sprays his signature on an enemy."

Deals x Physical damage and creates a Blue Star tile.

Smooth Moves
Passive
Ruby Band
"Beat skates across the battlefield, every move making him stronger."
Sonic Colors: Ultimate
In Sonic Colors: Ultimate, Beat makes a cameo appearance in in the "Jet Grind Radio" player icon that can be equipped in the Customize menu. Two other Jet Set Radio characters (Yo-Yo and Gum) appear in the background of Beat's icon, as silhouettes.
Personality
Beat is a punky, stylish, and persuasive level-headed "rudie" who likes to get into trouble and express himself through graffiti. Running away at a young age, Beat pursues his dreams and determines to express himself. Unlike other graffiti pinks, Beat is also charismatic, kind, loyal, and determinate. He also cares deeply for his gang, and his close friends, including Tab and Gum.
In other media
Archie Comics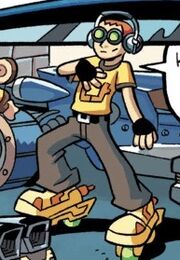 In the Sonic the Hedgehog comic series and its spin-offs published by Archie Comics, Beat appeared during the comics' adaptation of Sonic & All-Stars Racing Transformed. In the comics, Beat, alongside many other well-known Sega All-Stars, takes part in an inter-dimensional racing competition, alongside Danica Patrick. However, the race does not go according to plan, as Doctor Eggman ruins the race and takes out each of the racers one-by-one.
Trivia
Beat is one of the two main playable Jet Set Radio characters in the Sega All-Stars series, the other being Gum.
Beat's blue shades are available for purchase for the Xbox Live Avatar, which are included a part of the Sonic & Sega All-Stars Racing downloadable content.
In Sonic & All-Stars Racing Transformed, Beat is one of only five characters to drive an ATV, the others are Knuckles, Metal Sonic, Joe Musashi and Gum.
Beat is the only non-Sonic character to have a completely different design between games in the racing Sega Superstars games, having his Jet Set Radio Future design in Sonic & Sega All-Stars Racing, while in Sonic & All-Stars Racing Transformed, he has his original Jet Set Radio design.
Beat is the only Jet Set Radio character with a speaking role in the Campaign mode of SEGA Heroes.
External links
---
Main article | Staff | Glitches | Gallery
Playable
characters
Sonic characters
Sonic | Tails | Knuckles | Amy | Big | Dr. Eggman | Shadow | Metal Sonic
SEGA characters
AiAi | Akira Yuki | Alex Kidd | Amigo | B.D. Joe | Beat | Billy Hatcher | ChuBach | ChuBei | Chuih | ChuPea | Jacky Bryant | Ryo Hazuki | Ulala
Third party
Mii | Xbox Live Avatar
Tracks
Chao Cup
Whale Lagoon | Icicle Valley | Roulette Road | Sunshine Tour
Graffiti Cup
Shibuya Downtown | Outer Forest | Turbine Loop | Treetops
Egg Cup
Rampart Road | Dark Arsenal | Jump Parade | Pinball Highway
Horror Cup
Sewer Scrapes | Lost Palace | Sandy Drifts | Rokkaku Hill
Samba Cup
Rocky-Coaster | Highway Zero | Deadly Route | Ocean Ruin
Monkey Cup
Bingo Party | Lava Lair | Monkey Target | Thunder Deck
DLC
Egg Hangar
Moves/
Techniques
General
Drift | Hi-Speed Start | Trick
All-Star Moves
Emerald Power | Giant Froggy | Maximum Overdrive | Missile Madness | Piko Hammer | Super Shadow | Super Sonic | Tails Tornado | Tension Blast
Vehicles
Speed Star | Tornado Racer | Land Breaker | Pink Cabriolet | Green Hopper | Egg Monster | Dark Rider | Metal Booster | Blazing Banana | Racing Rooster | Sun Buggy | Astro Glider | De La Custom GGs | Crazy Taxi | Hotrod of Horror |

Naoyuki's Motorcycle

| Red Lightning | ChuChu Rocket | Get-a-Way Wagon | Sukopako Motorcycle | Bolt Bucket | Ava-car 720 | Super Zoomer
Items
Item Box (All-Star Item, Bowling Bomb, Confusing Star, Energy Shield, Giant Rocket, High Speed Shoes, K.O. Glove, Manual Rocket, Mega Horn, Mine, Pocket Rainbow) | License
Music
"A New Day" | "Back 2 Back" | "Believe In Myself" | "Can You Feel the Sunshine?" | "E.G.G.M.A.N." | "Metal Scratchin'" | "My Sweet Passion" | "Super Sonic Racing" | "Unknown from M.E." | "Throw It All Away" | "What U Need"
Other
Announcer | Boost Pad | Death Egg | Loop | Orca | Sonic Says | Totem pole
---
Main article | Staff | Glitches | Gallery
Playable
characters
Sonic characters
Sonic | Tails | Knuckles | Amy | Dr. Eggman | Shadow | Metal Sonic
Sega characters
AGES | AiAi | Alex Kidd | Amigo | B.D. Joe | Beat | Gilius Thunderhead | Gum | Jacky Bryant | Joe Musashi | MeeMee | NiGHTS | Pudding | Reala | Ryo Hazuki | Ulala | Vyse
Third-party characters
Xbox Live Avatar | Mii | Danica Patrick
Tracks
Dragon Cup
Ocean View | Samba Studios | Carrier Zone | Dragon Canyon
Rogue Cup
Temple Trouble | Galactic Parade | Seasonal Shrines | Rogue's Landing
Emerald Cup
Dream Valley | Chilly Castle | Graffiti City | Sanctuary Falls
Arcade Cup
Graveyard Gig | Adder's Lair | Burning Depths | Race of AGES
Classic Cup
Sunshine Tour | Shibuya Downtown | Roulette Road | Egg Hangar
Bonus
OutRun Bay
World Tour
Sunshine Coast | Frozen Valley | Scorching Skies | Twilight Engine | Moonlight Park | Superstar Showdown
Events
Battle Arena | Battle Race | Boost Challenge | Boost Race | Capture the Chao | Drift Challenge | Pursuit | Race | Ring Race | Sprint | Traffic Challenge | Versus
Vehicles
Ava-car 720 | Amigo's vehicle | Blazing Banana | Crazy Taxi | Danicar | Egg Monster | G.U.N. Auto Tread | Gum's vehicle | Land Breaker | Metal Booster | Pink Cabriolet | Spacebird 42 | Speed Star | Super Zoomer | Tails' vehicle
Moves/
Techniques
General
Drift | Start Line Boost | Stunt
All-Star Moves
Amy's All-Star Move | Gum's All-Star Move | Eggman's All-Star Move | Knuckles' All-Star Move | Metal Sonic's All-Star Move | Pudding's All-Star Move | Shadow's All-Star Move | Sonic's All-Star Move | Tails' All-Star Move | Ulala's All-Star Move
Gimmicks and obstacles
Aero-Chaser | Boost Pad | Egg Squid | Slot machine | Transformation Gate
Items
Ammo | Gate | Item Box (All-Star Item, Blowfish, Boost, Drone, Firework, Glove, Hot Rod, Ice Cannon, Super Glove, Swarm, Twister) | License | Mod | Sticker | Warp Gate
Music
Songs
We Are Burning Rangers
Albums
SEGA ALL-STARS Premium Sound Collection | Sonic & All-Stars Racing Transformed Original Soundtrack
Other
Bonus Chance | Custom game | Freeze | Loop | Orca | Sonic Universe #45