The Batbrain[1][2] (バサラン[3], Basaran?) is an enemy that appears in the Sonic the Hedgehog series. It is a mass-produced, bat-based Badnik model created by Dr. Eggman. Batbrains hang out in dark caves, waiting for its victim to get below it and then attack from above.
Appearance
Batbrains, as their name implies, are robotic bats with wings stretched over their bodies, showing only the tip of their blue heads. Firm claws ensure these Badniks stay on the ceiling and they each have an engine on their backs for propulsion. Their wings, feet and engine are metallic gray in color, while their bodies are dark blue. In all versions of Sonic Lost World, Batbrains also have small mouths with tiny fangs.
Game appearances
Sonic the Hedgehog (16-bit)

The first appearance of this Badnik was in Sonic the Hedgehog (16-bit), where it served as an enemy. This time around, this Badnik is referred to as Batbrain[1] (バサラン[3], Basaran?). In this game, the player encounters them in the cavern sections of Marble Zone.
In gameplay, Batbrains hang on the ceiling, waiting for a target. When Sonic is spotted, they drop down from their roost, unfold their wings, and flap towards him to cause damage upon touch before returning to the ceiling. They will cling onto another ceiling if they fail to do any damage however.
Batbrains do not pose a huge threat and are easily dispatched before or after their landing with a Spin Jump. Upon their destruction, they release an Animal and reward the player with 100 points. However, they can easily get in the player's way, especially in challenging platforming sections.
Sonic Jump (2012)
In the 2012 remake of Sonic Jump, Batbrains can be found in Blue Sky Zone. In this game, they act like they did in the original Sonic the Hedgehog, hanging from platforms and clouds below until they drop down and start flying at the player when the playable character gets close to them. These badniks can only be defeated by jumping into their underside.
Sonic Lost World
In the Wii U version, PC version and Nintendo 3DS version of Sonic Lost World, the Batbrains return as enemies. During the events of the game, Dr. Eggman's Badniks, including the Batbrains, got hijacked by the Deadly Six.
In gameplay, the Batbrains appear in Windy Hill Zone 3 in the Wii U/PC version of the game, and Windy Hill Zone 2 in the Nintendo 3DS version. Unlike in previous games though, Batbrains here attack in groups. They are located in the tubular sections where they hang from a surface until they drop down to attack the playable character. They can be defeated with any kind of attack. Also, upon their defeat, they release an Animal.
Powers and abilities
Thanks to their wings and rocket thrusters, the Batbrains are capable of flight.
In other media
Sonic the Comic
In the Sonic the Comic series published by Fleetway Editions, the Batbrains were a part of Dr. Robotnik's Badnik army before, during, and after his rule of Mobius. Because of the different artists, Batbrains had sometimes a slightly, but also drastically different look from their game counterparts. While he was stationed on Flickies' Island, Robotnik started to build more powerful and dread-looking Batbrains.
Archie Comics
In the Sonic the Hedgehog comic series and its spin-offs published by Archie Comics, the Batbrains were among the first generation of badniks produced by Dr. Robotnik. While Dr. Eggman would go on and make more advanced Batbrains, the classic ones were eventually rendered obsolete and got decommissioned.
Sonic X (comics)

In the Sonic X comic series published by Archie Comics, Batbrains made a small appearance. While in a simulation of the Marble Zone, Sonic came across several Batbrains, which he easily defeated.
Merchandise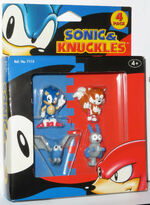 The toy company Tomy released a Batbrain figurine as part of a line of figurines for Sonic & Knuckles. The series had a total of twenty figurines, divided by five packs of four. The Batbrain figurine was available in the pack with Splats, Sonic, and Tails.
Trivia

Batbrain was supposed to appear in the 8-bit version of Sonic the Hedgehog, but was removed from the final game. However in Game Gear version, unused sprites of Batbrain are found from game's code. Along with Roller, Batbrain is one of badniks that does not appear in the 8-bit version.
Like the Orbinaut, the Batbrain does not appear in neither the European or North American game manuals. Its English name thus comes from comics and other merchandise. Similar to the aforementioned Badnik, it is known by its Japanese name "Basaran" in Sonic Jam[4] and just "Batbrain" in the British Stay Sonic guide book.[1]
Gallery
Artwork
Screenshots
References
---
Playable characters
Sonic (Super Sonic*) | Tails (Super Tails*) | Knuckles* (Super Knuckles*)
Non-playable characters
Dr. Robotnik | Animals (Flicky, Pocky, Pecky, Cucky, Ricky, Picky, Rocky)

Zones

Green Hill Zone | Marble Zone | Spring Yard Zone | Labyrinth Zone | Star Light Zone | Scrap Brain Zone | Final Zone | Special Stages

Enemies

Ball Hog | Batbrain | Bomb | Burrobot | Buzz Bomber | Caterkiller | Chopper | Crabmeat | Jaws | Moto Bug | Newtron | Orbinaut (Uni Uni, Unidasu) | Roller | Spikes | Splats
Bosses
Egg Wrecker | Egg Scorcher | Egg Stinger | Labyrinth Zone boss | Egg Spiker | Egg Crusher
Moves/Techniques
Climb* | Crouch | Drop Dash* | Glide* | Insta-Shield* | Propeller Flying* | Spin Attack | Spin Dash* | Spin Jump | Swim*
Gimmicks and obstacles
Bomb | Bumper | Capsule | Chaos Emerald | Color Block | Conveyor Belt | Crusher | Dropping platform | Electric shocker | Elevator | Fan | Fireball | Floating stone | Flywheel | Giant spear | Goal | Goal Plate | Giant Ring | Iron ball | Jump Stand | Lamppost | Reverse | Saw | See-saw | Spikes | Spring | Switch | Up and Down
Items
Air Bubble | Ring | Video Monitor (Aqua Shield*, Chaos Emerald*, Eggman Mark*,

Elemental Shields

*, Extra Life, Flame Shield*,

Goggles

*, Invincible, Power Sneakers, S*, Shield, Spikes*, Super Ring, Thunder Shield*)
Music
Sonic the Hedgehog 1&2 Soundtrack
Other
Continue | Debug Mode | Egg Mobile | Life | Lock-on technology | Loop | Madonna | Secret Bonus | Sonic the Hedgehog (1991 U.S Gold) | Sonic the Hedgehog (promotional comic) | Sonic the Hedgehog Band (Max, Mach, Sharps, Vector) | Sonic the Hedgehog Story Comic | South Island | Time Attack* | Time Over | Totem pole | Tunnel | Water

*Appears in re-releases of the game only
---
Main article | Script | Staff | Glitches | Gallery | Re-releases (PC)
Playable characters
Sonic (Super Sonic) | Virtual Hedgehog*
Non-playable characters
Amy | Animals (Cucky, Flicky, Pecky, Picky, Pocky, Ricky, Rocky) | Clawz | Cubot | Deadly Six (Master Zik, Zavok (Giant Zavok), Zazz, Zeena, Zomom, Zor) | Dr. Eggman | Gillwing | Gulpo | Jackle | Knuckles | Link* | Nightopian | NiGHTS | Omochao | Orbot | Puffy | Reala | Tails | Wizeman | Yacker* | Yoshi*
Wisps
Black | Crimson | Cyan | Gray* | Green | Indigo | Magenta | Orange | White* | Yellow
Levels
Worlds
Windy Hill | Desert Ruins | Tropical Coast | Frozen Factory | Silent Forest | Sky Road | Lava Mountain | Hidden World
Misc.
Circus* | NiGHTMARE Zone | The Legend of Zelda Zone* | Yoshi's Island Zone*
Enemies
Badniks
Antlion | Anton | Antlion Mother | Aquis | Balkiry | Ball Hog | Batbrain | BFB | Blowfish Transporter | Blaster | Bomb | Burrobot | Buzz Bomber | Caterkiller | Chopper | Clucker | Cluckoid | Coconuts | Crabmeat | Crawl | Crawlton | Dragonfly | Dung Beetle | Egg Pawn | Galaga Bee | Gohla | Grabber | Gustav Turtle | Jaws | Laser Grabber | Madmole | Manbou | Manta | Moto Bug | Mushmeanie | Nebula | Newtron | Octus | Orbinaut (Uni Uni, Unidasu) | Pata-Bata | Penguinator | Sandworm | Slicer | Snale Blaster | Spiker | Spikes | Sprinkler | Tarantula | Tonber | Turtloids | Utsubo
Other
Baku Baku | Boo | Boom Boo | Cactus Ball | Deku Scrub* | Keese* | Piranha Plant* | Sandworm | Sheep | Shy Guy* | Stalchild* | Yeti
Bosses
Zazz (Puffy) | Zomom | Master Zik (Gulpo) | Zeena (Clawz) | Zor (Jackle) | Zavok (Gillwing) | Deadly Six | Giant Zavok | Eggrobo
Moves/
Techniques
General
Bound Jump | Charged Dash | Dash | Double Jump | Duck | Flying Kick | Focused Homing Attack | Grinding | Ring Dash | Skydiving | Spin Dash | Spin Jump | Super Sonic Boost
Parkour
Hang | Side Step | Vault | Vault Dash | Wall Climb | Wall Jump | Wall Run | Wall Spin Dash
Color Powers
Black Bomb | Crimson Eagle | Cyan Laser | Gray Quake* | Green Hover | Indigo Asteroid | Magenta Rhythm | Orange Rocket | Yellow Drill
Gimmicks and obstacles
Balloon | Billiard Ball | Bumper | Cannon | Capsule | Cloud | Coconut | Conveyor Belt | Dash Panel | Dash Rail | Drop Target | Fireball | Flipper | Grind Rail | High-speed warp tube | Hint Ring | Iron ball | Lighting switch | Metal nut | Minecart | Musical note | Prism | Seesaw* | Slot machine | Spring | Spring Catapult | Star Post | Surprise Crocodile | Truffle Cannon | Windmill
Items
General
1-Up | Apple | Asteroid Ring | Blue Chip | Bound bell | Cage | Casino Token | Chaos Emerald | Floating Item Box | Invincible | Item Box (Warp) | Number Ring | Power Sneakers | Red Star Ring | Ring | Ring (NiGHTS) | Shield | Thunder Shield
RC Vehicles
Helicopter | Fighter Jet | Stealth Jet | Hovercraft | Balloon | UFO | Omochao
English voice actors
Roger Craig Smith (Sonic) | Mike Pollock (Eggman) | Kate Higgins (Tails) | Travis Willingham (Knuckles, Zavok) | Cindy Robinson (Amy) | Kirk Thornton (Orbot, Master Zik) | Wally Wingert (Cubot) | Liam O'Brien (Zazz) | Patrick Seitz (Zomom) | Stephanie Sheh (Zeena) | Sam Riegel (Zor)
Japanese voice actors
Jun'ichi Kanemaru (Sonic) | Chikao Ōtsuka (Eggman) | Ryō Hirohashi (Tails) | Nobutoshi Canna (Knuckles) | Taeko Kawata (Amy) | Mitsuo Iwata (Orbot) | Wataru Takagi (Cubot) | Jōji Nakata (Zavok) | Yutaka Aoyama (Zazz) | Yumi Tōma (Zeena) | Makoto Terada (Master Zik) | Chafūrin (Zomom) | Yūki Tai (Zor)
Music
Sonic Lost World Bonus Soundtrack (Special Selection) | Sonic Lost World: Wonder World EP | Without Boundaries: Sonic Lost World Original Soundtrack
Other
Auto Running | Cacophonic Conch | Egg Mobile | Extractor | Havok | Life | Life (energy) | Loop | Lost Hex | Mech Dragon | Miles Electric | Mission | Moon Mech | Rank | Secret Bonus | Sonic the Hedgehog Halloween ComicFest 2013 | Time Attack | Tornado | Totem pole | Water | Wisp Away* | Wisp Gauge | Zeti

*Appears in the Wii U version only.
---
Main article | Script | Staff | Glitches | Gallery
Playable characters
Sonic (Super Sonic) | Virtual Hedgehog
Non-playable characters
Amy | Animals (Cucky, Flicky, Pecky, Picky, Pocky, Ricky, Rocky) | Cubot | Deadly Six (Master Zik, Zavok, Zazz, Zeena, Zomom, Zor) | Dr. Eggman | Knuckles | Tails | Orbot
Wisps
Cyan | Gray | Indigo | Ivory | Red | Yellow
Worlds
Windy Hill | Desert Ruins | Tropical Coast | Frozen Factory | Silent Forest | Sky Road | Lava Mountain | Special Stage
Enemies
Badniks
Antlion | Balkiry | Batbrain | BFB | Blowfish Transporter | Buzz Bomber | Caterkiller | Clucker | Crawl | Crawlton | Egg Pawn | Gohla | Grabber | Gustav Turtle | Jaws | Moto Bug | Newtron | Orbinaut (Uni Uni, Unidasu) | Penguinator | Sandworm | Slicer | Spinner | Thunder Spinner
Other
Cactus Ball | Sandworm
Bosses
Zazz | Zomom | Master Zik | Zeena | Zor | Zavok | Eggrobo
Moves/
Techniques
General
Bound Jump | Dash | Double Jump | Focused Homing Attack | Grind Step | Grinding | Skydiving | Somersault | Spin Dash | Spin Jump
Parkour
Side Step | Wall Climb | Wall Jump | Wall Run | Wall Spin Dash
Color Powers
Cyan Laser | Gray Quake | Indigo Asteroid | Ivory Lightning | Red Burst | Yellow Drill
Gimmicks and obstacles
Bingo | Bumper | Capsule | Cloud | Dash Panel | Dash Rail | Dash Ring | Drop Target | Fan | Flipper | Flywheel | Giant Ring | Grind Rail | Hint Ring | Iron ball | Jump Panel | Minecart | Prism | Rainbow Ring | Snowball | Snowblower | Spring | Star Post | Underground pipe
Items
General
5 Ring Bonus | Air Bubble | Asteroid Ring | Chaos Emerald | Gate Capsule | Item Box (1-Up, Aqua Shield, Big 50 Ring, Flame Shield, Invincible, Power Sneakers, Super Ring, Thunder Shield) | Orb | Red Star Ring | Ring | Snowboard
RC Vehicles
Helicopter | Fighter Jet | Stealth Jet | Hovercraft | Balloon | UFO | Omochao
Material
Black Material | Blue Material | Bronze Material | Gold Material | Green Material | Iron Material | Red Material | Silver Material | White Material | Yellow Material
English voice actors
Roger Craig Smith (Sonic) | Mike Pollock (Eggman) | Kate Higgins (Tails) | Travis Willingham (Knuckles, Zavok) | Cindy Robinson (Amy) | Kirk Thornton (Orbot, Master Zik) | Wally Wingert (Cubot) | Liam O'Brien (Zazz) | Patrick Seitz (Zomom) | Stephanie Sheh (Zeena) | Sam Riegel (Zor)
Japanese voice actors
Jun'ichi Kanemaru (Sonic) | Chikao Ōtsuka (Eggman) | Ryō Hirohashi (Tails) | Nobutoshi Canna (Knuckles) | Taeko Kawata (Amy) | Mitsuo Iwata (Orbot) | Wataru Takagi (Cubot) | Jōji Nakata (Zavok) | Yutaka Aoyama (Zazz) | Yumi Tōma (Zeena) | Makoto Terada (Master Zik) | Chafūrin (Zomom) | Yūki Tai (Zor)
Music
Sonic Lost World Bonus Soundtrack (Special Selection) | Sonic Lost World: Wonder World EP | Without Boundaries: Sonic Lost World Original Soundtrack
Other
Cacophonic Conch | Egg Mobile | Extractor | Freeze | Health Gauge | Life | Life (energy) | Loop | Lost Hex | Mech Dragon | Miles Electric | Moon Mech | Rank | Sonic the Hedgehog Halloween ComicFest 2013 | Tails' Lab | Tornado | Totem pole | Water | Wisp Gauge | Zeti