Batbot,[note 1] originally referred to as BBat,[note 2] is an enemy that was going to appear in Sonic the Hedgehog 2, but was removed prior to its release. It later officially appeared in the 2013 mobile release of the game. Batbots are a bat-type Badnik model created by Dr. Eggman.
Appearance
Based on real-life bats, Batbots have a gray torso, a black mouse-like head with round ears and black eyes, and wide gray metallic wings with gray claws at the joints. They also have a rocket exhaust instead of legs to aid them with flight.
Overview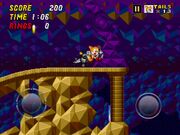 BBats were originally going to appear in the Hidden Palace Zone, but the Zone and its Badniks were both cut from the final game. Regardless, BBats could still be found in the Nick Arcade and Simon Wai prototypes. Here, their attack pattern consists of hanging on ceilings until the player gets underneath them, upon where they swoop down in a U-shaped arc, ideally hitting the player at the lowest point of the arc. If the player dodges this attack, the BBats will fly in one place and repeat its attack from the other side.
In the 2013 mobile release of Sonic the Hedgehog 2 which restored Hidden Palace Zone, Batbots made their official debut. In this version, they retain their attack pattern from the prototypes.
Trivia
In the Nick Arcade and Simon Wai prototypes of Sonic the Hedgehog 2, the BBat, along with the Redz, are the only Badniks in the game to reappear on-screen after they have been destroyed if the player returns to the said Badniks' locations.
The Batbot that debuted in Sonic the Hedgehog 3 seems to have its animal theme and attack pattern recycled from this Badnik.
Gallery
See also
Notes
↑ Being listed under the name "Batbot" in the internal files for Sonic Mania, where it is unused.
↑ Being listed under the name "bbat" in the Nick Arcade prototype's source code.
---
Main article | Staff | Manuals | Glitches (Sonic 2, Knuckles in Sonic 2) | Beta elements | Gallery | Prereleases (Nick Arcade | Simon Wai) | Re-releases (2006 | 2013 | 3D | Sega Ages)
Playable characters
Sonic (Super Sonic) | Tails (Super Tails**)
Non-playable characters
Dr. Robotnik | Animals (Becky, Cucky, Flicky, Pocky, Pecky, Cucky, Ricky, Picky, Rocky, Locky, Wocky, Micky, Tocky)
Zones
Emerald Hill Zone | Chemical Plant Zone | Aquatic Ruin Zone | Casino Night Zone | Hill Top Zone | Mystic Cave Zone | Oil Ocean Zone | Metropolis Zone | Sky Chase Zone | Wing Fortress Zone | Death Egg Zone | Green Hill Zone* | Hidden Palace Zone** | Genocide City Zone* | Sand Shower Zone* | Rock World Zone* | Wood Zone* | Egg Gauntlet Zone** | Boss Attack Zone** | Proto Palace Zone** | Special Stage
Enemies
Aquis | Asteron | Balkiry | Banper* | Batbot** | BFish* | Bubbler* | Bubbler's Mother* | Buzzer | Cactus* | Chop Chop | Clucker | Coconuts | Crawl | Crawlton | Flasher | Frog* | Gator* | Gohla | Grabber | Grounder | Jellygnite** | Lobster* | Masher | Nebula | Octus | Rexon | Shellcracker | Slicer | Snail* | Spiker | Spiny | Stegway** | Turtloids | Redz** | Whisp
Bosses
Drill Eggman | Water Eggman | Hammer Eggman | Catcher Eggman | Submarine Eggman | Drill Eggman II | Hidden Palace Zone boss** | Submarine Eggman II | Flying Eggman | Barrier Eggman | Mecha Sonic | Death Egg Robot
Moves/Techniques
Crouch | Glide | Insta-Shield** | Propeller Flying | Spin Jump | Super Dash Attack | Super Spin Attack | Swim**
Gimmicks and obstacles
Bomb | Booster | Bumper | Bumper wall | Cannon | Capsule | Conveyor Belt | Crusher | Fan | Flipper | Giant spear | Goal Plate | Gondola | High-speed elevator | High-speed warp tube | Iron ball | Jump Panel | Metal nut | Seesaw | Slot machine | Spikes | Spring | Spring Catapult | Star Post | Stone pillar | Switch
Items
Air Bubble | Chaos Emerald | Monitor (Eggman, Extra Life, Flame Shield**, Invincible, Lightning Shield**, Power Sneakers, Random, S**, Shield, Super Ring, Teleporter, Water Shield**) | Ring | Star Circle
Music
Sonic the Hedgehog 1&2 Soundtrack
Other
Continue | Corkscrew loop | Death Egg Robot | Debug Mode | Egg Jet | Mega Mack | Perfect Bonus | Shuttle loop | Time Attack | Tornado | Totem pole | West Side Island | Winding Tunnel

*Exclusive to the prototype versions of Sonic the Hedgehog 2.
** Exclusive to the 2013 re-release version.