Fire Emblem Warriors: Three Hopes - The Loop
Play Sound
The Bashōsen[1] (バショウセン[2], Bashōsen?, lit. "Banana palm fan") is an object that appears in the Sonic the Hedgehog series. They are a pair of war fans that serve as Jet the Hawk's main weapons.
Description
Appearance
The Bashōsens are a pair of fans that are made up of Jet's feathers,[1] which are green with dark dark green tips, and wooden handles with a red strap on them.
Features and traits
Capable melee weapons, the edges of the Bashōsen fans are said to be razor-sharp.[3] With one fan, Jet can stir up tiny tornadoes powerful enough to blow opponents off course and disorientate them.[1] He can also use both fans in melee combat, either smacking his opponents or spinning them around to knock away anyone that gets too close.
Game appearances
Sonic Riders series
Sonic Riders
In Sonic Riders, Jet pulls out a Bashōsen fan when he reaches level two in gameplay. At that level, he wields it to disorient his foe. At level three, Jet takes out a secondary fan and uses it in his off-hand to create a twister-like attack to stun the foe for an even longer amount of time.
Sonic Riders: Zero Gravity
In Sonic Riders: Zero Gravity Jet uses only one Bashōsen fan. In gameplay, he uses it whenever he gets an Attack item.
Sonic Forces: Speed Battle
In Sonic Forces: Speed Battle, the Bashōsen (spelled as Bashosen) is an Item Box power-up exclusive to Jet. In this game, the Bashōsen is an offensive power-up that can be used to attack opponents. Upon dealing damage, it will also steal some of the opponent's Rings. This power-up can also be improved by leveling up the playable character.
In other media
IDW Publishing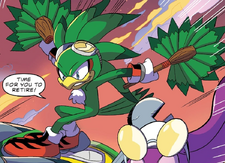 In the Sonic the Hedgehog comic series and its spin-offs published by IDW Publishing, the Bashōsens are a pair of fans used by Jet the Hawk. Their past is virtually identical to their game counterpart's, up until after the events of Sonic Forces. With them, Jet can create strong gusts of wind to stun enemies and collect loot.
Trivia
The Bashōsen is based on the Palm Leaf Fan (

芭蕉扇

?

), an item from the Chinese epic Journey to the West. It is one of the five treasured tools owned by the two demon brothers: the Golden Horned King (

金角大王

?

) and the Silver Horned King (

銀角大王

?

).
Jet uses the main Bashōsen in his left hand and sometimes an auxiliary one in his right.
In Sonic and the Black Knight Jet's counterpart Sir Lamorak uses dual swords that are inspired by the Bashōsen.
Gallery
Models
References
---
Main article | Scripts (Heroes, Babylon) | Staff | Beta elements | Gallery
Playable characters
Sonic (Super Sonic) | Tails | Knuckles | Amy | Jet | Wave | Storm | Dr. Eggman | Cream | Rouge | Shadow | AiAi | NiGHTS | Ulala | E-10000G | E-10000R
Non-playable characters
Babylon Guardian | Jet's father | Omochao | Stolen
Courses
Heroes
Metal City | Splash Canyon | Egg Factory | Green Cave | Sand Ruins | Babylon Garden
Babylon
Night Chase | Red Canyon | Ice Factory | White Cave | Dark Desert | Sky Road | Babylon Guardian
Other
Digital Dimension | Sega Carnival | Sega Illusion
Survival
Dual Towers | Snow Valley | Space Theater
Moves/
Techniques
Air Boost | Air Riding | Air Slide | Attacks | Grinding | Super Sonic Boost | Tornado | Trick Action
Gimmicks and obstacles
Accelerator | Air Pit | Automatic Trail | Barricade | Bomb | Car | Catapult | Dash Panel | Grind Rail | Trick Zone | Turbulence
Items
Air | Item Box (Air, Explosion, High Speed, Invincible Barrier, Magnetic Barrier, Rings, Speed Down, Question Item) | Ring
Extreme Gear
Accelerator | Access | Advantage-F | Advantage-P | Advantage-S | Air Broom | Air Tank | Auto-Slider | BANANA | Beginner | Berserker | Blue Star | Blue Star II | Cannonball | Channel5 | Chaos Emerald | Cover-F | Cover-P | Cover-S | Darkness | Destroyer | E-gearG | E-gearR | E-Rider | Faster | Fastest | Gambler | Grinder | Hang-On | Heavy Bike | High Booster | Hovercraft | Legend | Light Board | Magic Carpet | Night Sky | Omnipotence | Opa Opa | Pink Rose | Power Gear | Powerful Gear | Red Rock | Rengoku | Slide Booster | Smile | Speed Balancer | Super Hang-On | Temptation | The Crazy | Trap Gear | Turbo Star | Type-J | Type-S | Type-W | Yellow Tail
English voice actors
Jason Griffith (Sonic, Jet, Shadow) | Amy Palant (Tails) | Dan Green (Knuckles, Storm) | Bella Hudson (Wave, Babylon Computer) | Lisa Ortiz (Amy) | Mike Pollock (Eggman) | Kathleen Delaney (Rouge) | Rebecca Honig (Cream) | Maddie Blaustein (E-10000G, E-10000R, Babylon Guardian) | Liza Jacqueline (Omochao) | Kaoru Morota (AiAi) | Apollo Smile (Ulala)
Japanese voice actors
Jun'ichi Kanemaru (Sonic) | Ryō Hirohashi (Tails) | Nobutoshi Canna (Knuckles) | Daisuke Kishio (Jet) | Chie Nakamura (Wave, Babylon Computer) | Kenji Nomura (Storm, Babylon Guardian) | Taeko Kawata (Amy) | Etsuko Kozakura (Omochao) | Kaoru Morota (AiAi) | Apollo Smile (Ulala)
Music
Songs
"Catch Me If You Can" | "Sonic Speed Riders"
Albums
Speedbeats Grand Prix: Sonic Riders Original Soundtrack
Other
Air Tank | Babylon Garden | Babylon Rogues' ship | Babylonians | Bashōsen | Chaos Control | Chaos Emerald | Eggman Empire | Emerald Detector | EX World Grand Prix | Flight Type | Freeze | Key to Babylon Garden | Loop | Mission Mode | Power Type | Rank | Robotnik Corp. | Shop | Speed Type | Time Attack
---
Main article | Scripts (Heroes, Babylon) | Staff | Glitches | Beta elements | Gallery
Playable characters
Sonic (Super Sonic) | Tails | Knuckles | Amy | Jet | Wave | Storm | Dr. Eggman | Cream | Rouge | Shadow | Silver | Blaze | SCR-GP | Amigo | NiGHTS | Billy Hatcher | SCR-HD
Non-playable characters
Master Core: ABIS
Courses/Fields
Heroes
Megalo Station | Botanical Kingdom | MeteorTech Premises | Aquatic Capital | Gigan Rocks | Crimson Crater | Astral Babylon | '80s Boulevard
Babylon
Gigan Device | Nightside Rush | Snowy Kingdom | MeteorTech Sparkworks | Tempest Waterway | Security Corridor | Mobius Strip | '90s Boulevard
Survival Battle
Gravity Pit | Labyrinth | Square Quartet
Survival Ball
MeteorTech Arsenal | Botanical Cave | Megalo Junction
Moves/
techniques
Air Ride | Attacks | Gravity Control | Gravity Dive | Grinding | Meteor Burst | Slide Turn | Super Sonic Boost | Trick
Gimmicks and obstacles
Barricade | Car | Catapult | Crusher | Dash Panel | Dash Ring | Grind Rail | Trick Zone | Wall Route | Wide spring
Items
General
Gravity Ring | Item Box (Attack, Colorball, Explosion, GP Boost, High Speed, Magnetic Barrier,

Missile

, Parts Lock, Rings, Shield, Speed Down) | Ring | Time item
Gear Parts
Air Ride | Angel/Devil | Attack Time UP | Auto Wall-Run | Base Stats UP | BGM Change | Bike | Durability UP | GC Boost UP | Ghost | GP Gain UP | GP Gauge UP | GP Usage UP | Grind | Item Rank +1 | Magnetic Barrier | Max Speed UP | Parts Lock | Ring Cap UP | Starting Speed UP | Status Trap | Tank | Throttle | Trick Rank +1 | Vision Trap | Wheel | Yacht
Extreme Gear
Board
Airship | Beginner | Black Shot | Blue Star | Chaos Emerald | Faster | Fastest | Flame Lance | Gambler | GC Booster | GC Master | GP Accumulator | G Shot | Hyperdrive | Legend | Light Board | Mag | Night Sky | Omnitempus | Pink Rose | Power Egg | Psychic Wave | Rainbow | Red Rock | Rhythm Machine | Road Star | Skill Booster | Shooting Star | Smile | Temptation | The Crazy | Throttle | Turbo Star | Type-J | Type-S | Type-W | Untouchable | Wheel Custom | Wind Star | Yellow Tail
Skate
Advantage S | Cover S | Rail Linker | Shinobi | Wanted
Bike
Advantage P | Cover P | E-Rider | Hang-On | Master Off-Road | Reserve Tank
Air Ride
Advantage F | Cover F | Angel • Devil | Kunoichi
Yacht
Bingo Star | Magic Broom | Wind Catcher
Wheel
Big Bang | GP Tank | Money Crisis
Music
Songs
"Catch Me If You Can" | "Un-Gravitify"
Albums
Zero Gravity Tracks: Sonic Riders Shooting Star Story Original Soundtrack
English voice actors
Jason Griffith (Sonic, Jet, Shadow) | Amy Palant (Tails) | Dan Green (Knuckles, Storm) | Bella Hudson (Wave, Mother computer) | Lisa Ortiz (Amy) | Mike Pollock (Eggman) | Kathleen Delaney (Rouge) | Pete Capella (Silver) | Rebecca Honig (Cream) | Andrew Paull (SCR-HD, SCR-GP, Master Core: ABIS)
Japanese voice actors
Jun'ichi Kanemaru (Sonic) | Ryō Hirohashi (Tails) | Nobutoshi Canna (Knuckles) | Daisuke Kishio (Jet) | Chie Nakamura (Wave, Mother computer) | Kenji Nomura (Storm, SCR-HD, SCR-GP, Master Core: ABIS) | Taeko Kawata (Amy) | Kōji Yusa (Shadow) | Rumi Ochiai (Rouge) | Daisuke Ono (Silver) | Nao Takamori (Blaze)
Other
Ark of the Cosmos | Babylon Garden | Babylon Rogues' ship | Babylonians | Bashōsen | Black Market | Crimson Tower | Eggman Empire | Gravity Band | Gravity Point | Havok | Loop | Monopole | Mother computer | Slipstream | Rank | Time Attack | World Grand Prix