Raise a Floppa - The Loop
Play Sound
For the game mechanic in Sonic Dash 2: Sonic Boom, see Banking (Sonic Boom).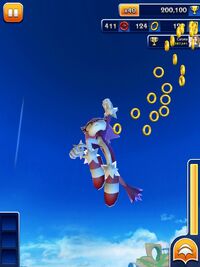 Banking[1] is a recurring game mechanic in the Sonic the Hedgehog series. It allows players to save Rings during gameplay.
Description
Banking refers to the mechanic wherein the player saves the Rings they have collected during gameplay, like when playing through a level. The Rings will subsequently be stored separately on a different account from their Ring count for later use in order to purchase various goodies. This typically occurs automatically when the playable characters reach a certain point in gameplay. As the Rings are banked, the player can seen how many Rings they have currently stored on the HUD.
While banking prevents the player's Ring savings from being lost when taking damage, the process renders the player ringless, leaving them vulnerable to harm.
Game appearances
Sonic Shuffle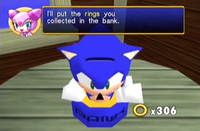 In Sonic Shuffle, before moving onto the next stage, Lumina will deposit all collected Rings into a still bank in the shape of Sonic.
Sonic Jump (2012)
In the 2012 remake of Sonic Jump, the player can bank Rings by touching Ring banks, which resemble stereotypical gray safes. These safes appear occasionally throughout the game's different Acts.
Sonic Dash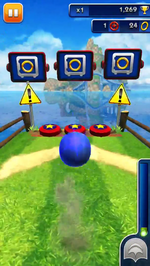 In Sonic Dash, the player will bank their Rings when they are launched off from a Spring, regardless of where it leads. When this occurs in newer updates, it resembles the Trick Action technique. Each time the player banks their Rings, their Ring count is multiplied by an increasing number, starting with a times one multiplier.
Sonic Runners series
Sonic Runners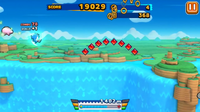 In Sonic Runners, banking occurs whenever the player runs past a Star Post which exist throughout all the game's stages. After fighting Eggman, a Star Post will also appear.
When running with the RC Tornado 2, the player will earn extra Rings alongside the Rings they have already collected when they are banking.
Sonic Runners Adventure
In Sonic Runners Adventure, the banking mechanic occurs whenever the player runs past a Star Post in the levels.
In other media
Sonic Boom
The Banking game mechanic also appears in Sonic Dash 2: Sonic Boom from the Sonic Boom franchise.
References
---
Main article | Script | Staff | Gallery
Playable characters
Sonic (Super Sonic) | Tails | Knuckles | Amy | Gamma | Big | Chao
Non-playable characters
Dr. Eggman | Lumina Flowlight | Illumina | Void | NiGHTS
Boards
Emerald Coast | Fire Bird | Fourth Dimension Space | Nature Zone | Riot Train
Mini-Games
Vs 4
Egg & the Chicken | Egg in Space | Frosty Rumble | Fun Fun Sonic | Great Escape | Jump the Snake | Over the Bridge | Number Jump | Over the Rainbow | Psychic Sonic | Shadow Tag | Sonic Gun Slinger | Sonic Live | Sonic Tag | Sonic Tank | Sonicola | Stop and Go | Thor's Hammer | Tractor Beam Tag | Twister | Zero G Snap Shot
2 vs 2
Bomb Relay | Bucket-O-Rings | Shoddy Work | Sonic the Thief
1 vs 3
Bungee Jump | Eggbot's Attack! | Gargantua | Manic Maze | Sonic DJ | Sonicooking | Wrong Way Climb
Accidents
Croc-Attack | Final Frontier | Ring Lasso | Ring of Fire | Rapid Climb | Ring Tide | Sky Bridge | Sonic Parasol | Thru the Tunnel
Stage Clear
Earth Quake | Sky Diving | Sonic Surfing | Stop the Train | Void Battle
Play Order
Sonic Darts | Sonic Hi Lo | Sonic Slot
Maginaryworld monsters
Precioustone Amethyst | Precioustone Crystal | Precioustone Diamond | Precioustone Garnet | Precioustone Pearl | Precioustone Sapphire
Techniques/Moves
Climbing |

Froggy

| Gun | Hammer Jump | Light-speed Spin Dash | Light Speed Spin Attack | Lullaby | Maximum Heat Attack |

Power Throw

| Propeller Flight | Rapid Spin Attack |

Roller Mode

| Revolving Hammer Attack |

Sonic Rumble

| Spin Dash
Items
General
Air Bubble | Emblem | Magical Card | Precioustone | Ring
Forcejewel
1 Force March | 6 Force March | Barrier Amber | Battle Ruby | Blockite | Carbuncle | Chamelionite | Curse Opal | Deletite | Duplichaos | Fivealive | Foolmoon | Geasdain | Hi-Speederald | Hypnotite | Lose Quartz | Low Moonstone | Magnifire | Maharajite | Max-Speederald | Medium | Packlite | Preciousite | Reducite | Ringidium | Shield Quartz | Shuffire | Sonic-Speederald | Speederald | Stopnite | Swap Jewel | Teleport Ruby | Thief's Eye | Transfire | Turbo-Speederald | Warp Crystal | Warponite | Wastone
Other
Banking | Maginaryworld |

Mini-Event

| Spaces (

Arrow Space

,

Battle Space

,

Eggman Battle Space

,

Event Space

,

Jewel Shop Space

,

Jump Space

,

Minus Ring Space

,

No Entry Space

,

Plus Ring Space

,

Precioustone Space

,

Quest Space

,

Revolving Space

,

Void Preciousstone Space

) | Sonic Room | Spring | Temple of Light
---
Main article | Gallery | Re-releases (Extreme, Dash S, Dash+)
Playable characters
Base
Sonic | Knuckles | Amy | Charmy | Tails | Vector | Shadow | Jet | Classic Sonic | Andronic | Rouge | Big | Blaze | Cream | Espio | Silver | Metal Sonic | Captain Shadow | Pirate Sonic | Treasure Hunter Knuckles
Event-exclusive*
All-Star Amy | Baby Sonic | Badtz-Maru | Bomb | Bongo** | Chococat | Chuck | Elf Classic Sonic | Elite Agent Rouge | Excalibur Sonic | Hello Kitty | Jingle Belle Amy | Linebacker Omega | Longclaw | Lunar Blaze | Movie Knuckles | Movie Sonic | Movie Tails | Ms. PAC-MAN | My Melody | Nutcracker Silver | PAC-MAN | Reaper Metal Sonic | Red | Santa Big | Sir Lancelot | Slugger Sonic | Tangle | Vampire Shadow | Werehog | Witch Rouge | Whisper
Non-playable characters
Dr. Eggman | Movie Robotnik* | Orca | Zazz | Animals (Flicky, Rocky, Pecky, Ricky, Pocky, Cucky, Picky) | Wisp (Blue, Jade, White, Yellow)*
Zones
Seaside Hill Zone | Beach Zone | Snow Mountain Zone | Green Hill Zone | Temple Zone | Sky Sanctuary Zone | Mushroom Hill Zone | Golden Bay Zone* | Emerald City*
Enemies
Badnik (Paramount)* | Chopper | Crabmeat | Spikes
Bosses
Bash* | Dr. Eggman | Movie Robotnik* | Zazz
Moves/Techniques
Dash Boost | Homing Attack | Jump | Roll
Gimmicks and obstacles
Bomb | Spikes | Spring
Items
General
Gem | Item Box (Magnet, Random Ring Bonus, Shield, x2) | Red Star Ring | Ring
Boosters

Enemy Combo

|

Final Score Bonus

|

Golden Badnik

|

Ring Streak

|

Spring Bonus

Music
"Escape from the City"* | "Living in the City"*
Other
Air Shoes | Arondight | Banking | Corkscrew | Dash Meter | Egg Mobile | Eggpod* | Excalibur | Extreme Gear (Type-J) |

Headstart

| Loop | Moon Mech | Sonic's shoes |

Super Headstart

| Variable Wispon

*Appears in some event from the game only
**Appears in the United States only
---
Main article | Script | Events | Gallery
Playable characters
Sonic (Sonic the Werehog) | Tails | Knuckles | Classic Sonic | Christmas Sonic | Christmas Tails | Christmas Knuckles | Shadow | Rouge | Halloween Shadow | Halloween Rouge | Espio | Charmy | Vector | Amy | Blaze | Amitie-Style Amy | Gothic Amy | Omega | Metal Sonic | Halloween Omega | Big | Cream | Silver | Tikal | Sticks | Mephiles | ESP Silver
Non-playable characters
Accord | Animals (Cucky, Flicky, Pecky, Picky, Pocky, Ricky, Rocky) | Arle Nadja | Amitie | Boo | Carbuncle | Chao (Dark Chao, Hero Chao) | Chip | Cubot | Deadly Six (Master Zik, Zavok, Zazz, Zeena, Zomom, Zor) | Dr. Eggman | Erazor Djinn | Froggy | King Boom Boo | King Shahryar | Maguro Sasaki | Merlina | Omochao | Orbot | Paprisu | Puyo Puyo | Raffine | Ringo Ando | Risukuma | Rulue | Satan | Schezo Wegey | Sig | Suketoudara | Super Sonic | Wisp (Mother Wisp (Dark Mother Wisp), White Wisp (Yacker))
Wisps
Cyan | Indigo | Yellow
Stages
General
Windy Hill | Sky Road | Lava Mountain
Special Stages
Desert Ruins | Frozen Factory | Halloween | Tropical Coast
Enemies
Balkiry | Buzz Bomber | Caterkiller | Crabmeat | Egg Pawn | Gold Pawn | Moto Bug | Nebula | Snail Blaster | Spinner | Super Egg Pawn
Bosses
Iron Ball Eggmobile | Missile Eggmobile | Saw Arm Eggmobile |

Zazz

Moves/Techniques
Spin Dash | Spin Jump | Trick Action
Color Powers
Cyan Laser | Indigo Asteroid | Yellow Drill
Gimmicks and obstacles
Bomb | Boom Boo | Bottomless pit | Cannon | Dash Ring | Iron ball | Jump Panel | Prism | Rainbow Ring | Saw | Spikes | Spring | Star Post
Items
Buddy | Chao Egg | Crystal | Item Box (Combo Bonus, Invincible, Magnet, Shield,

Spring

) | Power Ring | Red Star Ring | Ring | Sub-Character |

Score Boost

| Super Ring |

Support Springs

Music
Sonic Runners Complete Soundtrack | Sonic Runners Original Soundtrack
Other
Asteroid Ring | Auto Running | Banking | Chaos Emerald | Chaotix Type | Combo | Dark Type | Death Egg | Easy Type | Egg Mobile | Emerald Detector | Emerald Shard | Fly Type | Future Type | Health Gauge | Hero Type | Hourglass | Hyper-go-on | Loop | Master Emerald | Mech Type | Miles Electric | Mind Control Ray | Moon Mech | Power Type | Rose Type | Speed Type | Tails' Lab | Wild Type | Wisp Gauge