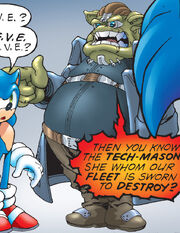 Bagbar Breeblebrox was an alien and commander of the space ship Sentelle.
History
He and his crew were part of a large space fleet that was hunting down E.V.E. after the destruction of Teragosa 6 and numerous other worlds. He was the first one to tell Sonic the Hedgehog that Teragosa 6 was destroyed by her, and upon discovering it was Sonic who convinced her to travel space, he ordered Sonic to be killed as he blamed him for the chain of events that followed E.V.E.'s journey through space. However, after Sonic evaded his fleet, he commanded an attack against E.V.E. which proved ineffective. Breeblebrox and the entire fleet were destroyed when E.V.E. pulled them in with a tractor beam and consumed them. (StH: #128)
Trivia
His name is a parody of Zaphod Beeblebrox from the British comedy The Hitch-Hiker's Guide to the Galaxy.
External links
Community content is available under
CC-BY-SA
unless otherwise noted.