Fire Emblem Warriors: Three Hopes - The Loop
Play Sound
The arrow column[1] (矢[2], Shǐ?, lit. "Arrow"), also referred to as the flame dart[3] (炎の矢[4], Honō no ya?, lit. "Flame arrow"), is an obstacle that appears in the Sonic the Hedgehog series. It is a basic pillar structure with arrow traps attached to it.
Description
Arrow columns are disguised as regular ancient columns with gray traps attached to them. These traps have opening side hatches for firing gray arrows out of them. Most of them have a center sculpture depicting a face with glowing red eyes.
In gameplay, arrow columns fire fast-moving arrows in whatever linear horizontal direction they are facing. Making contact with these arrows will inflict damage on the playable character.
Game appearances
Sonic the Hedgehog 2 (16-bit)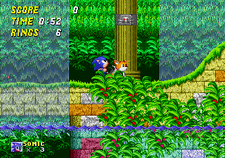 In Sonic the Hedgehog 2 (16-bit), from Knuckles the Echidna in Sonic the Hedgehog 2, arrow columns appear in Aquatic Ruin Zone. In this game, they have Dr. Robotnik's face sculptured on them.
In gameplay, when the playable character gets close to one, the eyes on the arrow column start glowing red. When the playable character then starts moving past the arrow column or turns around and walks back behind it, the arrow column's side hatch opens, and it will fires an arrow to the right at the medium speed. Eventually, the arrows will disappear after following the player's direction for a short time. However, it is possible for the arrows to catch up and hit the playable character at an unexpected moment after they pass their arrow columns.
There are a few sections in Aquatic Ruin Zone that feature arrow columns with either two or four different arrow traps situated on top of each other. When passing these arrow columns, all the traps on them will fire arrows at the same time. They are also found in the underwater sections or on the left side of tall loops. Also, the traps on arrow columns can sometimes be difficult to detect among the tree branches on the higher pathways in Aquatic Ruin Zone.
Sonic Adventure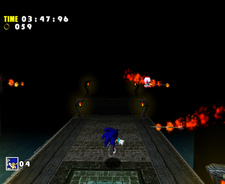 In Sonic Adventure and its remake, Sonic Adventure DX: Director's Cut, arrow-shooting obstacles called flame darts[3] (炎の矢[4], Honō no ya?, lit. "Flame arrow") appear in Lost World. In terms of appearance, the flame darts are generic, maya-themed pillar traps with tiny holes in them from where they fire flaming arrows.
In gameplay, during Sonic's story, flame darts are encountered in Lost World's dark room with the mirror gimmicks. When fired, the arrows will fly at medium speed across the paths with noticeable spaces between them. Because of their appearance, they are easily seen in their dark setting and the player can carefully use the Spin Jump to leap over them. The same flaming darts are later also encountered in Lost World's long hall with rolling boulder and large hall with Lit Panels. In Knuckles' portion of the Lost World on the other hand, one of three Emerald Shards can be found at the highest point of a large hall with three blocky platforms where multiple flame dart traps are set. The player has to reach this section from below by climbing and carefully catch the Emerald Shard without taking a hit from flame darts.[4]
Sonic the Hedgehog Pocket Adventure
In Sonic the Hedgehog Pocket Adventure, arrow columns are found in Aquatic Relix Zone. In gameplay, they function much like they did in Sonic the Hedgehog 2 (16-bit).
Sonic Mania
In Sonic Mania, and its expansion Sonic Mania Plus, arrow columns are found in Press Garden Zone Act 1, where they function like they did in Sonic the Hedgehog 2. However, in this instance, arrow columns shoot horizontally-facing Asterons when the player approaches.
Gallery
Screenshots
See also
References
↑ (in English)

Sonic the Hedgehog 1 & 2: Sega's Official Player's Guide

. Compute; Expanded edition. 1993. p. 91. ISBN 1-55958-335-5.
↑ (in Japanese)

ソニック・ザ・ヘッジホッグ2 メガドライブ公式ガイドブック

. Shogakukan. December 1992. p. 26. ISBN 978-4091024145.
↑ 3.0 3.1 Stratton, Bryan (17 June 2003). "Lost World".

Sonic Adventure DX: Director's Cut: Prima's Official Strategy Guide

. Prima Games. p. 48. ISBN 978-0761542865. "Flame darts crisscross the point from which you must Light-Speed Dash."
↑ 4.0 4.1 4.2 "ロストワールド" (in Japanese).

ソニックアドベンチャー オペレーションガイド

. SoftBank. January 1999. p. 99. ISBN 978-4757203006. "天井近くのトラップの上。 炎の矢に注意して、取ろう。"
---
Main article (Knuckles in Sonic 2) | Staff | Manuals | Glitches | Beta elements | Gallery | Pre-releases (Nick Arcade, Simon Wai) | Re-releases (2006, 2013, 3D, Sega Ages)
Playable characters
Sonic (Super Sonic) | Tails (Super Tails**) | Knuckles** (Super Knuckles**)
Non-playable characters
Dr. Robotnik | Animals (Becky, Cucky, Flicky, Locky, Micky, Pecky, Picky, Pocky, Ricky, Rocky, Tocky, Wocky)
Zones
Main
Emerald Hill Zone | Chemical Plant Zone | Aquatic Ruin Zone | Casino Night Zone | Hill Top Zone | Mystic Cave Zone | Hidden Palace Zone** | Oil Ocean Zone | Metropolis Zone | Sky Chase Zone | Wing Fortress Zone | Death Egg Zone | Special Stage
Other
Boss Attack Zone** | Egg Gauntlet Zone** | Genocide City Zone* | Green Hill Zone* | Proto Palace Zone** | Rock World Zone* | Sand Shower Zone* | Wood Zone*
Enemies
Aquis | Asteron | Balkiry | Banper* | Batbot** | BFish* | Bubbler* | Bubbler's Mother* | Buzzer | Cactus* | Chop Chop | Clucker | Coconuts | Crawl | Crawlton | Flasher | Frog* | Gator* | Gohla | Grabber | Grounder | Jellygnite** | Lobster* | Masher | Nebula | Octus | Rexon | Shellcracker | Slicer | Snail* | Spiker | Spiny | Stegway** | Turtloids | Redz** | Whisp
Bosses
Egg Drillster | Egg Poison | Egg Hammer | Egg Claw | Egg Scorcher Mk II | Egg Digger | Brass Eggman** | Eggmarine | Flying Eggman | Barrier Eggman | Mecha Sonic | Death Egg Robot
Moves/Techniques
Climb** | Crouch | Drop Dash** | Glide** | Insta-Shield** | Propeller Flying | Spin jump | Super Dash Attack | Super Spin Attack | Swim**
Gimmicks and obstacles
Arrow column | Bomb | Breakaway column | Booster | Bumper | Bumper wall | Cannon | Conveyor Belt | Crusher | Drop Target | Elevator | Fan | Flipper | Giant spear | Goal Plate | Gondola | High-speed warp tube | Iron ball | Jump Panel | Mega Mack | Metal nut | Prison Egg | Seesaw | Sinking pool | Slot machine | Spikes | Spring | Spring Catapult | Star Post | Switch
Items
Air bubble | Chaos Emerald | Monitor (Eggman, Flame Shield**, Invincible, Lightning Shield**, One-Up, Power Sneakers, Random, S**, Shield, Super Rings, Teleporter, Water Shield**) | Ring | Star Circle
Music
Sonic the Hedgehog 1&2 Soundtrack
Other
Continue | Corkscrew | Death Egg | Death Egg Robot | Debug Mode | Eggman's Mobile | Life | Lock-on technology | Loop | Perfect Bonus | Sonic the Hedgehog 2 CD | Space rocket | Time Attack | Tornado | Totem pole | Tunnel | Water | West Side Island

* Appears only in prototype versions
** Appears only in re-releases
---
Main article | Scripts (Sonic, Tails, Knuckles, Amy, Big, Gamma, Super Sonic) | Story Screens (Sonic, Tails, Knuckles, Amy, Big, Gamma) | Credits | Glitches | Beta elements | Gallery | Re-releases (DX, 2010)
Playable characters
Sonic (Super Sonic) | Tails | Knuckles | Amy | Gamma | Big | Metal Sonic**^
Non-playable characters
Dr. Eggman | Beta (E-101 Mark II) | Birdie | Chao (Dark Chao**, Hero Chao**) | Chaos (Chaos 1, Chaos 2, Chaos 4, Chaos 6, Perfect Chaos) | Cream** | Delta | Epsilon | Froggy | Grandma | Knuckles Clan (Pachacamac, Tikal) | Mr. Know-It-All | NiGHTS | Station Square Police Department | Unnamed Sonic robot | ZERO | Zeta | Animals (Deer, Elephant, Gorilla, Kangaroo, Koala, Lion, Mole, Parrot, Peacock, Penguin, Rabbit, Robin, Seal, Sea Otter, Skunk)
Adventure Fields
Egg Carrier | Mystic Ruins | Station Square
Action Stages
Emerald Coast | Windy Valley | Casinopolis | Icecap | Twinkle Park | Speed Highway | Red Mountain | Sky Deck | Hot Shelter | Lost World | Final Egg
Sub Games
Sky Chase | Sand Hill | Hedgehog Hammer | Twinkle Circuit | Boss
Enemies
Beat | Bladed Spinner | Boa-Boa | Buyoon | Cart Kiki | Cop Speeder | Egg Keeper | Electro Spinner | Fighter Aircraft A | Fighter Aircraft B | Gola | Ice Ball | Icecap's unnamed aircraft | Kiki | Leon | Mechanical fish | Pirate | Rhinotank | Sky Deck's unnamed jet fighter | Spiky Spinner | Sweeper
Bosses
Chaos 0 | Chaos 2 | Chaos 4 | Chaos 6 | Beta | Mark II | Gamma | Delta | Epsilon | Zeta | Egg Carrier | Egg Hornet | Egg Viper | Egg Walker | Knuckles | Perfect Chaos | Sonic | ZERO
Moves/
Techniques
Playable characters
Bolt of lightning | Climb | Dig | Flight Mode | Glide | Hammer Attack | Hammer Jump | Hover | Homing Attack | Homing Missile Launch | Jump Attack | Laser Gun | Light Speed Attack | Light Speed Dash | Lure Attack | Maximum Heat Knuckles Attack | Pick | Propeller Flight | Punch Attack | Rapid Tails Attack | Spin Attack | Spin Dash | Spin Hammer Attack | Spin Jump | Tails Attack
NPCs
Arm Punch | Bomb Attack | Bomb Gun Attack | Charge | Double Punch | Earthquake Attack | Electric Arm | Energy Ball Attack | Flame Thrower Attack | Guiding Missiles | Instantaneous Liquefaction | Laser Beam Attack | Homing Tail Slice | Inhale Attack | Marble Attack | Phantom Shadow Move | Punch | Quarter Attack | Scorpion Attack | Shockwave Attack (Chaos 6) | Sonic Boom | Spin Attack | Spinning Spike Attack | Spouting Attack | Squash Roll Attack | Swing Punch
Gimmicks and obstacles
Bumper | Bumper Car | Cannon | Capsule | Car | Conveyor Belt | Crank | Dash Panel | Dash Ring | Drum Can | Explosion Trap | Fan | Flame dart | Flipper | Fountain | Giant Ring* | Goal Balloon | Hanging Bell | Helicopter | Hint Box | Hint Orb | Icicle | Iron ball | Jump Panel (plate) | Jump Panel (ramp) | Jump Ramp | Laser field | Lit Panel | Mirror | Monkey Detonation Switch | Orca | Point Marker | Power cube | Rocket | Satellite | Slot machine | Spiked bar | Spring | Spring Catapult | Switch | Teleporter | Wide spring | Wind Path | Zip Line
Items
General
Air Bubble | Cart pass | Chao Egg | Chaos Emerald | Doll | Emblem | Emerald Shard | Employee ID Card | Item Box (5 Rings, 10 Rings, Extra Life, High-Speed Shoes, Invincibility, Magnetic Shield, Random Rings, Shield, Smart Bomb) | Key Stone (Gold statue, Ice Stone, Silver statue, Wind Stone) | Ring | Sandboard | Snowboard | Sonic Token
Level Up Items
Ancient Light | Crystal Ring | Fighting Gloves | Jet Anklet | Jet Booster | Laser Blaster | Life Belt | Light Speed Shoes | Long Hammer | Lure | Power Rod | Rhythm Badge | Shovel Claw | Warrior Feather
English voice actors
Ryan Drummond (Sonic) | Corey Bringas (Tails) | Michael McGaharn (Knuckles) | Deem Bristow (Eggman) | Jennifer Douillard (Amy) | Jon St. John (Big) | Elara Distler (Tikal, Station Square train voice, default menu voice) | Steve Broadie (Gamma, Pachacamac, Mystic Ruins train voice) | Tomoko Sasaki (Chao)
Japanese voice actors
Jun'ichi Kanemaru (Sonic) | Kazuki Hayashi (Tails) | Nobutoshi Canna (Knuckles) | Chikao Ōtsuka (Eggman) | Taeko Kawata (Amy) | Shun Yashiro (Big) | Kaori Asoh (Tikal) | Jōji Nakata (Gamma) | Tōru Ōkawa (Pachacamac) | Kaho Kōda (Station Square train voice) | Nobutoshi Canna (Mystic Ruins train voice) | Elara Distler (Default menu voice) | Tomoko Sasaki (Chao)
Music
Songs
"Believe In Myself" | "It Doesn't Matter" | "Lazy Days (Livin' in Paradise)" | "My Sweet Passion" | "Open Your Heart" | "Unknown from M.E."
Albums
Passion & Pride: Anthems with Attitude from the Sonic Adventure Era | Sonic Adventure: Songs With Attitude Vocal Mini-Album | SONIC ADVENTURE OFFICIAL SOUNDTRACK VINYL EDITION | Sonic Adventure Original Soundtrack 20th Anniversary Edition | Sonic Adventure Original Sound Track (Digi-Log Conversation) | Sonic Adventure Remix
Other
777 Slots Pinball | Altar of Emerald | Angel Island | Auto Running | Black Market | Card & Pinball | Chao Adventure* | Chao Garden (Station Square Garden, Mystic Ruins Garden, Egg Carrier Island) | Chao Race | Chao Stadium | Chao in Space | Chao Machine | Chao Search* | Corkscrew | Debug Mode | E-100 Series | Eggmobile | Egg Carrier | Egg Carrier 2 | Emerald Radar | Freeze | Game Over | Life | Life gauge | Loop | Master Emerald | Mission Mode**^ | Mystic Ruins | Shrine of Knuckles's race | Sonic Adventure (LCD) | Sonic Adventure: Navigation Guide | Station Square | Tails's Work Shop | Tornado | Tornado 2 | Transporter Machine | Water

*Appears in only the original Dreamcast version
**Appears in only Sonic Adventure DX
^Appears in only the Sonic Adventure DX DLC of the 2010 remaster
---
Main article | Staff | Glitches | Manuals | Beta elements | Gallery | Re-releases (Plus)
Playable characters
Sonic (Super Sonic) | Tails (Super Tails) | Knuckles (Super Knuckles) | Mighty* (Super Mighty*) | Ray* (Super Ray*)
Non-playable characters
Cluckoid | Dr. Eggman | Egg-Robo | Hard Boiled Heavies (Heavy Gunner, Heavy King, Heavy Magician, Heavy Rider, Heavy Shinobi) | Jimmy | Metal Sonic (Giga Metal) | Phantom Heavies (Phantom Gunner, Phantom King, Phantom Magician, Phantom Rider, Phantom Shinobi) | Rock Drill | Animals (Becky, Cucky, Flicky, Locky, Micky, Pecky, Picky, Pocky, Ricky, Rocky, Tocky, Wocky)
Zones
Angel Island Zone* | Green Hill Zone | Chemical Plant Zone | Studiopolis Zone | Flying Battery Zone | Press Garden Zone | Stardust Speedway Zone | Hydrocity Zone | Mirage Saloon Zone | Oil Ocean Zone | Lava Reef Zone | Metallic Madness Zone | Titanic Monarch Zone | Egg Reverie Zone | Special Stage | Bonus Stage | Pinball Stage*
Enemies
Amy Doll | Aquis | Armadiloid | Asteron | Ball Hog | Batbrain | Blaster | Blastoid | Bloominator* | Bugernator | Bumpalo | Buzz Bomber | Cactula | Canister | Caterkiller Jr. | Chopper | Clucker | Crabmeat | Dango | Dragonfly | Fireworm | Flasher Mk. II | Gohla | Grabber | Hotaru | IceBomba | Iwamodoki | Jawz | Jellygnite | Juggle Saw | Kabasira | Kanabun | Madmole | Matryoshka-Bom | Mecha-Bu | Mega Chopper | Mic Drop | Monkey Dude* | Motobug | Newtron | Octus | Poh-Bee | Pointdexter | Rattlekiller | Rexon | RhinoBot* | Roller Mk. II | Scarab | Sentry Bug | Shutterbug | Silver Sonic | Spiny | Splats | Sweep | Technosqueek | Toxomister | Tubinaut | Turbo Spiker | Turbo Turtle | Vultron | Woodrow
Bosses
Mini-bosses
DD Wrecker | Amoeba Droid | Heavy Gunner | Big Squeeze | Shiversaw | Hotaru Hi-Watt | Dive Eggman | Uber Caterkiller | Meter Droid | Drillerdroid | Egg Pistons mk.II | Crimson Eye
Zone bosses
Death Egg Robot | Mean Bean Machine | Weather Globe | Spider Mobile | Heavy Shinobi | Metal Sonic | Laundro-Mobile | Heavy Magician | Mega Octus | Heavy Rider | Heavy King | Gachapandora | Phantom Egg | Phantom King and Klepto Mobile
Moves/Techniques
Air Glide* | Bounce Jump | Climb | Crouch | Double Jump | Drop Dash | Fireball Spin Dash | Glide | Hammer Drop* | Insta-Shield | Propeller Flying | Ring Spark Field | Spin Attack | Spin Dash | Spin Jump | Super Peel Out | Swim | V. Maximum Overdrive Attack
Gimmicks and obstacles
Arrow column | Beanstalk | Bomb | Bumper | Bungee Rope | Bumper wall | Cannon | Capsule | Conveyor Belt | Crusher | Dash Panel | Dropping platform | Electrical conduit | Fan | Fireball | Flipper | Flywheel | Glove on a stick | Goal Plate | Hang Glider | High-speed spiral tube | High-speed warp tube | Ice Spring | Iron ball | Jump Panel | Lighting switch | Magnetic sphere | Platform-raising Wheel | Pulley | Ruby Mist | Saw | Seesaw | Sinking pool | Shrink ray | Snowblower | Spikes | Spring | Star Post | Switch | Transport | Vine | Zipline
Items
Air Bubble | Chaos Emerald | Giant Ring | Giant spear | Item Box (1-UP, Blue Shield, Bubble Shield, Character*, Hyper Ring, Eggman Mark, Fire Shield, Invincible, Lightning Shield, Player Swap, Power Sneakers, Random, S, Super Ring) | Little Planet flowers | Master Emerald | Metal Sonic hologram | Medallion | Ring | Robot transporter | Schrodinger's Capsule* | Sphere | Star Circle | Time Warp sign | UFO | Warp Point
Music
Sonic Mania (vinyl album) | Sonic Mania Original Soundtrack (Selected Edition) | Sonic Mania Plus Original Soundtrack
Other
Angel Island | Auto Running | Continue | Corkscrew | Death Egg Robot | Debug Mode | Eggmobile | Freeze | Game Over | Klepto Mobile | Level Select | Life | Little Planet | Loop | Mega Mack | Phantom Ruby | Perfect Bonus | Popgun | Sonic Mania Adventures ("Sonic Returns", "Sonic and Tails", "& Knuckles", "Mighty and Ray", "Metal Mayhem", "From: A. Rose", "The Complete Mini-Series") | S pipe | Time Attack | Time Over | Time Warp | Tornado | Water

*Appears in only Sonic Mania Plus