Fire Emblem Warriors: Three Hopes - The Loop
Play Sound
Archie Sonic the Hedgehog Issue 92 is the ninety-second issue of the Sonic the Hedgehog comic series published by Archie Comics.
Official solicitation
The Wrath of Khan
The Wrath Of Khan! Monkey Khan, that is. The cyborg-simian created by Doctor Robotnik returns, and this time the furry fury's got it in for his maker and all Overlanders in general. In an ironic twist, Sonic goes from protecting the newly arrived Overlanders from the Eggman last issue, to defending them against Monkey Khan this issue! If he doesn't they might go running scared into Robotnik's clutches after all.
Premonition
And in the backstory, "Premonition," is the Sonic Shuffle tie-in.
Featured stories
The Wrath of Khan
Synopsis
Chapter One
A lone figure makes his journey across a dessert wasteland surrounding Robotropolis, having journeyed from the other side of Mobius. He continues walking, through night and day, driven by hatred and the desire for revenge. Meanwhile, Dr. Eggman is outraged over the disappearance of the Sword of Acorns. However, Eggman quickly realizes that Sonic does not know the sword is gone and he can use this situation to his advantage.
Meanwhile, in the Forbidden Zone, Sonic hides while he watches a group of overlanders exit the two spaceships that crash landed outside Robotropolis. Lady Agnes asks their leader, "Lord Kintobor", if this was their intended destination. Kintobor asks his colleague, Cheddermund, to tell them where they are. The overlander explains that they have landed outside of the largest urban center on the planet just as a young girl, Hope, spots Sonic and is frightened by him. The overlanders react hostilely, with Lord Kintobor preparing to fight Sonic, when a broken Combot grabs Lady Agnes. Sonic destroys the Combot, saving Agnes, who is stunned.
Mina Mongoose and Rotor arrive in Knothole Village, where Geoffrey St. John explains that someone has stolen the Sword of Acorns. Despite Mina's attempts to stop Rotor from talking, Geoffrey realizes what's going on and demands an explanation. Meanwhile, Eggman notices that Colin Kintobor is the leader of the Overlanders who landed outside Robotropolis. He decides that he will roboticize his counterpart's brother, as well as all of the other overlanders. Sonic tries to explain the situation to the overlanders, but Eggman projects a hologram of himself outside the city and tells them that Robotropolis will serve as a safe hiding place from the mobians. Suddenly, Monkey Khan appears, ready to fight Eggman.
Chapter Two
Khan attacks Eggman's hologram, causing the Overlanders to panic. Meanwhile, in Knothole, Geoffrey futilely tries to interrogate Mina. Hershey asks him to step aside, promising Mina that Sonic will not be punished if she cooperates. Not long after, Mina confesses that Sonic stole the sword. Geoffrey is so happy he tells Hershey he could kiss her; Hershey just wonders why he does not.
As the overlanders rush for Robotropolis, Khan prepares to attack the city. Sonic intercepts him, trying to calm him down so the overlanders will stop panicking. They begin to fight and Sonic asks what Khan's problem is. Khan explains that Eggman destroyed Kar Leung and roboticized everyone he cares about. Sonic argues that Khan should not take it out on the innocent overlanders, but he retorts that his village was also innocent.
Tails meets up with Rotor while Sally talks with her mother about her life since they were separated. Sally fills her in on everything that happened, explaining how she relied on her friends when she had no family, and surprises the queen by telling her that she was in charge of the remnants of the kingdom while her father was gone. Back in the Forbidden Zone, Sonic rushes towards Robotropolis but is stopped by the city's force field. Khan flies off, frustrated that he cannot attack Eggman. With the overlanders willing prisoners and Khan gone, Sonic screams after the rogue monkey in anger.
Appearances
Characters:
Races and species:
Locations:
Items:
Misc.:
Trivia
The title of this story, and the quote "KHAAAAAN!", are both references to the 1982 Sci-fi film, Star Trek II: The Wrath of Khan. Both respective lines are used by the main protagonist, James T. Kirk.
Monkey Khan's quote "I have had enough of you!" is likely a reference to the same line from Captain Kirk in Star Trek III: The Search for Spock due to the way the speech bubbles are spaced.
Sonic's line, "Well, I've had enough "Pokemon", but you don't see me complainin'!" is a reference to the Pokémon franchise.
Michael Higgins, who did the pencil artwork for this story, was heavily criticized for copying artwork by other artists several times throughout this story.[1]
Eggman calls his Badniks "Protectobots" when trying to fool the overlanders. This is also the name of a group of Autobots in the Transformers franchise.
A Sonic Shuffle Tie-In: Premonition
Synopsis
Sonic, fast asleep, dreams he is being chased by a train. He heads down the tracks and into a tunnel, only for the train to disappear as he finds himself face to face with a giant gemstone. Sonic notices that it is nothing like the Chaos Emeralds and notices his friends in the gem's reflection as he steps closer. He turns back to see Knuckles, Amy, and Tails, and asks where Sally and the other Freedom Fighters are. Amy tells him that they are not with them, but someone else has decided to tag along.
In a flash of light, Lumina appears before Sonic and introduces herself to him. Sonic insists that this is just a bad dream, but Lumina tells him that she sent out a cry for help that was answered by Sonic's sub-conscience. She tells him that the massive gem before them is the Precioustone, the gateway to Maginaryworld; a crystal made of hopes and dreams across dimensions. Lumina explains that Maginaryworld is in grave danger, as Void one day drained the power of the Precioustone, sucking the joy and life from the world and setting it on a path to destruction.
Lumina gives Sonic a special bracelet and asks him to touch the Precioustone to begin his adventure. He does so, and the Precioustone shatters. Sonic suddenly wakes up in the real world with Lumina at his side, much to his surprise. She shows him a portal to Maginaryworld with his friends waiting for him on the other side, and tells him it is time to save the world.
Appearances
Characters:
Races and species:
Locations:
Items:
Trivia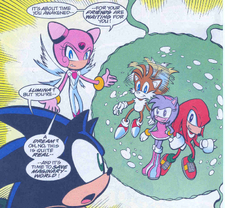 Several coloring errors can be seen in this story.
In this story, Sonic is given a bracelet. The item's function was never explained.
Off Panel
Synopsis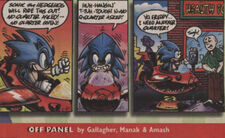 Sonic is seen riding on a rocket, swearing to neither give nor ask for "quarter.". The plane begins to shake and it is then revealed that he is just riding in a "kiddie ride" and that the machine has stopped. Sonic thus asks Gabrie for another quarter.
Appearances
Characters:
Races and species:
Other features
Sonic Checklist
Sonic-Grams
Sonic Fan Art
Quotes
Khan: I have had enough of you!
Sonic: Well, I've had enough of 'pokemon' but you don't see me complanin'!
Sonic: KHAAAAAAN!
Trivia
This the last issue to be published on a monthly schedule; starting with Sonic the Hedgehog #93, the series was published every fourth week.
This issue marks the last issue where Tails's fur is colored brown, as it is colored orange in every following issue.
Gallery
Preview pages
References
External links
Sonic the Hedgehog
1 | 2 | 3 | 4 | 5 | 6 | 7 | 8 | 9 | 10 | 11 | 12 | 13 | 14 | 15 | 16 | 17 | 18 | 19 | 20 | 21 | 22 | 23 | 24 | 25 | 26 | 27 | 28 | 29 | 30 | 31 | 32 | 33 | 34 | 35 | 36 | 37 | 38 | 39 | 40 | 41 | 42 | 43 | 44 | 45 | 46 | 47 | 48 | 49 | 50 | 51 | 52 | 53 | 54 | 55 | 56 | 57 | 58 | 59 | 60 | 61 | 62 | 63 | 64 | 65 | 66 | 67 | 68 | 69 | 70 | 71 | 72 | 73 | 74 | 75 | 76 | 77 | 78 | 79 | 80 | 81 | 82 | 83 | 84 | 85 | 86 | 87 | 88 | 89 | 90 | 91 | 92 | 93 | 94 | 95 | 96 | 97 | 98 | 99 | 100 | 101 | 102 | 103 | 104 | 105 | 106 | 107 | 108 | 109 | 110 | 111 | 112 | 113 | 114 | 115 | 116 | 117 | 118 | 119 | 120 | 121 | 122 | 123 | 124 | 125 | 126 | 127 | 128 | 129 | 130 | 131 | 132 | 133 | 134 | 135 | 136 | 137 | 138 | 139 | 140 | 141 | 142 | 143 | 144 | 145 | 146 | 147 | 148 | 149 | 150 | 151 | 152 | 153 | 154 | 155 | 156 | 157 | 158 | 159 | 160 | 161 | 162 | 163 | 164 | 165 | 166 | 167 | 168 | 169 | 170 | 171 | 172 | 173 | 174 | 175 | 176 | 177 | 178 | 179 | 180 | 181 | 182 | 183 | 184 | 185 | 186 | 187 | 188 | 189 | 190 | 191 | 192 | 193 | 194 | 195 | 196 | 197 | 198 | 199 | 200 | 201 | 202 | 203 | 204 | 205 | 206 | 207 | 208 | 209 | 210 | 211 | 212 | 213 | 214 | 215 | 216 | 217 | 218 | 219 | 220 | 221 | 222 | 223 | 224 | 225 | 226 | 227 | 228 | 229 | 230 | 231 | 232 | 233 | 234 | 235 | 236 | 237 | 238 | 239 | 240 | 241 | 242 | 243 | 244 | 245 | 246 | 247 | 248 | 249 | 250 | 251 | 252 | 253 | 254 | 255 | 256 | 257 | 258 | 259 | 260 | 261 | 262 | 263 | 264 | 265 | 266 | 267 | 268 | 269 | 270 | 271 | 272 | 273 | 274 | 275 | 276 | 277 | 278 | 279 | 280 | 281 | 282 | 283 | 284 | 285 | 286 | 287 | 288 | 289 | 290 | 291* | 292* | 293* | 294* | 295*

Miniseries

Sonic the Hedgehog (0, 1, 2, 3) | Princess Sally (1, 2, 3) | Sonic's Buddy: Tails (1, 2, 3) | Sonic's Friendly Nemesis: Knuckles (1, 2, 3) | Sonic Quest (1, 2, 3)
Knuckles the Echidna
1 | 2 | 3 | 4 | 5 | 6 | 7 | 8 | 9 | 10 | 11 | 12 | 13 | 14 | 15 | 16 | 17 | 18 | 19 | 20 | 21 | 22 | 23 | 24 | 25 | 26 | 27 | 28 | 29 | 30 | 31 | 32
Sonic Super Special
1 | 2 | 3 | 4 | 5 | 6 | 7 | 8 | 9 | 10 | 11 | 12 | 13 | 14 | 15
Sonic Specials
Sonic: in Your Face! | Sonic & Knuckles | Sonic Triple Trouble | Knuckles' Chaotix | Super Sonic vs. Hyper Knuckles | Mecha Madness | Sonic Live! | Sonic Blast
Sonic X
1 | 2 | 3 | 4 | 5 | 6 | 7 | 8 | 9 | 10 | 11 | 12 | 13 | 14 | 15 | 16 | 17 | 18 | 19 | 20 | 21 | 22 | 23 | 24 | 25 | 26 | 27 | 28 | 29 | 30 | 31 | 32 | 33 | 34 | 35 | 36 | 37 | 38 | 39 | 40
Sonic Universe
1 | 2 | 3 | 4 | 5 | 6 | 7 | 8 | 9 | 10 | 11 | 12 | 13 | 14 | 15 | 16 | 17 | 18 | 19 | 20 | 21 | 22 | 23 | 24 | 25 | 26 | 27 | 28 | 29 | 30 | 31 | 32 | 33 | 34 | 35 | 36 | 37 | 38 | 39 | 40 | 41 | 42 | 43 | 44 | 45 | 46 | 47 | 48 | 49 | 50 | 51 | 52 | 53 | 54 | 55 | 56 | 57 | 58 | 59 | 60 | 61 | 62 | 63 | 64 | 65 | 66 | 67 | 68 | 69 | 70 | 71 | 72 | 73 | 74 | 75 | 76 | 77 | 78 | 79 | 80 | 81 | 82 | 83 | 84 | 85 | 86 | 87 | 88 | 89 | 90 | 91 | 92 | 93 | 94 | 95* | 96* | 97*
Sonic Boom
1 | 2 | 3 | 4 | 5 | 6 | 7 | 8 | 9 | 10 | 11
Free Comic Book Day
2007 | 2008 | 2009 | 2010 | 2011 | 2012 | 2013 | Halloween ComicFest 2013 | 2014 | 2015 | 2016 | 2017*
Tie-Ins
Archie & Friends: A Halloween Tale | Sabrina the Teenage Witch (28) | Mega Man (24, 25, 26, 27, 50, 51, 52)
Other
Sonic the Hedgehog #¼ | Slam Jammin' Sonic* | Dark Mobius - Knuckles' Descent | Sonic and the Secret Rings | Sonic the Hedgehog: The Complete Sonic Comic Encyclopedia | Sonic the Hedgehog: Worlds Unite Battles #1 | Mega Man: Worlds Unite Battles #1 | Sonic: Mega Drive | Sonic: Mega Drive - The Next Level | Sonic: Mega Drive - Overdrive*

* Canceled issue