Fire Emblem Warriors: Three Hopes - The Loop
Play Sound
Archie Sonic the Hedgehog Issue 239 is the two hundredth thirty-ninth issue of the Sonic the Hedgehog comic series published by Archie Comics.
Official solicitation
"Heroes," Part One. It's Team Freedom vs. Team Metal! Elias Acorn may no longer be king, but he's still a symbol of hope in Dr. Eggman's eyes - and that just won't do! As Dr. Eggman launches a two-pronged assault, Sonic and Team Fighters must save Elias from a deadly assassin - his own sister! Featuring a brand new painted cover by Greg Horn!
Featured stories
Heroes Part One: Team Building
As Team Fighters pursues the Death Egg, they watch it drop an invasion force on Feral Forest before departing in the direction of New Mobotropolis. Though recognizing that their home is in danger, the heroes realize that the people of Feral Forest need their help, and so they trust Team Freedom to defend the city while they drop from the Tornado.
The team lands to find Egg SWATs menacing the citizens, under the command of Mecha Sally. Puzzled at the presence of Robotnik's top operative, Amy then comes to the horrifying realization: Mecha Sally has been sent to eliminate her own brother, Elias. The heroes quickly move to intercept her, determined to prevent the Robian from murdering her own brother. Recognizing their approach, Mecha Sally calls upon another of her minions: a rebuilt Silver Sonic 3. As Sonic engages his robotic imitation in battle, Amy and Tails continue to pursue Mecha Sally.
Meanwhile, at Elias' home, his family-joined by Colonel Sommersby and his wife-are preparing to leave, with Elias splitting up from the others. Both he and the Colonel are ready to fight the invaders beforehand, though Sommersby wishes Elias would include him in his "greater plans." Elias thanks him for his offer and assures him thatHarvey Who has things taken care of. He then instructs his wife to accompany Mrs. Sommersby and as many of the villagers as they can find to shelter, promising that everything will work out. Larry Lynxand Leeta, clad in their Secret Freedom Fighters uniforms, then enter, introducing themselves as Elias' escorts. Elias initially doesn't want to leave without fighting, but with Leeta's urging and Sommersby's encouragements, he agrees.
The trio heading to New Mobotropolis exit through a window, just as Tails lands outside. The young hero is puzzled, but Elias asks him not to reveal that he had seen them leaving. Though Tails is unsure, he agrees, and heads back into the fight as Elias and his escorts depart. Elsewhere, Mecha Sally attacks Sommersby, quickly overpowering the old soldier only to be confronted by Amy. The pink Hedgehog tries to reach her old friend through reasoning, but Mecha Sally is quick to assure her that any attempts to rescue her are futile. She then starts playing mind games, accusing Amy of wishing to eliminate her so that she can have Sonic all to herself.
Tails cuts in on the battle, reminding Amy that Mecha Sally has been programmed with her current behavior, and that it's not their friend doing this. Sending Sommersby off to help the others, the two members of Team Fighters confront their Roboticized former comrade, confident that there are no further distractions. Mecha Sally quickly changes their minds, firing a head-mounted laser that sets two nearby huts on fire. She then attempts to leave the fight, while Sonic comes flying in after being hit by Silver Sonic, who quickly pursues him. Leading his double on a chase, Sonic tricks the robot into knocking down several Egg Swats who are menacing the citizens.
Unfazed, Silver Sonic goes after his foe again, only to be confronted by T-Pup. The little robot proves tougher than his appearance would suggest, throwing up a field that puts Silver Sonic in stasis as the real Sonic goes to help the others. As Mecha Sally continues to torch huts, Amy and Tails continue to oppose her, forcing her to call in her remaining Egg Swats as a distraction. Learning that her target, Elias, has escaped, and that the village militia has mobilized against the greatly reduced robot army, Mecha Sally takes off to rejoin the Death Egg. At first Sonic is determined to go after her, but her quickly realizes that not all the Egg Swats have been destroyed and that the village still needs their help. Reluctantly, he orders his team to continue fighting the robots and the fires.
With the enemy defeated, Sommersby and Sonic begin discussing the rebuilding of the damaged village, even contemplating the usefulness of Eggman's defeated invasion force as construction materials. Sonic is then angered to learn that Elias won't see him not only from Sommersby but from Tails. The two friends briefly stare each other down, but Sonic decides to trust his younger friend's judgment. Meanwhile, back near New Mobotropolis, Elias and his new teammates arrive just in time to see the Death Egg hovering over the city, preparing for another attack. Recognizing that Eggman has distracted Sonic with his attack on Feral Forest, Elias fears that the city is doomed. But also aware of the threat, Rotor and the rest of Team Freedom prepare to defend their city.
Off Panel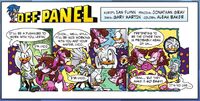 Silver approaches Leeta, saying how much he is going to enjoy working with her, when she "corrects" him by identifying herself as Lyco. Thinking he has made a mistake, he again expresses that he is going to be happy working with the pair to Lyco, only for her to correctly identify herself. Silver is left totally confused, while the Wolf twins smile at Leeta's trick of pretending to be Lyco, claiming that everyone makes it "so easy!"
Quotes
Silver: It's no use...
Trivia
Sonic's pose on the cover appears to be a combination of his official artwork from Sonic Heroes (face and coloring) and Sonic Generations (pose).
This issue marks the final on panel appearances by George Sommersby, Martha Sommersby, Megan Acorn, Alexis Acorn, and Joss, before removal of Ken Penders' creations and other old reality characters due to the reboot.
The background on the cover represent the tempalet of Green Hill Zone.
The extras design details on the bottom of the cover are the extra design details featured on the loading scene in Sonic Generations.
The cover Uses a new Archie Comics logo.
In the Off Panel when Silver is tricked, he says "It's no use." This is a reference to Sonic the Hedgehog (2006) wherein Silver is constantly saying the phrase when the game crashes during his boss battle.
In Germany, this issue was printed in Panini Sonic the Hedgehog #7'.
Gallery
Cover artwork
Other
Preview pages
External links
Sonic the Hedgehog
1 | 2 | 3 | 4 | 5 | 6 | 7 | 8 | 9 | 10 | 11 | 12 | 13 | 14 | 15 | 16 | 17 | 18 | 19 | 20 | 21 | 22 | 23 | 24 | 25 | 26 | 27 | 28 | 29 | 30 | 31 | 32 | 33 | 34 | 35 | 36 | 37 | 38 | 39 | 40 | 41 | 42 | 43 | 44 | 45 | 46 | 47 | 48 | 49 | 50 | 51 | 52 | 53 | 54 | 55 | 56 | 57 | 58 | 59 | 60 | 61 | 62 | 63 | 64 | 65 | 66 | 67 | 68 | 69 | 70 | 71 | 72 | 73 | 74 | 75 | 76 | 77 | 78 | 79 | 80 | 81 | 82 | 83 | 84 | 85 | 86 | 87 | 88 | 89 | 90 | 91 | 92 | 93 | 94 | 95 | 96 | 97 | 98 | 99 | 100 | 101 | 102 | 103 | 104 | 105 | 106 | 107 | 108 | 109 | 110 | 111 | 112 | 113 | 114 | 115 | 116 | 117 | 118 | 119 | 120 | 121 | 122 | 123 | 124 | 125 | 126 | 127 | 128 | 129 | 130 | 131 | 132 | 133 | 134 | 135 | 136 | 137 | 138 | 139 | 140 | 141 | 142 | 143 | 144 | 145 | 146 | 147 | 148 | 149 | 150 | 151 | 152 | 153 | 154 | 155 | 156 | 157 | 158 | 159 | 160 | 161 | 162 | 163 | 164 | 165 | 166 | 167 | 168 | 169 | 170 | 171 | 172 | 173 | 174 | 175 | 176 | 177 | 178 | 179 | 180 | 181 | 182 | 183 | 184 | 185 | 186 | 187 | 188 | 189 | 190 | 191 | 192 | 193 | 194 | 195 | 196 | 197 | 198 | 199 | 200 | 201 | 202 | 203 | 204 | 205 | 206 | 207 | 208 | 209 | 210 | 211 | 212 | 213 | 214 | 215 | 216 | 217 | 218 | 219 | 220 | 221 | 222 | 223 | 224 | 225 | 226 | 227 | 228 | 229 | 230 | 231 | 232 | 233 | 234 | 235 | 236 | 237 | 238 | 239 | 240 | 241 | 242 | 243 | 244 | 245 | 246 | 247 | 248 | 249 | 250 | 251 | 252 | 253 | 254 | 255 | 256 | 257 | 258 | 259 | 260 | 261 | 262 | 263 | 264 | 265 | 266 | 267 | 268 | 269 | 270 | 271 | 272 | 273 | 274 | 275 | 276 | 277 | 278 | 279 | 280 | 281 | 282 | 283 | 284 | 285 | 286 | 287 | 288 | 289 | 290 | 291* | 292* | 293* | 294* | 295*

Miniseries

Sonic the Hedgehog (0, 1, 2, 3) | Princess Sally (1, 2, 3) | Sonic's Buddy: Tails (1, 2, 3) | Sonic's Friendly Nemesis: Knuckles (1, 2, 3) | Sonic Quest (1, 2, 3)
Knuckles the Echidna
1 | 2 | 3 | 4 | 5 | 6 | 7 | 8 | 9 | 10 | 11 | 12 | 13 | 14 | 15 | 16 | 17 | 18 | 19 | 20 | 21 | 22 | 23 | 24 | 25 | 26 | 27 | 28 | 29 | 30 | 31 | 32
Sonic Super Special
1 | 2 | 3 | 4 | 5 | 6 | 7 | 8 | 9 | 10 | 11 | 12 | 13 | 14 | 15
Sonic Specials
Sonic: in Your Face! | Sonic & Knuckles | Sonic Triple Trouble | Knuckles' Chaotix | Super Sonic vs. Hyper Knuckles | Mecha Madness | Sonic Live! | Sonic Blast
Sonic X
1 | 2 | 3 | 4 | 5 | 6 | 7 | 8 | 9 | 10 | 11 | 12 | 13 | 14 | 15 | 16 | 17 | 18 | 19 | 20 | 21 | 22 | 23 | 24 | 25 | 26 | 27 | 28 | 29 | 30 | 31 | 32 | 33 | 34 | 35 | 36 | 37 | 38 | 39 | 40
Sonic Universe
1 | 2 | 3 | 4 | 5 | 6 | 7 | 8 | 9 | 10 | 11 | 12 | 13 | 14 | 15 | 16 | 17 | 18 | 19 | 20 | 21 | 22 | 23 | 24 | 25 | 26 | 27 | 28 | 29 | 30 | 31 | 32 | 33 | 34 | 35 | 36 | 37 | 38 | 39 | 40 | 41 | 42 | 43 | 44 | 45 | 46 | 47 | 48 | 49 | 50 | 51 | 52 | 53 | 54 | 55 | 56 | 57 | 58 | 59 | 60 | 61 | 62 | 63 | 64 | 65 | 66 | 67 | 68 | 69 | 70 | 71 | 72 | 73 | 74 | 75 | 76 | 77 | 78 | 79 | 80 | 81 | 82 | 83 | 84 | 85 | 86 | 87 | 88 | 89 | 90 | 91 | 92 | 93 | 94 | 95* | 96* | 97*
Sonic Boom
1 | 2 | 3 | 4 | 5 | 6 | 7 | 8 | 9 | 10 | 11
Free Comic Book Day
2007 | 2008 | 2009 | 2010 | 2011 | 2012 | 2013 | Halloween ComicFest 2013 | 2014 | 2015 | 2016 | 2017*
Tie-Ins
Archie & Friends: A Halloween Tale | Sabrina the Teenage Witch (28) | Mega Man (24, 25, 26, 27, 50, 51, 52)
Other
Sonic the Hedgehog #¼ | Slam Jammin' Sonic* | Dark Mobius - Knuckles' Descent | Sonic and the Secret Rings | Sonic the Hedgehog: The Complete Sonic Comic Encyclopedia | Sonic the Hedgehog: Worlds Unite Battles #1 | Mega Man: Worlds Unite Battles #1 | Sonic: Mega Drive | Sonic: Mega Drive - The Next Level | Sonic: Mega Drive - Overdrive*

* Canceled issue