Raise a Floppa - The Loop
Play Sound
Archie Sonic the Hedgehog Issue 144 is the one hundred forty-fourth issue of the Sonic the Hedgehog comic series published by Archie Comics.
Official solicitation
Mobius: 25 Years Later - Moment of Truth
The popular series-within-a-series... and the very future itself... takes center stage as our heroes valiantly try to repair the ripped rift in time! Using a long departed evil doctor's greatest unused device, can even the combined might and intellect of King Sonic, Guardian Knuckles, and the scientific geniuses Rotor and Cobar, be enough to fix time .. in time?! And what part does a mysterious stowaway have to play in this saga? No fan of the Sonic mythos should miss this one!
Love and Loss
Sonic and Sally, Antoine and Bunnie Rabbot romantic upheavals have worried fans more than wondering when the next Dr. Robotnik or Dark Legion attack is coming. Now with their future uncertain, where does that leave our heartbroken Freedom Fighters? These questions of love, loss and yes, laughter will finally be addressed in this poignant, charming tale.
Featured stories
Mobius: 25 Years Later: The Die is Cast
Synopsis
Returning home briefly before going to join King Sonic, Knuckles speaks to Lara-Su and informs her that he has decided that she may begin training to become a Guardian. Overjoyed, Lara-Su begins questioning him, but is then informed that they will begin after he returns-or, in the event that he does not return, Julie-Su knows who to contact about her training. Realizing the danger of the situation, Lara-Su asks to go along, which Knuckles refuses to allow, only for Julie-Su to accost him about not informing her that the coming mission might prove fatal. After appeasing her, Knuckles departs for the shuttle port to join Sonic, Rotor, and Cobar. Sally then asks him to keep Sonic safe for her, which Knuckles agrees to before questioning Lara-Su's sudden absence.
After a cab ride with Harry, Knuckles departs Angel Island on a shuttle with his companions, the stormy weather growing worse and worse around them as they travel to the toxic region known as the Badlands, where Dr. Eggman's Tachyon Displacement Chamber is hidden. They then disembark in protective suits, entering the installation to find the chamber up and running. Sonic volunteers himself to travel back in time, and refuses to be persuaded differently. Back on the shuttle, Lara-Su emerges from hiding, having somehow stowed away. Before she can make any effort to join the others, however, she starts disappearing into thin air. Meanwhile, the Tachyon Displacement Chamber's teleportation seems to be breaking down, but before Sonic's companions can do anything to stop it, he disappears.
Back on present day Mobius, both Sonic and Knuckles dismiss notions of the future, neither of them giving serious consideration to anything beyond the here an now. Knuckles says in particular that the future is too far to think about. "Though our destinies are etched with stone, various are the means used in the carving" - Paracleas, ancient echidna philosopher.
Appearances
Characters:
Races and species:
Locations:
Items:
Misc.:
Love and Loss
Synopsis
In Knothole, many girls have brought the Knothole News on Wednesday's because of the Love and Loss written by someone named "Aly" for dating advice for girls. Sasha heads home to Rosie and both read of the stories involving Bunnie Rabbot, Mina Mongoose, Amy Rose and Sally Acorn. Bunnie writes about her relationship with Antoine D'Coolette, and how them breaking up has caused her to become desperate for companionship. Mina writes about her love between Sonic and Ash Mongoose, her current boyfriend. After receiving a reply, she calls Ash to organize a date and tosses her picture of Sonic away. Amy writes about her crush on Sonic and rejects Aly's advice to find someone else. Bunnie, Amy, Mina, Rosie and Sasha read a new article written by Sally about how Sonic left her.
As it turns out, "Aly" is really Sally herself, who began the "Love and Loss" advice column in secret to help others deal with their relationships but found in it a therapeutic outlet that ultimately helps her deal with her own traumas. She uses "Aly's" response to her own letter to reflect on where she had gone wrong, where Sonic was coming from, and concludes by reminding herself that she and Sonic may get back together but that one can never tell what the future holds.
Appearances
Characters:
Races and species:
Locations:
Items:
Continuity
Trivia
Off Panel
Synopsis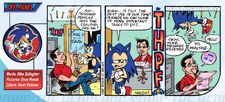 Sonic walks in on Mike the editor tossing pencils into the ceiling to make them stick. Sonic suggests that he find something more important to do. Mike responds by tossing Sonic and making him stick to the ceiling instead.
Appearances
Characters:
Races and Species:
Items:
Other features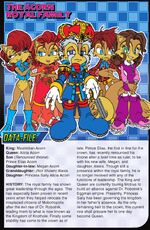 Data File: Full page sections features brief data files compiling the following characters and subjects in the Archie Comics' Sonic the Hedgehog series:
Trivia
This is the final issue to have a cover made by penciller Steven Butler.
Gallery
Preview pages
References
External links
Sonic the Hedgehog
1 | 2 | 3 | 4 | 5 | 6 | 7 | 8 | 9 | 10 | 11 | 12 | 13 | 14 | 15 | 16 | 17 | 18 | 19 | 20 | 21 | 22 | 23 | 24 | 25 | 26 | 27 | 28 | 29 | 30 | 31 | 32 | 33 | 34 | 35 | 36 | 37 | 38 | 39 | 40 | 41 | 42 | 43 | 44 | 45 | 46 | 47 | 48 | 49 | 50 | 51 | 52 | 53 | 54 | 55 | 56 | 57 | 58 | 59 | 60 | 61 | 62 | 63 | 64 | 65 | 66 | 67 | 68 | 69 | 70 | 71 | 72 | 73 | 74 | 75 | 76 | 77 | 78 | 79 | 80 | 81 | 82 | 83 | 84 | 85 | 86 | 87 | 88 | 89 | 90 | 91 | 92 | 93 | 94 | 95 | 96 | 97 | 98 | 99 | 100 | 101 | 102 | 103 | 104 | 105 | 106 | 107 | 108 | 109 | 110 | 111 | 112 | 113 | 114 | 115 | 116 | 117 | 118 | 119 | 120 | 121 | 122 | 123 | 124 | 125 | 126 | 127 | 128 | 129 | 130 | 131 | 132 | 133 | 134 | 135 | 136 | 137 | 138 | 139 | 140 | 141 | 142 | 143 | 144 | 145 | 146 | 147 | 148 | 149 | 150 | 151 | 152 | 153 | 154 | 155 | 156 | 157 | 158 | 159 | 160 | 161 | 162 | 163 | 164 | 165 | 166 | 167 | 168 | 169 | 170 | 171 | 172 | 173 | 174 | 175 | 176 | 177 | 178 | 179 | 180 | 181 | 182 | 183 | 184 | 185 | 186 | 187 | 188 | 189 | 190 | 191 | 192 | 193 | 194 | 195 | 196 | 197 | 198 | 199 | 200 | 201 | 202 | 203 | 204 | 205 | 206 | 207 | 208 | 209 | 210 | 211 | 212 | 213 | 214 | 215 | 216 | 217 | 218 | 219 | 220 | 221 | 222 | 223 | 224 | 225 | 226 | 227 | 228 | 229 | 230 | 231 | 232 | 233 | 234 | 235 | 236 | 237 | 238 | 239 | 240 | 241 | 242 | 243 | 244 | 245 | 246 | 247 | 248 | 249 | 250 | 251 | 252 | 253 | 254 | 255 | 256 | 257 | 258 | 259 | 260 | 261 | 262 | 263 | 264 | 265 | 266 | 267 | 268 | 269 | 270 | 271 | 272 | 273 | 274 | 275 | 276 | 277 | 278 | 279 | 280 | 281 | 282 | 283 | 284 | 285 | 286 | 287 | 288 | 289 | 290 | 291* | 292* | 293* | 294* | 295*

Miniseries

Sonic the Hedgehog (0, 1, 2, 3) | Princess Sally (1, 2, 3) | Sonic's Buddy: Tails (1, 2, 3) | Sonic's Friendly Nemesis: Knuckles (1, 2, 3) | Sonic Quest (1, 2, 3)
Knuckles the Echidna
1 | 2 | 3 | 4 | 5 | 6 | 7 | 8 | 9 | 10 | 11 | 12 | 13 | 14 | 15 | 16 | 17 | 18 | 19 | 20 | 21 | 22 | 23 | 24 | 25 | 26 | 27 | 28 | 29 | 30 | 31 | 32
Sonic Super Special
1 | 2 | 3 | 4 | 5 | 6 | 7 | 8 | 9 | 10 | 11 | 12 | 13 | 14 | 15
Sonic Specials
Sonic: in Your Face! | Sonic & Knuckles | Sonic Triple Trouble | Knuckles' Chaotix | Super Sonic vs. Hyper Knuckles | Mecha Madness | Sonic Live! | Sonic Blast
Sonic X
1 | 2 | 3 | 4 | 5 | 6 | 7 | 8 | 9 | 10 | 11 | 12 | 13 | 14 | 15 | 16 | 17 | 18 | 19 | 20 | 21 | 22 | 23 | 24 | 25 | 26 | 27 | 28 | 29 | 30 | 31 | 32 | 33 | 34 | 35 | 36 | 37 | 38 | 39 | 40
Sonic Universe
1 | 2 | 3 | 4 | 5 | 6 | 7 | 8 | 9 | 10 | 11 | 12 | 13 | 14 | 15 | 16 | 17 | 18 | 19 | 20 | 21 | 22 | 23 | 24 | 25 | 26 | 27 | 28 | 29 | 30 | 31 | 32 | 33 | 34 | 35 | 36 | 37 | 38 | 39 | 40 | 41 | 42 | 43 | 44 | 45 | 46 | 47 | 48 | 49 | 50 | 51 | 52 | 53 | 54 | 55 | 56 | 57 | 58 | 59 | 60 | 61 | 62 | 63 | 64 | 65 | 66 | 67 | 68 | 69 | 70 | 71 | 72 | 73 | 74 | 75 | 76 | 77 | 78 | 79 | 80 | 81 | 82 | 83 | 84 | 85 | 86 | 87 | 88 | 89 | 90 | 91 | 92 | 93 | 94 | 95* | 96* | 97*
Sonic Boom
1 | 2 | 3 | 4 | 5 | 6 | 7 | 8 | 9 | 10 | 11
Free Comic Book Day
2007 | 2008 | 2009 | 2010 | 2011 | 2012 | 2013 | Halloween ComicFest 2013 | 2014 | 2015 | 2016 | 2017*
Tie-Ins
Archie & Friends: A Halloween Tale | Sabrina the Teenage Witch (28) | Mega Man (24, 25, 26, 27, 50, 51, 52)
Other
Sonic the Hedgehog #¼ | Slam Jammin' Sonic* | Dark Mobius - Knuckles' Descent | Sonic and the Secret Rings | Sonic the Hedgehog: The Complete Sonic Comic Encyclopedia | Sonic the Hedgehog: Worlds Unite Battles #1 | Mega Man: Worlds Unite Battles #1 | Sonic: Mega Drive | Sonic: Mega Drive - The Next Level | Sonic: Mega Drive - Overdrive*

* Canceled issue