Sonic Super Special Magazine Issue 5 is the fifth issue of the Sonic Super Special Magazine comic series published by Archie Comics.
Official solicitation
The Sonic Super Special Magazine just got an extra dose of super! Because you demanded it, this special bonus issue of the first ever Sonic comic magazine in Archie history presents your favorite Sonic comic artwork as 24 pull-out pin-up posters! Also featuring tons of comics, news, features, never-before-seen artwork and a brand-new multicolor-foil enhanced cover by Sonic artist extraordinaire Tracy Yardley! Sonic super-fans will also be treated with part five of the Sonic Time Line, featuring more brand-new art from Tracy Yardley and Matt Herms!
Reprinted stories
Egg Phoenix Down
Family Matters - Part 2
Other features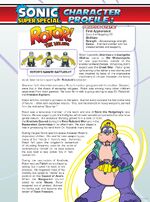 24 Pull Out Posters made up of issue covers. Covers include:
Character Profile: Rotor Walrus
Mobius Timeline Part 5
Interview with penciller Jamal Peppers
Trivia
This is the first Sonic Super Special Magazine issue that does not have a spine as a result of using staples to hold the posters in the magazine.
This is the first Sonic Super Special Magazine to not feature its issue number on the cover. The number "05" is near the bar code, but it is very easy to miss and does not seem to be a part of the actual cover design at all.
Strangely, not all of the posters on the cover reflect the posters available in the issue.
This issue contains the least amount of stories, due to most of the magazines space being given to the posters.
Two of the posters included are of covers that had not yet been released at that point: Knuckles Archives Vol 4 and Sonic the Hedgehog: Legacy Volume 3.
The location that appears on the cover is White Park Zone from the Sonic the Hedgehog 4: Episode II.
Gallery
Cover artwork
Community content is available under
CC-BY-SA
unless otherwise noted.