Archie Sonic Super Special Magazine Issue 12 is the twelfth issue of the Sonic Super Special Magazine comic series published by Archie Comics.
Official solicitation
Celebrate 25 years of the SEGA GENESIS with this extra-special anniversary edition of SONIC SUPER SPECIAL MAGAZINE! Take a look back at the SEGA system that started a revolution with this anniversary issue featuring the origins of such hit games as Golden Axe, Altered Beast, Streets of Rage and more—alongside awesome new pin-up art from the Archie team! Also featured is a special look at the all-new SONIC BOOM games and TV show, with exclusive info you won't find anywhere else! The SONIC SUPER SPECIAL MAGAZINE gives you the world of Sonic the Hedgehog comics as you've never seen it before, with tons of comic stories, special features and exclusive articles on the latest and greatest in the world of everyone's favorite blue hedgehog-hero! Plus an interview with Sonic inker supreme Terry Austin and an all-new foil-enhanced cover from the incomparable BEN BATES! This issue is jam-packed with awesomeness!
Reprinted stories
Countdown to Chaos - Part Three: The Rabbot
Countdown to Chaos - Finale: The Princess and the Hammer
Racing for the Stars
Pirate Plunder Panic Part One
High Stakes on the High Sea
Other features
News Flash: It's the Sega Genesis 25th anniversary extravaganza! Plus an inside scoop on Sonic Boom and the "Total Eclipse Story" arc!
Pin-Up Sega Genesis Pages: A collection of pin-up featuring different Sega video game franchises:

Sega Genesis: Golden Axe: Hop on a dragon and embark on adventure.
Sega Genesis: Shinobi: More musashi, anyone?
Sega Genesis: Altered Beast: Welcome to your doom!
Sega Genesis: Streets of Rage: Taking back the city, one punk at a time!
Sega Genesis: Ristar: Stretchy arms for the win.

Interview: Jonathan H. Gray: Our Sonic comic punny man is at it again.
Trivia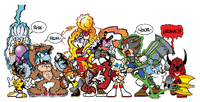 Jon Gray's column in this issue of the magazine features Ristar and several Sonic characters dressed as characters from various other Sega games, with several of them chanting the famous line "Rise from Your Grave!" featured in Altered Beast.
This issues reprint of "High Stakes on the High Seas" was done to promote the Sonic Select #9: The Games graphic novel, which was actually released several months prior.
Gallery
Cover artwork
Community content is available under
CC-BY-SA
unless otherwise noted.