Archie Knuckles Archives Volume 4 is the fourth and final published volume in the Knuckles Archives graphic novel series published by Archie Comics. This volume contains reprints of stories from Knuckles the Echidna #16-#21.
Official solicitation
Knuckles, Sonic's friendly rival from the SEGA games and Archie Sonic comic books, unlocks the secrets of the Brotherhood of Guardians in this action-packed graphic novel!
The long-lost Guardian Tobor returns to Angel Island to expose a traitor within the ranks of the Brotherhood! Who, or what, are the mysterious Secret Service seeking? And who is this young man that will reshape the future of the Kingdom of Acorn? There are intrigues and first appearances galore in this collection!
Knuckles Archives Volume 4 collects Knuckles the Echidna #16-21.
Reprinted stories
Reunions
Deep Cover - Part One of Two: The Guardian who Failed!!!
Deep Cover - Part Two of Two: Debt of Honor
The Forbidden Zone - Part One of Three: Whatever happened to Queen Alicia?
The Forbidden Zone - Part Two of Three: Once upon a Time in Mobotropolis
The Forbidden Zone - Part Three of Three: The Many Facets of the Truth
Special Features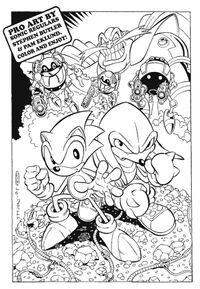 Gallery
Cover artwork
Community content is available under
CC-BY-SA
unless otherwise noted.