"Anton" redirects here. You may be looking for Anton Veruca.
The Anton[1] (アントン[2], Anton?), also known as the Robot Ant,[3] is an enemy in the Sonic the Hedgehog series. It is a mass-produced, ant-based Badnik model created by Dr. Eggman.
Appearance
Antons are based on a terrestrial ant. They possess blue robotic armor with an upstanding ant-like upper body and two thin arms. Their heads on the other hand are large with wide eyes, two yellow antennae, and gray mandibles. They are capable of moving around thanks to a single thick yellow wheel on their bottom and two small engines with exhaust pipes on the sides.
Game appearances
Sonic the Hedgehog CD
In Sonic the Hedgehog CD, Antons,[1] (アントン[2], Anton?) also referred to as Robot Ants,[3] appear as enemies and are encountered in Palmtree Panic. In gameplay, the Antons simply roll back and forth along the ground within their designated area, never leaving the platform upon which they move. While they can hurt a playable character through physical contact, they possess no offensive attacks and can easily be avoided and destroyed. When they are seen broken down due to age in the Bad Future pf Palmtree Panic Zone or sometimes in the present, these Badniks move considerably slower and have a depressed look on their faces. Regardless, they can be easily defeated by using the Spin Jump, Spin Attack, or Spin Dash. Also, like every Badnik in the game, the Antons are powered by Little Planet flower seeds which will pop out of them when they are defeated.
Sonic Lost World
In the Wii U version and PC version of Sonic Lost World, Antons appear as enemies once more. In this game, they appear in Dessert Ruins Zone 3, often in single-file groups of three. This time around though, Antons are powered by Animals instead of Little Planet flowers.
In gameplay, Antons move back and forth one after the other within their designated area. Should they make contact with the playable character, they will catch them and carry them on their their back, only to self-detonate after driving a short distance, with the blast dealing damage to the playable character in the process. The only way to destroy a Anton is to hit it with the Flying Kick. In addition, hitting a leading Anton into its group with the Flying Kick will defeat them all in one stroke. Hitting a Anton with the Homing Attack or any other move will result in the Anton, after receiving a blow, leaning slightly forward, moving faster, and grabbing the playable character. Also, upon their destruction they release their Animals.
Powers and abilities
Antons are able to self-detonate.
In other media
Books and comics
Sonic the Hedgehog (Shogakukan)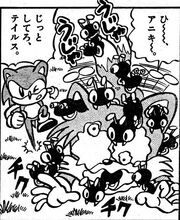 In the Sonic the Hedgehog serialized manga published by Shogakukan, Antons are a Badnik variant that Sonic and Tails once got attacked by.
Sonic the Comic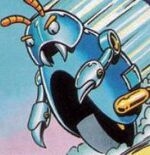 In the Sonic the Comic series published by Fleetway Editions, the Antons are a part of Dr. Robotnik's Badnik army, although they only made a few appearances during the comic's run. Depending on the artist, the Antons' design would differ between their appearances.
Archie Comics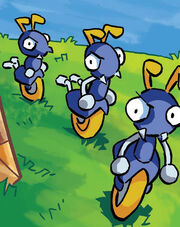 In the Sonic the Hedgehog and its spin-offs published by Archie Comics, Antons form part of Dr. Eggman's Badnik Horde. They accompanied Dr. Eggman to Palmtree Panic, but were defeated by Sonic.
IDW Publishing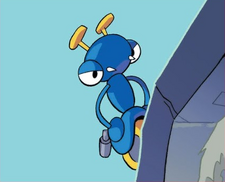 In the Sonic the Hedgehog comic series and its spin-offs published by IDW Publishing, Antons form a part of Dr. Eggman's Badnik army. Their past is virtually identical to their game counterparts', up until after the events of Sonic Forces. They were first seen attacking Sonic and Espio on their way to Windmill Village.

Gallery
Concept artwork
Artwork
Screenshots
References
---
Main article | Script | Staff | Glitches | Gallery | Re-releases (PC)
Playable characters
Sonic (Super Sonic) | Virtual Hedgehog*
Non-playable characters
Amy | Animals (Cucky, Flicky, Pecky, Picky, Pocky, Ricky, Rocky) | Clawz | Cubot | Deadly Six (Master Zik, Zavok (Giant Zavok), Zazz, Zeena, Zomom, Zor) | Dr. Eggman | Gillwing | Gulpo | Jackle | Knuckles | Link* | Nightopian | NiGHTS | Omochao | Orbot | Puffy | Reala | Tails | Wizeman | Yacker* | Yoshi*
Wisps
Black | Crimson | Cyan | Gray* | Green | Indigo | Magenta | Orange | White* | Yellow
Levels
Worlds
Windy Hill | Desert Ruins | Tropical Coast | Frozen Factory | Silent Forest | Sky Road | Lava Mountain | Hidden World
Misc.
Circus* | NiGHTMARE Zone | The Legend of Zelda Zone* | Yoshi's Island Zone*
Enemies
Badniks
Antlion | Anton | Antlion Mother | Aquis | Balkiry | Ball Hog | Batbrain | BFB | Blowfish Transporter | Blaster | Bomb | Burrobot | Buzz Bomber | Caterkiller | Chopper | Clucker | Cluckoid | Coconuts | Crabmeat | Crawl | Crawlton | Dragonfly | Dung Beetle | Egg Pawn | Galaga Bee | Gohla | Grabber | Gustav Turtle | Jaws | Laser Grabber | Madmole | Manbou | Manta | Moto Bug | Mushmeanie | Nebula | Newtron | Octus | Orbinaut (Uni Uni, Unidasu) | Pata-Bata | Penguinator | Sandworm | Slicer | Snale Blaster | Spiker | Spikes | Sprinkler | Tarantula | Tonber | Turtloids | Utsubo
Other
Baku Baku | Boo | Boom Boo | Cactus Ball | Deku Scrub* | Keese* | Piranha Plant* | Sandworm | Sheep | Shy Guy* | Stalchild* | Yeti
Bosses
Zazz (Puffy) | Zomom | Master Zik (Gulpo) | Zeena (Clawz) | Zor (Jackle) | Zavok (Gillwing) | Deadly Six | Giant Zavok | Eggrobo
Moves/
Techniques
General
Bound Jump | Charged Dash | Dash | Double Jump | Duck | Flying Kick | Focused Homing Attack | Grinding | Ring Dash | Skydiving | Spin Dash | Spin Jump | Super Sonic Boost
Parkour
Hang | Side Step | Vault | Vault Dash | Wall Climb | Wall Jump | Wall Run | Wall Spin Dash
Color Powers
Black Bomb | Crimson Eagle | Cyan Laser | Gray Quake* | Green Hover | Indigo Asteroid | Magenta Rhythm | Orange Rocket | Yellow Drill
Gimmicks and obstacles
Balloon | Billiard Ball | Bumper | Cannon | Capsule | Cloud | Coconut | Conveyor Belt | Dash Panel | Dash Rail | Drop Target | Fireball | Flipper | Grind Rail | High-speed warp tube | Hint Ring | Iron ball | Lighting switch | Metal nut | Minecart | Musical note | Prism | Seesaw* | Sling Shot | Slot machine | Spring | Spring Catapult | Star Post | Surprise Crocodile | Triangle Bumper | Truffle Cannon | Windmill
Items
General
1-Up | Apple | Asteroid Ring | Blue Chip | Bound bell | Cage | Casino Token | Chaos Emerald | Floating Item Box | Invincible | Item Box (Warp) | Number Ring | Power Sneakers | Red Star Ring | Ring | Ring (NiGHTS) | Shield | Thunder Shield
RC Vehicles
Helicopter | Fighter Jet | Stealth Jet | Hovercraft | Balloon | UFO | Omochao
English voice actors
Roger Craig Smith (Sonic) | Mike Pollock (Eggman) | Kate Higgins (Tails) | Travis Willingham (Knuckles, Zavok) | Cindy Robinson (Amy) | Kirk Thornton (Orbot, Master Zik) | Wally Wingert (Cubot) | Liam O'Brien (Zazz) | Patrick Seitz (Zomom) | Stephanie Sheh (Zeena) | Sam Riegel (Zor)
Japanese voice actors
Jun'ichi Kanemaru (Sonic) | Chikao Ōtsuka (Eggman) | Ryō Hirohashi (Tails) | Nobutoshi Canna (Knuckles) | Taeko Kawata (Amy) | Mitsuo Iwata (Orbot) | Wataru Takagi (Cubot) | Jōji Nakata (Zavok) | Yutaka Aoyama (Zazz) | Yumi Tōma (Zeena) | Makoto Terada (Master Zik) | Chafūrin (Zomom) | Yūki Tai (Zor)
Music
Sonic Lost World Bonus Soundtrack (Special Selection) | Sonic Lost World: Wonder World EP | Without Boundaries: Sonic Lost World Original Soundtrack
Other
Auto Running | Cacophonic Conch | Egg Mobile | Extractor | Havok | Life | Life (energy) | Loop | Lost Hex | Mech Dragon | Miles Electric | Mission | Moon Mech | Rank | Secret Bonus | Sonic the Hedgehog Halloween ComicFest 2013 | Time Attack | Tornado | Totem pole | Water | Wisp Away* | Wisp Gauge | Zeti

*Appears in the Wii U version only.