This group exists primarily within the Sonic Boom continuity.

Information in this article may not be canonical to the storyline of the games or any other Sonic continuity.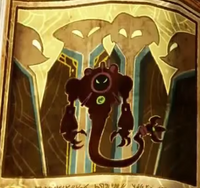 The Ancients (古代人 Kodaijin?) are a race from the Sonic Boom franchise which appear in Sonic Boom: Rise of Lyric and Sonic Boom: Shattered Crystal. They are an ancient race and civilization that existed over a thousand years ago, but was betrayed by one of their own, namely Lyric. In the present day, the Ancients have seemingly vanished without a trace, with the exception of Lyric.[1]
Description
Anatomy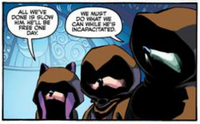 The true appearance of the majority of the Ancients is unknown, though most of them appear to resemble bipedal anthropomorphic animals with long muzzles. Members like Lyric however, are much different in appearance, resembling giant and monstrous snakes.
Characteristics and Culture
The Ancients were a generally good-natured race who strived for peace, given they were devoted to peacefully controlling the world's resources. However, not all of them are good as demonstrated by Lyric, who was corrupted by power and turned on his own kind to destroy all organic life.[1]
History
The Ancients were an ancient civilization who existed a millennium ago. The entire race was devoted to peacefully controlling the world's resources. One among them however, Lyric, was driven mad with power and turned on his fellow Ancients and took control of the resources.[1] This supposedly led to a great war which the Ancients were involved in.[2] Following his uprising, Lyric built an army of robots programmed to obey his every command and set out to destroy everything organic and create a world of metal and robots. However, just before Lyric could successfully take over, the last surviving Ancients attacked him and imprisoned Lyric in a tomb where he was to remain forever.[1] After that, the Ancients eventually disappeared, with the only remaining member being Lyric.[1]
Known Ancients
Trivia
Given that Lyric has been identified as a snake while other Ancients were revealed to look more like different anthropomorphic animals, it is possible that the Ancients as a race were actually constituted of multiple races of anthropomorphic animals.
Gallery
References