Template:Character Amigo (アミーゴ, Amīgo?) is a Mexican stereotype orange monkey that likes to play with his maracas. He is the star of Sonic Team's game Samba de Amigo and is a regular in the Sega mascot lineup. His name is Spanish for friend, as is his sister's name.
Amigo is a monkey boy who dreams of being a great maraca player. He is hyperactive, and can get so caught up in the Latin rhythm that he cannot stop shaking his maracas. His favorite food is baked bananas, the specialty of his hometown. He is very talented in music and is a team player, but not the brightest bulb in the refrigerator. Amigo has a very clear friendship with Sonic the Hedgehog though the origin of their relationship is unknown. He also has a sister known as Amiga.
Game Appearances
Samba de Amigo
Amigo made his debut in Samba de Amigo on the Arcade and the Dreamcast with a line up of great music to shake his maracas to. A number of downloadable songs from the Sonic the Hedgehog series were included in the Dreamcast version.
Original Version contains
Samba de Amigo Ver.2000, a slight upgrade, also includes:
After beating every mission in Sonic Riders Zero Gravity the player unlocks Amigo as a new playable character, along with NiGHTS and Billy Hatcher. Amigo does not speak, his only communication is through the shaking of his maracas. His right maraca has a Gravity Band on it which allows him to use Gravity Control and Gravity Dive.
Type: Speed
Gear: Rhythm Machine
Attack: Amigo starts running and shaking his maracas quickly, attacking his foes with them and stunning them temporarily.
Sega Superstars Tennis
In the intro video of Sega Superstars Tennis, Amigo being the ultimate team player, dives off a cliff to hit the tennis ball. He is quickly rescued by a blue streak which we later learn was Sonic the Hedgehog. Besides being a little embarrassed, Amigo was just fine.
Superstar State: Bamboleo de Maracas – Amigo becomes insanely happy in this state – so happy in fact, that he has to party! Not only does the ball shoot off in a strange direction to throw the opponent off, but the court also becomes filled with lots of shaking maracas, obstructing a return ball.
Home Court: Carnival Park
Samba de Amigo (Wii)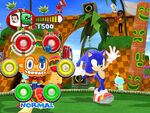 Amigo throws a party for his buddy Sonic in his home town of Green Hill Zone. In this level of Samba de Amigo Wii, Sonic, Amigo, the Chao and others shake it to Mambo # 5 and other party tunes.
Amigo appears in Sonic & Sega All-Stars Racing, driving around in a Maraca-shaped dune buggy called the Sun Buggy, with a Amigo inspired paint job, a 38 sticker with a sun on it and Nacho-like triangles on it's thin tires. His All-Star Move is called Samba de Party, which involves him shaking his Maracas madly, while his buggy speeds ahead of the other racers, with the shaking effectively hypnotizing them into a conga line. At the end, the move makes them spin out.
In Sonic & All-Stars Racing Transformed, his dune buggy gets replaced by a giant windup wooden train (possibly putting the Cha-Cha Train to a literal use) with the transformations making it a paddle boat for a boat & turning it into a 1940's fighter plane for air racing. His home tracks are Samba Studios and Sunshine Tour, the latter being from the previous game.
Cameos
In Sonic Adventure 2, if you look on the green street signs at Radical Highway, there is a street named Amigo. It is not known if it is named after Amigo or if it is a coincidence.
In Sonic Riders, at Sega Carnival, the stage starts out in a city based off of the Samba de Amigo series. If you go straight until you pass the wall that you can break with Amigo's face on it, you will see (and hear) a crowd of Samba de Amigo characters and Amigo will be in the crowd playing his maracas.
In Mario & Sonic at the Olympic Winter Games, there is a stylish reference to Amigo. In the boutique, players may purchase Amigo's hat which is labeled as "Samba Hat". The hat can be placed on a Mii and who can then be used in any event. There is also a suit called "Samba Suit" but it is a traditional salsa suit and does not directly relate to Amigo.
Amigo has also made a cameo in the Sonic X comics. As Doctor Eggman is

impersonating Santa Claus in Sonic X #15, he has Sonic captured in a large green sack full of toys. Directly behind Sonic is Amigo's cameo as a large articulate action figure with maraca accessories. Also making cameos are Storm the Albatross and Bark the Polar bear.
The ages of most Sega characters are usually displayed in human years only (for instance, Sonic is 15 years old). However, Amigo's age is specifically in monkey years, and it hasn't been officially revealed in human years, which is a rare case.

Also unlike most characters, Amigo (as well as most other characters from his game) has only 4 digits on each hand rather than 5.

In Rhythm Thief & the Emperor's Treasure, there is a gameplay mechanic that is copied from Samba De Amigo. With the fact that both games were created by Sega, this was probably a deliberate reference.

To add to this, the song used for this part of the game was "Vamos A Carnival", which was featured in Samba De Amigo.
Gallery
External links
---
Main article | Gallery | Script (Heroes, Babylon) | Staff | Glitches
Characters
Sonic (Super Sonic) | Tails | Knuckles | Amy | Jet | Wave | Storm | Dr. Eggman | Cream | Rouge | Shadow | Silver | Blaze | SCR-GP | Amigo | NiGHTS | Billy Hatcher | SCR-HD | Master Core: ABIS
Courses/Fields
Heroes
Megalo Station | Botanical Kingdom | MeteorTech Premises | Aquatic Capital | Gigan Rocks | Crimson Crater | Astral Babylon | '80s Boulevard
Babylon
Gigan Device | Nightside Rush | Snowy Kingdom | MeteorTech Sparkworks | Tempest Waterway | Security Corridor | Mobius Strip | '90s Boulevard
Survival Battle
Gravity Pit | Labyrinth | Square Quartet
Survival Ball
MeteorTech Arsenal | Botanical Cave | Megalo Junction
Advantage F | Advantage P | Advantage S | Airship | Angel • Devil | Beginner | Big Bang | Bingo Star | Black Shot | Blue Star | Chaos Emerald | Cover F | Cover P | Cover S | E-Rider | Faster | Fastest | Flame Lance | G Shot | Gambler | GC Booster | GC Master | GP Accumulator | GP Tank | Hang-On | Hyperdrive | Kunoichi | Legend | Light Board | Mag | Magic Broom | Master Off-Road | Money Crisis | Night Sky | Omnitempus | Pink Rose | Power Egg | Psychic Wave | Rail Linker | Rainbow | Red Rock | Reserve Tank | Rhythm Machine | Road Star | Shinobi | Shooting Star | Skill Booster | Smile | Super Hang-On | Temptation | The Crazy | Throttle | Turbo Star | Type-J | Type-S | Type-W | Untouchable | Wanted | Wheel Custom | Wind Catcher | Wind Star | Yellow Tail
Air Ride | Angel/Devil | Attack Time UP | Auto Wall-Run | Base Stats UP | BGM Change | Bike | Durability UP | GC Boost UP | Ghost | GP Gain UP | GP Gauge UP | GP Usage UP | Grind | Item Rank +1 | Magnetic Barrier | Max Speed UP | Parts Lock | Ring Cap UP | Starting Speed UP | Status Trap | Tank | Throttle | Trick Rank +1 | Vision Trap | Wheel | Yacht

Moves and Techniques

Air Ride | Attacks | Gravity Control | Gravity Dive | Grinding | Slide Turn | Trick

English voice actors

Jason Griffith (Sonic, Jet, Shadow) | Amy Palant (Tails) | Dan Green (Knuckles, Storm) | Bella Hudson (Wave, Mother computer) | Lisa Ortiz (Amy) | Mike Pollock (Dr. Eggman) | Kathleen Delaney (Rouge) | Pete Capella (Silver) | Rebecca Honig (Cream) | Andrew Paull (SCR-HD, SCR-GP, Master Core: ABIS)

Japanese voice actors

Jun'ichi Kanemaru (Sonic) | Ryō Hirohashi (Tails) | Nobutoshi Canna (Knuckles) | Daisuke Kishio (Jet) | Chie Nakamura (Wave, Mother computer) | Kenji Nomura (Storm, SCR-HD, SCR-GP, Master Core: ABIS) | Taeko Kawata (Amy) | Koji Yusa (Shadow) | Rumi Ochiai (Rouge) | Daisuke Ono (Silver) | Nao Takamori (Blaze)

Other

Ark of the Cosmos | Babylon Garden | Babylon Rogues' ship | Babylonians | Barricade | Bashōsen | Car | Catapult | Catch Me If You Can | Crimson Tower | Crusher | Dash Panel | Dash Ring | Fly Type | Gravity Point | Grind Rails | Havok | Item Box (Attack, Colorball, Explosion, GP Boost, High Speed, Magnetic Barrier, Missile, Parts Lock, Ring, Shield, Speed Down) | Monopole | Mother computer | Ring | Slipstream | Speed Type | Power Type | Rank | Time Attack | Time item | Trick Zone | Un-Gravitify | World Grand Prix | Zero Gravity Tracks: Sonic Riders Shooting Star Story Original Soundtrack
---
Main article | Gallery | Staff | Glitches
Playable
characters
Sonic characters
Sonic | Tails | Knuckles | Amy | Big | Metal Sonic | Dr. Eggman | Shadow
SEGA characters
AiAi | Akira Yuki | Amigo | B.D. Joe | Billy Hatcher | Beat | Alex Kidd | Ulala | Jacky Bryant | Ryo Hazuki
Third party
Xbox Live Avatar | Mii
Tracks
Chao Cup
Whale Lagoon | Icicle Valley | Roulette Road | Sunshine Tour
Graffiti Cup
Shibuya Downtown | Outer Forest | Turbine Loop | Treetops
Egg Cup
Rampart Road | Dark Arsenal | Jump Parade | Pinball Highway
Horror Cup
Sewer Scrapes | Lost Palace | Sandy Drifts | Rokkaku Hill
Samba Cup
Rocky-Coaster | Highway Zero | Deadly Route | Ocean Ruin
Monkey Cup
Bingo Party | Lava Lair | Monkey Target | Thunder Deck
DLC
Egg Hangar
Moves/
Techniques
General
Drift | Hi-Speed Start | Trick
All-Star Moves
Super Sonic | Tails Tornado | Emerald Power | Piko Hammer | Giant Froggy | Maximum Overdrive | Missile Madness | Super Shadow
Objects
Item Box (All-Star Item, Bowling Bomb, Confusion Star, Energy Shield, Giant Rocket, High Speed Shoes, K.O. Glove, Manual Rocket, Mega Horn, Mine, Pocket Rainbow)
Vehicles
Speed Star | Tornado Racer | Land Breaker | Pink Cabriolet | Green Hopper | Metal Booster | Egg Monster | Dark Rider | Ava-car 720 | Crazy Taxi | Super Zoomer
Music
My Sweet Passion | Throw It All Away | What U Need
Other
Announcer | Boost Pad | Kao | Orca | Sonic Says | Totem Pole
---
Main article | Gallery | Staff | Glitches
Playable
characters
Sonic characters
Sonic | Tails | Knuckles | Amy | Dr. Eggman | Shadow | Metal Sonic
Sega characters
AGES | AiAi | Alex Kidd | Amigo | B.D. Joe | Beat | Gilius Thunderhead | Gum | Jacky Bryant | MeeMee | NiGHTS | Pudding | Reala | Ryo Hazuki | Ulala | Vyse
Third-party characters
Xbox Live Avatar | Mii | Danica Patrick
Tracks
Dragon Cup
Ocean View | Samba Studios | Carrier Zone | Dragon Canyon
Rogue Cup
Temple Trouble | Galactic Parade | Seasonal Shrines | Rogue's Landing
Emerald Cup
Dream Valley | Chilly Castle | Graffiti City | Sanctuary Falls
Arcade Cup
Graveyard Gig | Adder's Lair | Burning Depths | Race of Ages
Classic Cup
Sunshine Tour | Shibuya Downtown | Roulette Road | Egg Hangar
Bonus
OutRun Bay
Events
Battle Arena | Battle Race | Boost Challenge | Boost Race | Capture the Chao | Drift Challenge | Pursuit | Race | Ring Race | Sprint | Traffic Challenge | Versus
Vehicles
Ava-car 720 | Crazy Taxi | Danicar | Egg Monster | G.U.N. Auto Tread | Land Breaker | Metal Booster | Pink Cabriolet | Speed Star | Super Zoomer | Tails' vehicle
World Tour
Chapters
Sunshine Coast | Frozen Valley | Scorching Skies | Twilight Engine | Moonlight Park | Superstar Showdown
Misc.
Warp Gate | Gate
Moves/
Techniques
General
Drift | Start Line Boost | Stunt
All-Star Moves
Sonic's All-Star Move | Tails' All-Star Move | Knuckles' All-Star Move | Amy's All-Star Move | Eggman's All-Star Move | Metal Sonic's All-Star Move | Shadow's All-Star Move
Pickup items
Item Box (All-Star Item, Blowfish, Boost, Drone, Firework, Glove, Hot Rod, Ice Cannon, Super Glove, Swarm, Twister)
Other
Aero-Chaser | All-Star Move | Angels with Burning Hearts | Bonus Chance | Boost Pad | Custom game | Egg Squid | Freeze | License | Mod | Orca | SEGA ALL-STARS Premium Sound Collection | Slot machine | Sonic & All-Stars Racing Transformed Original Soundtrack | Sonic Universe #45 | Stickers | Transformation Gate
Community content is available under
CC-BY-SA
unless otherwise noted.