The unnamed Amazing Arena Badnik is an enemy that appears in Knuckles' Chaotix. It is a mass-produced Badnik model created by Dr. Robotnik.
Appearance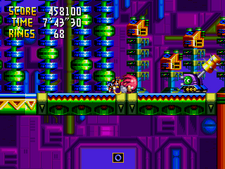 The unnamed Amazing Arena Badnik has a green face on the side of it's body. It also has a large yellow spiked club attached to its upper half. It's body is purple with a crevice that allows it to manuever the club like a lever. Typical of other Badniks, they have large cartoon eyes. The Amazing Arena Badnik also sports a large pair of blue treads that allow it to move around, albeit slowly.
Overview
The only appearance of the Amazing Arena Badnik is in Knuckles' Chaotix as an enemy. As their name suggests, they are only found in Amazing Arena.
In gameplay, Amazing Arena Badniks slowly move back and forth. While moving, they swing their spiked clubs in an attempt to attack the player. The player can use any attack to defeat them. However, the Spin Jump will have no effect, as Spin Jumping will simply cause the player to get hit by the club. Upon defeat, the Amazing Arena Badnik will award the player a Dark Ring.
Powers and abilities
The unnamed Amazing Arena Badnik is equipped with a spiked club that it can swing vertically.
Gallery
Screenshots
---
Main article | Staff | Glitches | Beta elements | Gallery
Playable characters
Knuckles | Vector | Mighty | Charmy | Espio | Heavy | Bomb | **********
Non-playable characters
Dr. Robotnik | Metal Sonic | Sonic | Tails | Amy
Stages
Isolated Island | Botanic Base | Speed Slider | Amazing Arena | Techno Tower | Marina Madness | World Entrance | Special Stage | Bonus Stage
Enemies
Amazing Arena Badnik 1, 2 | Bombbearer | Botanic Base Badnik 1, 2, 3 | Bushbubble | Dribbler | Gotcha | Hoverby Mk II | Isolated Island Badnik | Marina Madness Badnik 1, 2 | Motorspike | Needlenose | Piranha | Poptank | Ringleader | Spiketower | Techno Tower Badnik 1, 2, 3 | Ticktock
Bosses
Amazing Arena boss | Amazing Arena sub-boss | Botanic Base boss | Marina Madness boss | Speed Slider boss | Techno Tower boss | World Entrance Level 1 | World Entrance Level 2
Moves/
Techniques
Playable characters
Climb | Crouch | Dash | Glide | Power Boost | Spin Dash | Spin Jump | Super Spin | Wall Jump
NPCs
V. Maximum Overdrive Attack | Plasma Pulse Attack
Gimmicks and obstacles
Balloon | Bumper Ball | Chopper Block | Goal Plate | Exit | High-speed warp tube | Iron ball | Ring Power | Spring | Switch | "X" Bumper
Items
Chaos Ring | Dark Ring | Monitor (Change, Combi Catcher, Combine Ring, Grow, Invincible, Power Sneakers, Shield, Shrink, Stage Select, Super Ring, Swap) | Ring | Sphere
Other
1207 Beta version | Archie Knuckles' Chaotix | Combi Catcher | Debug Mode | Newtrogic High Zone | Sonic Crackers