Raise a Floppa - The Loop
Play Sound
For the incarnation of this character in the Archie Comics, see Alex Kidd (Archie).
Alex Kidd was Sega's previous mascot until the Sega Mega Drive/Genesis reached fame and Sonic the Hedgehog replaced him. Alex Kidd's most prominent features are his large pointed ears, red jumpsuit and enormous sideburns.
Hailing from the Planet Aries, he is trained in the martial art of Shellcore, which enables one to alter the size and toughness of their hands through sheer willpower, and break objects as strong as solid rock with their fists alone. Whilst he initially lived alone as an orphan on Mount Eternal, he learns from a dying man that he is in fact a lost member of the Radaxian Royal Family, son of King Sander Radaxian and brother of Prince Igul, the latter of whom had been kidnapped along with his fiancé, Princess Lora, by an usurper known as Janken the Great.
As a result, Alex Kidd set out on a journey to restore the kingdom, discover the whereabouts of his father, rescue his brother, and put an end to Janken's uprising. After he succeeds, Prince Igul is crowned King of Radaxian, and Alex Kidd, with his martial arts, is granted the position of Defender of the City. However, he eventually sets out on another journey later on to search for his missing father.
Game appearances
Segagaga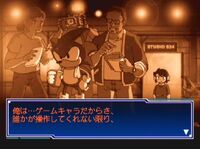 Segagaga is a Dreamcast game where the player gets to take control of Sega to help it win the video game war. Naturally, this was before they bowed out of the console race back in 2001. At one point, the player runs into Alex Kidd, who relates his tragic story of how he used to be the mascot of Sega, but was demoted in favor of Sonic the Hedgehog. Instead of starring in video games, he is now forced to work retail at one of Sega's shops. This is a sad yet comical look at Alex Kidd.
Sega All-Stars series
Sega Superstars Tennis
Alex Kidd appears in this game as an unlockable, playable character. This game marks his first playable 3-D appearance.
Sonic & Sega All-Stars Racing
Alex Kidd is a playable character in the multi-platform racer Sonic & Sega All-Stars Racing. He rides a red motorcycle named "Sukopako". For his All-Star move, he hops into a pedal-powered gyro-copter named the "Peticopter", allowing him to fly and shoot damaging projectiles at opponents.
| Character | Series | Vehicle | All-Star Move | All-Star Move icon |
| --- | --- | --- | --- | --- |
| Alex Kidd | Alex Kidd | Sukopako Motorcycle | Hops into the Peticopter, allowing him to shoot damaging projectiles at opponents. | |
Sonic & All-Stars Racing Transformed
In Sonic & All-Stars Racing Transformed, Alex Kidd is an unlockable character that is available in the console versions when the system's clock reads any time after 25 December 2012. Because the Steam and Nintendo 3DS versions of the game were released after this date, they have Alex Kidd available from the start. His traditional red and yellow jumpsuit is replaced with a Santa Claus outfit (consisting of Santa's traditional coat, boots, gloves and belt, but without the hat) to reflect his status as a Christmas bonus. His All-Star Move involves "Rock, Paper, Scissors" firing two gigantic hands out from the sides of his vehicle, hitting adjacent racers.
Sonic Colors: Ultimate
In Sonic Colors: Ultimate, Alex Kidd makes a cameo appearance as one of the many optional profile icons available in the Customize menu.
In other media
Archie Comics
In the Archie Comics, Alex Kidd appeared during the Worlds Unite crossover where he and Stella joined Sonic the Hedgehog and Mega Man's Unified Army to stop Sigma's conquest of the Multiverse.
Trivia
Alex Kidd seems to have some monkey-like features, having large ears and hands, as well as having thick brown hair with prominent sideburns. This is because he is predominantly based on Sun Wukong, the main protagonist of the Chinese folk tale Journey to the West.
References
External links
Alex Kidd at Wikipedia, the free encyclopedia.
---
Main article | Staff | Glitches | Gallery
Playable
characters
Sonic characters
Sonic | Tails | Knuckles | Amy | Big | Dr. Eggman | Shadow | Metal Sonic
SEGA characters
AiAi | Akira Yuki | Alex Kidd | Amigo | B.D. Joe | Beat | Billy Hatcher | ChuBach | ChuBei | Chuih | ChuPea | Jacky Bryant | Ryo Hazuki | Ulala
Third party
Mii | Xbox Live Avatar
Tracks
Chao Cup
Whale Lagoon | Icicle Valley | Roulette Road | Sunshine Tour
Graffiti Cup
Shibuya Downtown | Outer Forest | Turbine Loop | Treetops
Egg Cup
Rampart Road | Dark Arsenal | Jump Parade | Pinball Highway
Horror Cup
Sewer Scrapes | Lost Palace | Sandy Drifts | Rokkaku Hill
Samba Cup
Rocky-Coaster | Highway Zero | Deadly Route | Ocean Ruin
Monkey Cup
Bingo Party | Lava Lair | Monkey Target | Thunder Deck
DLC
Egg Hangar
Moves/
Techniques
General
Drift | Hi-Speed Start | Trick
All-Star Moves
Emerald Power | Giant Froggy | Maximum Overdrive | Missile Madness | Piko Hammer | Super Shadow | Super Sonic | Tails Tornado | Tension Blast
Vehicles
Speed Star | Tornado Racer | Land Breaker | Pink Cabriolet | Green Hopper | Egg Monster | Dark Rider | Metal Booster | Blazing Banana | Racing Rooster | Sun Buggy | Astro Glider | De La Custom GGs | Crazy Taxi | Hotrod of Horror |

Naoyuki's Motorcycle

| Red Lightning | ChuChu Rocket | Get-a-Way Wagon | Sukopako Motorcycle | Bolt Bucket | Ava-car 720 | Super Zoomer
Items
Item Box (All-Star Item, Bowling Bomb, Confusing Star, Energy Shield, Giant Rocket, High Speed Shoes, K.O. Glove, Manual Rocket, Mega Horn, Mine, Pocket Rainbow) | License
Music
"A New Day" | "Back 2 Back" | "Believe In Myself" | "Can You Feel the Sunshine?" | "E.G.G.M.A.N." | "Metal Scratchin'" | "My Sweet Passion" | "Super Sonic Racing" | "Unknown from M.E." | "Throw It All Away" | "What U Need"
Other
Announcer | Boost Pad | Death Egg | Loop | Orca | Sonic Says | Totem pole
---
Main article | Staff | Glitches | Gallery
Playable
characters
Sonic characters
Sonic | Tails | Knuckles | Amy | Dr. Eggman | Shadow | Metal Sonic
Sega characters
AGES | AiAi | Alex Kidd | Amigo | B.D. Joe | Beat | Gilius Thunderhead | Gum | Jacky Bryant | Joe Musashi | MeeMee | NiGHTS | Pudding | Reala | Ryo Hazuki | Ulala | Vyse
Third-party characters
Xbox Live Avatar | Mii | Danica Patrick
Tracks
Dragon Cup
Ocean View | Samba Studios | Carrier Zone | Dragon Canyon
Rogue Cup
Temple Trouble | Galactic Parade | Seasonal Shrines | Rogue's Landing
Emerald Cup
Dream Valley | Chilly Castle | Graffiti City | Sanctuary Falls
Arcade Cup
Graveyard Gig | Adder's Lair | Burning Depths | Race of AGES
Classic Cup
Sunshine Tour | Shibuya Downtown | Roulette Road | Egg Hangar
Bonus
OutRun Bay
World Tour
Sunshine Coast | Frozen Valley | Scorching Skies | Twilight Engine | Moonlight Park | Superstar Showdown
Events
Battle Arena | Battle Race | Boost Challenge | Boost Race | Capture the Chao | Drift Challenge | Pursuit | Race | Ring Race | Sprint | Traffic Challenge | Versus
Vehicles
Ava-car 720 | Amigo's vehicle | Blazing Banana | Crazy Taxi | Danicar | Egg Monster | G.U.N. Auto Tread | Gum's vehicle | Land Breaker | Metal Booster | Pink Cabriolet | Spacebird 42 | Speed Star | Super Zoomer | Tails' vehicle
Moves/
Techniques
General
Drift | Start Line Boost | Stunt
All-Star Moves
Amy's All-Star Move | Gum's All-Star Move | Eggman's All-Star Move | Knuckles' All-Star Move | Metal Sonic's All-Star Move | Pudding's All-Star Move | Shadow's All-Star Move | Sonic's All-Star Move | Tails' All-Star Move | Ulala's All-Star Move
Gimmicks and obstacles
Aero-Chaser | Boost Pad | Egg Squid | Slot machine | Transformation Gate
Items
Ammo | Gate | Item Box (All-Star Item, Blowfish, Boost, Drone, Firework, Glove, Hot Rod, Ice Cannon, Super Glove, Swarm, Twister) | License | Mod | Sticker | Warp Gate
Music
Songs
We Are Burning Rangers
Albums
SEGA ALL-STARS Premium Sound Collection | Sonic & All-Stars Racing Transformed Original Soundtrack
Other
Bonus Chance | Custom game | Freeze | Loop | Orca | Sonic Universe #45