AiAi (アイアイ?) is the main character in Super Monkey Ball. He has appeared several times in the Sonic the Hedgehog series, most notably in Sonic Riders, Sega Superstars Tennis, Sonic & Sega All-Stars Racing, and Sonic & All-Stars Racing Transformed. He is voiced by Kaoru Morota.
Appearance
AiAi has similar traits to a Spider Monkey. Although his tail is short and stubby, he does have an orange shirt with the letter A on it (presumably for AiAi). He has pac-man eyes, a small scruff of hair, and rounded ears that stick out of his head. In Super Monkey Ball: Touch and Roll, his look was modified. Also, In Super Monkey Ball Banana Blitz and Sega Superstars Tennis, his look was updated, giving him a blue backpack, red oval shaped cheeks, a cat-like smile and a much softer appearance overall as well as changing his eye color from black to brown.
Game appearances
Sega Superstars
AiAi appears in Sega Superstars with a minigame based on his own series of games where the player has to use their own body to move him around and get to the end in time, like his own games.
Sonic Riders
AiAi appears in Sonic Riders as an unlockable character. Oddly enough, he is a Power-type character, and as such, pushes lighter characters around easily. However, due to his small posture, he is easily pushed around just as much.
Sega Superstars Tennis
He reappears in Sega Superstars Tennis Tennis with other Sega Superstars like NiGHTS and Ulala. In this game and from now on, he has his updated appearance.
Sonic & Sega All-Stars Racing
AiAi once again appears in Sonic & Sega All-Stars Racing driving a racer called the Blazing Banana which is modeled after his favorite obsession: Bananas. his All-Star Move has him rolling around in his monkey ball with friends while running over anyone that gets in his way.
Sonic & All-Stars Racing Transformed
The cheeky little monkey appears in Sonic & All-Stars Racing Transformed again driving his vehicle from the previous game, but redesigned to look more like a conventional race car, like a dragster. For transformations, the car loses its wheels and sprouts banana-like structures to become a boat. Then it uses the same banana structures, but they stick from the bottom of the vehicle in a upside-down 'V' and reveals a booster to make it a jet.
Other game appearances
Sonic Forces
A costume of AiAi is unlockable in the game with the bonus edition of Sonic Forces.
Personality
AiAi is a monkey who loves bananas. He is usually absent-minded, always thinking that every time he eats a banana, it was really delicious. AiAi deeply cares for his wife MeeMee, his son Baby, and friend Gongon. Despite being absent-minded at times, he is very kind and very brave, going as far as exploring the inside of a volcano on his home island of Monkey Island.
In other media
Archie Comics
In the Archie Comics, Aiai appeared in Sonic Universe #45 as one of the racers in the story. Doctor Eggman had plans of conquering his world and taking Jungle Islands' banana horde for a lifetime supply of smoothies.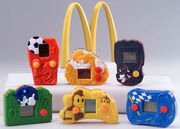 In the 2003 set of Sonic Happy Meal McDonald's toys, Sega included a toy starring AiAi in a Super Monkey Ball themed, banana grabbing game. He being the only non-Sonic character included in that set. This toy was also one of Sega's free giveaways at the E3 convention in 2003.
Trivia
He has the same name as the Japanese name for Coconuts.
AiAi bears a resemblance to another non-Sonic character, Amigo: they are both monkeys, both of their names start with the letter A and they are both similar in appearance.
AiAi is the only non-Sonic character that is on the cover of Sonic & All-Stars Racing Transformed.
---
Main article | Gallery | Staff | Scripts (Heroes, Babylon) | Beta elements
Characters
Sonic (Super Sonic) | Tails | Knuckles | Jet | Wave | Storm | Amy | Dr. Eggman | Shadow | Rouge | Cream | E-10000G | E-10000R | Ulala | AiAi | NiGHTS | Omochao | Stolen | Jet's father | Babylon Guardian | E-10000Y
Courses/Fields
Heroes
Metal City | Splash Canyon | Egg Factory | Green Cave | Sand Ruins | Babylon Garden
Babylon
Night Chase | Red Canyon | Ice Factory | White Cave | Dark Desert | Sky Road | Babylon Guardian
Extra
Digital Dimension | Sega Carnival | Sega Illusion
Survival
Dual Towers | Snow Valley | Space Theater

Moves/Techniques

Air Boost | Air Riding | Air Slide | Attacks | Grinding | Tornado | Trick Action
Gimmicks and obstacles
Accelerator | Air Pit | Automatic Trail | Barricade | Bomb | Catapult | Dash Panel | Grind Rail | Trick Zone
Objects
Air | Item Box (Air, Explosion, High Speed, Invincible Barrier, Magnetic Barrier, Rings, Speed Down, Question Item) | Ring
Accelerator | Access | Advantage-F | Advantage-P | Advantage-S | Air Broom | Air Tank | Auto-Slider | BANANA | Beginner | Berserker | Blue Star | Blue Star II | Cannonball | Channel5 | Chaos Emerald | Cover-F | Cover-P | Cover-S | Darkness | Destroyer | E-gearG | E-gearR | E-Rider | Faster | Fastest | Gambler | Grinder | Hang-On | Heavy Bike | High Booster | Hovercraft | Legend | Light Board | Magic Carpet | Night Sky | Omnipotence | Opa Opa | Pink Rose | Power Gear | Powerful Gear | Red Rock | Rengoku | Slide Booster | Smile | Speed Balancer | Super Hang-On | Temptation | The Crazy | Trap Gear | Turbo Star | Type-J | Type-S | Type-W | Yellow Tail

English voice actors

Jason Griffith (Sonic, Jet ) | Amy Palant (Tails) | Dan Green (Knuckles, Storm) | Bella Hudson (Wave, Babylon Computer) | Lisa Ortiz (Amy) | Mike Pollock (Dr. Eggman) | Kathleen Delaney (Rouge) | Rebecca Honig (Cream) | Maddie Blaustein (E-10000G, E-10000R, Babylon Guardian) | Liza Jacqueline (Omochao) | Kaoru Morota (AiAi) | Apollo Smile (Ulala)

Japanese voice actors

Jun'ichi Kanemaru (Sonic) | Ryō Hirohashi (Tails) | Nobutoshi Canna (Knuckles) | Daisuke Kishio (Jet) | Chie Nakamura (Wave, Babylon Computer) | Kenji Nomura (Storm, Babylon Guardian) | Taeko Kawata (Amy) | Etsuko Kozakura (Omochao) | Kaoru Morota (AiAi) | Apollo Smile (Ulala)
Music
Songs
Catch Me If You Can | Sonic Speed Riders
Albums
Speedbeats Grand Prix: Sonic Riders Original Soundtrack

Other

Air Tank | Babylon Garden | Babylon Rogues' ship | Babylonians | Bashōsen | Chaos Control | Chaos Emerald | Emerald Detector | Rank | EX World Grand Prix | Flight Type | Freeze | Key to Babylon Garden | Mission Mode | Power Type | Speed Type | Time Attack | Turbulence
---
Main article | Gallery | Staff | Glitches
Playable
characters
Sonic characters
Sonic | Tails | Knuckles | Amy | Big | Dr. Eggman | Shadow | Metal Sonic
SEGA characters
AiAi | Akira Yuki | Amigo | B.D. Joe | Billy Hatcher | Beat | Alex Kidd | Ulala | Jacky Bryant | Ryo Hazuki
Third party
Xbox Live Avatar | Mii
Tracks
Chao Cup
Whale Lagoon | Icicle Valley | Roulette Road | Sunshine Tour
Graffiti Cup
Shibuya Downtown | Outer Forest | Turbine Loop | Treetops
Egg Cup
Rampart Road | Dark Arsenal | Jump Parade | Pinball Highway
Horror Cup
Sewer Scrapes | Lost Palace | Sandy Drifts | Rokkaku Hill
Samba Cup
Rocky-Coaster | Highway Zero | Deadly Route | Ocean Ruin
Monkey Cup
Bingo Party | Lava Lair | Monkey Target | Thunder Deck
DLC
Egg Hangar
Moves/
Techniques
General
Drift | Hi-Speed Start | Trick
All-Star Moves
Super Sonic | Tails Tornado | Emerald Power | Piko Hammer | Giant Froggy | Maximum Overdrive | Missile Madness | Super Shadow
Objects
Item Box (All-Star Item, Bowling Bomb, Confusing Star, Energy Shield, Giant Rocket, High Speed Shoes, K.O. Glove, Manual Rocket, Mega Horn, Mine, Pocket Rainbow)
Vehicles
Speed Star | Tornado Racer | Land Breaker | Pink Cabriolet | Green Hopper | Egg Monster | Dark Rider | Metal Booster | Blazing Banana | Racing Rooster | Sun Buggy | Astro Glider | De La Custom GGs | Crazy Taxi | Hotrod of Horror | Naoyuki's Motorcycle | Red Lightning | ChuChu Rocket | Get-a-Way Wagon | Sukopako Motorcycle | Bolt Bucket | Ava-car 720 | Super Zoomer
Music
My Sweet Passion | Believe In Myself | Unknown from M.E. | Throw It All Away | Can You Feel the Sunshine? | A New Day | Back 2 Back | Super Sonic Racing | What U Need | Metal Scratchin' | E.G.G.M.A.N.
Other
Announcer | Boost Pad | Orca | Sonic Says | Totem Pole
---
Main article | Gallery | Staff | Glitches
Playable
characters
Sonic characters
Sonic | Tails | Knuckles | Amy | Dr. Eggman | Shadow | Metal Sonic
Sega characters
AGES | AiAi | Alex Kidd | Amigo | B.D. Joe | Beat | Gilius Thunderhead | Gum | Jacky Bryant | MeeMee | NiGHTS | Pudding | Reala | Ryo Hazuki | Ulala | Vyse
Third-party characters
Xbox Live Avatar | Mii | Danica Patrick
Tracks
Dragon Cup
Ocean View | Samba Studios | Carrier Zone | Dragon Canyon
Rogue Cup
Temple Trouble | Galactic Parade | Seasonal Shrines | Rogue's Landing
Emerald Cup
Dream Valley | Chilly Castle | Graffiti City | Sanctuary Falls
Arcade Cup
Graveyard Gig | Adder's Lair | Burning Depths | Race of Ages
Classic Cup
Sunshine Tour | Shibuya Downtown | Roulette Road | Egg Hangar
Bonus
OutRun Bay
Events
Battle Arena | Battle Race | Boost Challenge | Boost Race | Capture the Chao | Drift Challenge | Pursuit | Race | Ring Race | Sprint | Traffic Challenge | Versus
Vehicles
Ava-car 720 | Crazy Taxi | Danicar | Egg Monster | G.U.N. Auto Tread | Land Breaker | Metal Booster | Pink Cabriolet | Speed Star | Super Zoomer | Tails' vehicle
World Tour
Chapters
Sunshine Coast | Frozen Valley | Scorching Skies | Twilight Engine | Moonlight Park | Superstar Showdown
Misc.
Warp Gate | Gate
Moves/
Techniques
General
Drift | Start Line Boost | Stunt
All-Star Moves
Sonic's All-Star Move | Tails' All-Star Move | Knuckles' All-Star Move | Amy's All-Star Move | Eggman's All-Star Move | Metal Sonic's All-Star Move | Shadow's All-Star Move
Pickup items
Item Box (All-Star Item, Blowfish, Boost, Drone, Firework, Glove, Hot Rod, Ice Cannon, Super Glove, Swarm, Twister)
Other
Aero-Chaser | All-Star Move | Angels with Burning Hearts | Bonus Chance | Boost Pad | Custom game | Egg Squid | Freeze | License | Mod | Orca | SEGA ALL-STARS Premium Sound Collection | Slot machine | Sonic & All-Stars Racing Transformed Original Soundtrack | Sonic Universe #45 | Stickers | Transformation Gate