This article is about a subject in the real world.

Information in this article is about real-life people, companies, and objects, and does not relate to the in-universe Sonic series.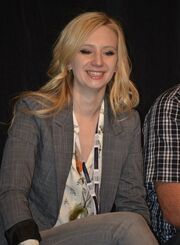 Agnes Garbowska is an artist at Archie Comics who has worked on a few issue covers on the Sonic Universe comic series. In addition to Archie, she has mostly worked on IDW Publishing where she contributed to various titles, such as the My Little Pony: Friendship Is Magic comic book.
Biography
Agnes was born in Poland and came to Canada when she was four years old. Unable to speak the native language and unable to attend school right away, she turned to television to learn the language from cartoon while busying herself with drawing. Television in particular inspired Agnes to draw, and she kept turning to it as she got older, eventually continued at art through high school and college. What she really wanted though was to tell stories somehow. When she then began attending comic conventions, Agnes decided to give the comic industry a shot and has since been there.[1]
Credits
Covers
References