Adventures of Sonic the Hedgehog Volume 1 is the first of three DVD box sets that cover the entire series of Adventures of Sonic the Hedgehog. This Box set is produced by DiC Entertainment and Shout! Factory and was released on 17 July 2007. It contains four discs with five/six episodes on each. In all, this volume covers the first 22 episodes of the show in original production order.
Official Description
Join Sonic the Hedgehog and Tails as they defend Mobius from the evil Dr. Ivo Robotnik and his notorious gang of robots, including Scratch, Grounder and Coconuts. With heart-pounding action and knee-slapping comedy, The Adventures of Sonic the Hedgehog will have you "up, over, and gone!"
Features the voice of Family Matters' Jaleel White as Sonic the Hedgehog.[1]
Episodes
Disc 1
Disc 2
Disc 3
Disc 4
Special Re-Release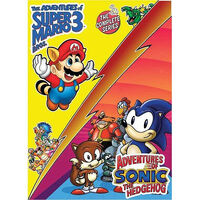 In promotion of Mario & Sonic at the Olympic Games in 2007, DiC and Shout! Factory released a combo pack which contained this Box set and the full series box set of Adventures of Super Mario Bros. 3. This Box Set was originally a Toy R Us exclusive product and is very rare to find. It was released on the date of 12/4/2007.[2]
Video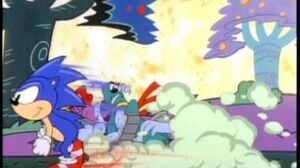 See also
References
Community content is available under
CC-BY-SA
unless otherwise noted.