m

(14 intermediate revisions by one other user not shown)
Line 2:
Line 2:
 

{{Infobox character

 

{{Infobox character

 

|title = Admiral Beaverton

 

|title = Admiral Beaverton

−

|image = [[File:Admiral Beaverton Profile.png|242px]]

+

|image = Admiral Beaverton Profile.png

 

|caption = Admiral Beaverton

 

|caption = Admiral Beaverton

 

|first = "[[My Fair Sticksy]]"

 

|first = "[[My Fair Sticksy]]"

 

|englishactor = [[Roger Craig Smith]]<ref>{{Cite web |url=https://twitter.com/BillFreiberger/status/881855200662700032 |title=Bill Freiberger on Twitter |work=Twitter |date=3 July 2017 |accessdate=3 July 2017 |quote='''Bill Freiberger''': [[Roger Craig Smith|@RogerCraigSmith]] is the voice of Admiral Beaverton. }}</ref>

 

|englishactor = [[Roger Craig Smith]]<ref>{{Cite web |url=https://twitter.com/BillFreiberger/status/881855200662700032 |title=Bill Freiberger on Twitter |work=Twitter |date=3 July 2017 |accessdate=3 July 2017 |quote='''Bill Freiberger''': [[Roger Craig Smith|@RogerCraigSmith]] is the voice of Admiral Beaverton. }}</ref>

 
+

|otheractor =

 
+

*[[Gherald De Fonseca]] {{C|Spanish - Latin America}}

 
+

*[[Michał Konarski]] {{C|Polish; season two}}

 
+

*[[Wojciech Żołądkowicz]] {{C|Polish; season one}}

 

|nickname = Admiral<ref name="SBEP86"/>

 

|nickname = Admiral<ref name="SBEP86"/>

 

|species = Beaver

 

|species = Beaver

Line 29:
Line 33:
 

}}

 

}}

 

{{Quote left|Heh heh... Give us a pound, dear chap.|Admiral Beaverton, "[[My Fair Sticksy]]"}}

 

{{Quote left|Heh heh... Give us a pound, dear chap.|Admiral Beaverton, "[[My Fair Sticksy]]"}}

−

'''Admiral Beaverton'''<ref name="SBC5"/> is a character that appears in the ''[[Sonic Boom (series)|Sonic Boom]]'' franchise. He is an anthropomorphic beaver and wealthy seafarer<ref name="SBC5">[[Archie Sonic Boom Issue 5|''Sonic Boom'' #5]], "Eggtoberfest!"</ref> who resides on [[Seaside Island]]. He is also the president of the [[Jackalope Lodge]] and a board member of the [[Archipelago Homeowners Association]].<ref name="SBEP5"/><ref name="SBEP46">{{Cite episode |title=[[No Robots Allowed]] |series=[[Sonic Boom (TV series)|Sonic Boom]] |season=1 |number=46 |first1=Sam |last1=Freiberger |first2=Phaea |last2=Crede |first3=Justin |last3=Shatraw |network=[[Cartoon Network]] |date=3 October 2015 }}</ref>

+

'''Admiral Beaverton'''<ref name="SBC5"/> is a character that appears in the ''[[Sonic Boom (series)|Sonic Boom]]'' franchise. He is an anthropomorphic beaver and wealthy seafarer<ref name="SBC5">[[Archie Sonic Boom Issue 5|''Sonic Boom'' #5]], "Eggtoberfest!"</ref> who resides on [[Seaside Island]]. He is also the president of the [[Jackalope Lodge]] and a board member of the [[Archipelago Homeowners Association]].<ref name="SBEP5"/><ref name="SBEP46">{{Cite episode |title=[[No Robots Allowed]] |series=[[Sonic Boom (TV series)|Sonic Boom]] |season=1 |number=46 |first1=Sam |last1=Freiberger |first2=Phaea |last2=Crede |first3=Justin |last3=Shatraw |network=[[Cartoon Network]] |date=3 October 2015 }}</ref>

 
 
 

==Appearance==

 

==Appearance==

Line 37:
Line 41:
 

===TV series===

 

===TV series===

 

====Past====

 

====Past====

−

In the past, Beaverton helped rig the election of [[Mayor Fink]], although not with the intention to stand by and do nothing.<ref name="SBEP63"/>

+

In the past, Beaverton helped rig the election of [[Mayor Fink]], although not with the intention to stand by and do nothing.<ref name="SBEP63"/>

 
 
 

====Season one====

 

====Season one====

Line 46:
Line 50:
 
 
 

[[File:AHA profile.png|thumb|200px|right|Beaverton and the [[Archipelago Homeowners Association]].]]

 

[[File:AHA profile.png|thumb|200px|right|Beaverton and the [[Archipelago Homeowners Association]].]]

−

Beaverton later celebrated Cluckins' initiation into the [[Archipelago Homeowners Association]] when the group learned from a [[Crab Bot]] that Eggman housed robots in [[Doctor Eggman's Lair|his lair]] which was a violation of regulations. Threatening Eggman with eviction, Beaverton and the association were invited to dinner at Eggman's, who wanted to prove he housed no robots. However, the group found his robots despite Eggman's efforts and were thus imprisoned by the doctor. After Team Sonic freed them though, Beaverton and his group let Eggman go after he convinced them his robots were art, which was permitted.<ref name="SBEP46"/> When Team Sonic put up ''[[A Rose Without Thorns]]'', Beaverton came to see the play. Though he applauded the play, a storm broke out after the finale, and Beaverton took [[Sonic the Hedgehog (Sonic Boom)|Sonic]]'s offer to take shelter in [[Amy's House]].<ref name="SBEP50">{{Cite episode |title=[[Cabin Fever]] |series=[[Sonic Boom (TV series)|Sonic Boom]] |season=1 |number=50 |first=Reid |last=Harrison |network=[[Cartoon Network]] |date=31 October 2015 }}</ref>

+

Beaverton later celebrated Cluckins' initiation into the [[Archipelago Homeowners Association]] when the group learned from a [[Crab Bot]] that Eggman housed robots in [[Doctor Eggman's Lair|his lair]] which was a violation of regulations. Threatening Eggman with eviction, Beaverton and the association were invited to dinner at Eggman's, who wanted to prove he housed no robots. However, the group found his robots despite Eggman's efforts and were thus imprisoned by the doctor. After Team Sonic freed them though, Beaverton and his group let Eggman go after he convinced them his robots were art, which was permitted.<ref name="SBEP46"/> When Team Sonic put up ''[[A Rose Without Thorns]]'', Beaverton came to see the play. Though he applauded the play, a storm broke out after the finale, and Beaverton took [[Sonic the Hedgehog (Sonic Boom)|Sonic]]'s offer to take shelter in [[Amy's House]].<ref name="SBEP50">{{Cite episode |title=[[Cabin Fever]] |series=[[Sonic Boom (TV series)|Sonic Boom]] |season=1 |number=50 |first=Reid |last=Harrison |network=[[Cartoon Network]] |date=31 October 2015 }}</ref>

 
 
 

====Season two====

 

====Season two====

Line 55:
Line 59:
 
 
 

[[File:EggmanAndBeaverton.png|thumb|200px|Beaverton at "Eggman Towers".]]

 

[[File:EggmanAndBeaverton.png|thumb|200px|Beaverton at "Eggman Towers".]]

−

Having wandered into [[Doctor Eggman's Lair|Eggman's lair]] for a news paper, Beaverton discovered that Eggman had turned the place into a hotel. He would hang around the hotel afterward, all while observing Eggman's struggle to run it.<ref name="SBEP86">{{Cite episode |title=[[Inn Sanity]] |series=[[Sonic Boom (TV series)|Sonic Boom]] |season=2 |number=86 |first=Sam |last=Freiberger |network=[[Boomerang (TV channel)|Boomerang]] |date=1 July 2017 }}</ref> When [[T.W. Barker]] later acquired a "[[Doctor Eggman's Lair|haunted lair]]", Beaverton went to visit it. However, he forwent the lair when he heard Eggman, who got tossed out of the lair, rant about it being a hoax.<ref name="SBEP88">{{Cite episode |title=[[The Haunted Lair]] |series=[[Sonic Boom (TV series)|Sonic Boom]] |season=2 |number=88 |first=Sandrine |last=Joly |network=[[Boomerang (TV channel)|Boomerang]] |date=15 July 2017 }}</ref> When [[Race Day]] arrived several months later, Beaverton would watch said event at its racing site. During the competition though, he and [[One-Percenters|his company]] had an accident when a racecar hit their private tribune.<ref name="SBEP94">{{Cite episode |title=[[If You Build It They Will Race]] |series=[[Sonic Boom (TV series)|Sonic Boom]] |season=2 |number=94 |first=Jake |last=James |network=[[Boomerang (TV channel)|Boomerang]] |date=26 August 2017 }}</ref>

+

Having wandered into [[Doctor Eggman's Lair|Eggman's lair]] for a news paper, Beaverton discovered that Eggman had turned the place into a hotel. He would hang around the hotel afterward, all while observing Eggman's struggle to run it.<ref name="SBEP86">{{Cite episode |title=[[Inn Sanity]] |series=[[Sonic Boom (TV series)|Sonic Boom]] |season=2 |number=86 |first=Sam |last=Freiberger |network=[[Boomerang (TV channel)|Boomerang]] |date=1 July 2017 }}</ref> When [[T.W. Barker]] later acquired a "[[Doctor Eggman's Lair|haunted lair]]", Beaverton went to visit it. However, he forwent the lair when he heard Eggman, who got tossed out of the lair, rant about it being a hoax.<ref name="SBEP88">{{Cite episode |title=[[The Haunted Lair]] |series=[[Sonic Boom (TV series)|Sonic Boom]] |season=2 |number=88 |first=Sandrine |last=Joly |network=[[Boomerang (TV channel)|Boomerang]] |date=15 July 2017 }}</ref> When [[Race Day]] arrived several months later, Beaverton would watch said event at its site. During the competition though, he and [[One-Percenters|his company]] had an accident when a hit their private tribune.<ref name="SBEP94">{{Cite episode |title=[[If You Build It They Will Race]] |series=[[Sonic Boom (TV series)|Sonic Boom]] |season=2 |number=94 |first=Jake |last=James |network=[[Boomerang (TV channel)|Boomerang]] |date=26 August 2017 }}</ref>

 
 
 

===Archie Comics===

 

===Archie Comics===

Line 62:
Line 66:
 
 
 

==Personality==

 

==Personality==

−

Beaverton is polite and formal, but a bit absentminded and scatterbrained (bordering on extreme forgetfulness).<ref name="SBEP86"/> Although described as a "windbag" and preferring life of the upper class, he is generally jovial and quite sociable despite being out touch with the common man.<ref name="SBEP5" /><ref name="SBEP41"/> He clearly admires honesty and takes a liking to those with the audacity to voice their opinions. While keeping a dignified composure, Beaverton is not afraid to have fun at the expense of himself, like admitting and laughing at how silly his lodge hat looks even as he defended it. He is also surprisingly selfless and devoted to his friends, like when he risked his own well-being to save Knuckles from injury.<ref name="SBEP5" /> His vocabulary is formal, and he speaks with a cultivated and sophisticated dialect. However, he has trouble expressing complex emotions.<ref name="SBEP86"/>

+

Beaverton is polite and formal, but a bit absentminded and scatterbrained (bordering on extreme forgetfulness).<ref name="SBEP86"/> Although described as a "windbag" and preferring life of the upper class, he is generally jovial and quite sociable despite being out touch with the common man.<ref name="SBEP5" /><ref name="SBEP41"/> He clearly admires honesty and takes a liking to those with the audacity to voice their opinions. While keeping a dignified composure, Beaverton is not afraid to have fun at the expense of himself, like admitting and laughing at how silly his lodge hat looks even as he defended it. He is also surprisingly selfless and devoted to his friends, like when he risked his own well-being to save Knuckles from injury.<ref name="SBEP5" /> His vocabulary is formal, and he speaks with a cultivated and sophisticated dialect. However, he has trouble expressing complex emotions.<ref name="SBEP86"/>

 
 
−

As a member of the [[Archipelago Homeowners Association]], Beaverton is described as a "ruler lover", meaning he strictly follows and upholds regulations, and knows the rules by heart.<ref name="SBEP46"/> While his trust may be easily earned, Beaverton is not easily bought as he recognized Eggman's attempt to buy his trust with the [[Eggtoberfest]].<ref name="SBC5" />

+

As a member of the [[Archipelago Homeowners Association]], Beaverton is described as a "ruler lover", meaning he strictly follows and upholds regulations, and knows the rules by heart.<ref name="SBEP46"/> While his trust may be easily earned, Beaverton is not easily bought as he recognized Eggman's attempt to buy his trust with the [[Eggtoberfest]].<ref name="SBC5" />

 
 
 

==Relationships==

 

==Relationships==

Line 71:
Line 75:
 

**[[Lady Walrus]]

 

**[[Lady Walrus]]

 

**[[Professor Cluckins]]

 

**[[Professor Cluckins]]

 
+

*[[Mr. Slate]]<ref name="SBEP83"/>

 

*[[Knuckles the Echidna (Sonic Boom)|Knuckles the Echidna]]

 

*[[Knuckles the Echidna (Sonic Boom)|Knuckles the Echidna]]

 
+
 
+

===Enemies===

 
+

*[[Doctor Eggman (Sonic Boom)|Dr. Eggman]]

 
 
 

==Quotes==

 

==Quotes==
---
Revision as of 19:52, 13 February 2019
This character exists primarily within the Sonic Boom continuity.

Information in this article may not be canonical to the storyline of the games or any other Sonic continuity.
Admiral Beaverton[4] is a character that appears in the Sonic Boom franchise. He is an anthropomorphic beaver and wealthy seafarer[4] who resides on Seaside Island. He is also the president of the Jackalope Lodge and a board member of the Archipelago Homeowners Association.[3][5]
Appearance
Admiral Beaverton is an anthropomorphic beaver about a head shorter than Knuckles. He has mostly brown fur with a round torso and relatively short legs and thin arms. He also has beige fur on his stomach and wide muzzle, a light brown beaver tail, small round ears, a medium-sized black snout, purple eyes, and a single large front tooth. His attire consist of a white and black admiral's uniform, gloves and cap. He also wears several golden medals on his chest, a white undershirt with a fuchsia cummerbund, a black bowtie and black shoes with white gaiters.
History
TV series
Past
In the past, Beaverton helped rig the election of Mayor Fink, although not with the intention to stand by and do nothing.[6]
Season one
When the Awardy Awards were held, Beaverton was invited to the event, where he and Professor Cluckins became friends with Knuckles over the echidna's own honesty. At the height of the evening, Beaverton fled as the guests got attacked by Dr. Eggman's robots when Eggman did not win the award, though he and Cluckins came back to save Knuckles from a nasty hit. After Team Sonic took care of Eggman, Beaverton said goodbye to Knuckles.[3] Despite his status, he would later visit the mediocre Meh Burger establishment.[7]
Having prepared to go on a fishing trip with the Jackalope Lodge, Beaverton came to pick up Mayor Fink, only to find him buried in work. Fortunately, Mayor Fink got Knuckles to take over for him and the two lodge members departed.[8] When New Year's Eve arrived, Beaverton attended the party in the Village Center where he got to hang out with his friends just before Eggman launched his Slow Motion Machine.[9] Later on, Beaverton came to the Bro-Down Showdown auditions with Cluckins, but was rejected by Dixon for being "too out of touch with the common man."[10]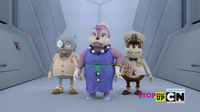 Beaverton later celebrated Cluckins' initiation into the Archipelago Homeowners Association when the group learned from a Crab Bot that Eggman housed robots in his lair which was a violation of regulations. Threatening Eggman with eviction, Beaverton and the association were invited to dinner at Eggman's, who wanted to prove he housed no robots. However, the group found his robots despite Eggman's efforts and were thus imprisoned by the doctor. After Team Sonic freed them though, Beaverton and his group let Eggman go after he convinced them his robots were art, which was permitted.[5] When Team Sonic put up A Rose Without Thorns, Beaverton came to see the play. Though he applauded the play, a storm broke out after the finale, and Beaverton took Sonic's offer to take shelter in Amy's House.[11]
Season two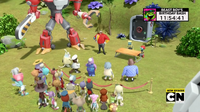 Hearing from Dr. Eggman in the Village Center that an asteroid would impact the earth, Beaverton showed up to buy a spot in Eggman's bunker to ride out the impending apocalypse in. Although Beaverton got to be one of Eggman's choices for a bunkmate, Team Sonic would stop the asteroid.[12] While subtly hypnotized by Dreamcaster's TV broadcasts, Beaverton angrily faced Sticks when she disturbed him with her unlikely story about Dreamcaster on TV. Becoming Dr. Eggman's zombie slave soon after, Beaverton attacked Sticks with the hypnotized villagers when she came to the rescue, but was freed when Team Sonic foiled Eggman's plan.[13]
Beaverton later met up with Mayor Fink and Prof. Cluckins to discuss the rising crime in the Unnamed Village. Their solution, however, gave rise to a new villain whom Beaverton fled from when he made his move.[6] Back in the Village Center, Beaverton would talk with Lady Walrus until the Froglodytes arrived to plunder and ravage the Village.[14] Beaverton soon after went to the movies, but left when Eggman detonated a bomb there.[15] A while later, Beaverton presented Tails with a medal for seemingly proving Muckfoot's existence before joining in on the co-occurring Muckfoot Mania.[16] He soon after had to run for his life again when Eggman's malware-infected robots went on an unparalleled blitzkrieg in the Village.[17] Following that, Beaverton and the One-Percenters would have a bowling match with the Lightning Bowler Society. Upon losing, he went for a money swim with his team to deal with the agony of defeat.[18]
Having wandered into Eggman's lair for a news paper, Beaverton discovered that Eggman had turned the place into a hotel. He would hang around the hotel afterward, all while observing Eggman's struggle to run it.[2] When T.W. Barker later acquired a "haunted lair", Beaverton went to visit it. However, he forwent the lair when he heard Eggman, who got tossed out of the lair, rant about it being a hoax.[19] When Race Day then arrived several months later, Beaverton would watch said event's auto race competition at its site. During the competition though, he and his company had an accident when a race car hit their private tribune.[20]
Archie Comics
In the Village Center, Beaverton was offered a bridge by Dr. Eggman, but he ignored him. Shortly after, he attended Eggman's Eggtoberfest, but when he learned that none of the rides worked, he forgot any trust he had gained in Eggman and joined an angry mob who made Eggman fix the problem. Still, Beaverton knew during the carnival that the Eggtoberfest was meant to buy his trust, prompting to Eggman unleash his army on the villagers which Team Sonic stopped.[4]
Personality
Beaverton is polite and formal, but a bit absentminded and scatterbrained (bordering on extreme forgetfulness).[2] Although described as a "windbag" and preferring life of the upper class, he is generally jovial and quite sociable despite being out touch with the common man.[3][10] He clearly admires honesty and takes a liking to those with the audacity to voice their opinions. While keeping a dignified composure, Beaverton is not afraid to have fun at the expense of himself, like admitting and laughing at how silly his lodge hat looks even as he defended it. He is also surprisingly selfless and devoted to his friends, like when he risked his own well-being to save Knuckles from injury.[3] His vocabulary is formal, and he speaks with a cultivated and sophisticated dialect. However, he has trouble expressing complex emotions.[2]
As a member of the Archipelago Homeowners Association, Beaverton is described as a "ruler lover", meaning he strictly follows and upholds regulations, and knows the rules by heart.[5] While his trust may be easily earned, Beaverton is not easily bought as he recognized Eggman's attempt to buy his trust with the Eggtoberfest.[4]
Relationships
Friends/allies
Enemies
Quotes
"That, sir, is the official hat of the Jackalope Lodge, of which I am president. [...] But upon closer inspection, it does look asinine!"
—Beaverton commenting on Knuckles' validation of his lodge hat, "My Fair Sticksy"
"Heh heh... Give us a pound, dear chap."
—Beaverton asking Knuckles for a fist bump, "My Fair Sticksy"
Trivia
References
↑ Bill Freiberger on Twitter. Twitter (3 July 2017). Retrieved on 3 July 2017. "Bill Freiberger: @RogerCraigSmith is the voice of Admiral Beaverton."
↑ 2.0 2.1 2.2 2.3 2.4 Freiberger, Sam (1 July 2017). "Inn Sanity". Sonic Boom. Season 2. Episode 86. Boomerang.
↑ 3.0 3.1 3.2 3.3 3.4 Lieblich, Doug (22 November 2014). "My Fair Sticksy". Sonic Boom. Season 1. Episode 5. Cartoon Network.
↑ 4.0 4.1 4.2 4.3 Sonic Boom #5, "Eggtoberfest!"
↑ 5.0 5.1 5.2 Freiberger, Sam; Crede, Phaea; Shatraw, Justin (3 October 2015). "No Robots Allowed". Sonic Boom. Season 1. Episode 46. Cartoon Network.
↑ 6.0 6.1 Grenier, Benoit (21 January 2017). "The Evil Dr. Orbot". Sonic Boom. Season 2. Episode 63. Boomerang.
↑ Harrison, Reid (14 March 2015). "Don't Judge Me". Sonic Boom. Season 1. Episode 17. Cartoon Network.
↑ Harrison, Reid (20 July 2015). "Mayor Knuckles". Sonic Boom. Season 1. Episode 32. Cartoon Network.
↑ Harrison, Reid (8 August 2015). "New Year's Retribution". Sonic Boom. Season 1. Episode 38. Cartoon Network.
↑ 10.0 10.1 Moarbes, Charles-Henri (29 August 2015). "Bro-Down Showdown". Sonic Boom. Season 1. Episode 41. Cartoon Network.
↑ Harrison, Reid (31 October 2015). "Cabin Fever". Sonic Boom. Season 1. Episode 50. Cartoon Network.
↑ Sellner, Joelle (19 November 2016). "Spacemageddonocalypse". Sonic Boom. Season 2. Episode 54. Boomerang.
↑ Shriver, Pauk (31 December 2016). "In the Midnight Hour". Sonic Boom. Season 2. Episode 60. Boomerang.
↑ Flynn, Ian (18 February 2017). "Og Man Out". Sonic Boom. Season 2. Episode 67. Boomerang.
↑ Sellner, Joelle (1 April 2017). "Mombot". Sonic Boom. Season 2. Episode 73. Boomerang.
↑ Burke, Kevin; Wyatt, Chris (8 April 2017). "Muckfoot". Sonic Boom. Season 2. Episode 74. Boomerang.
↑ Denton, Alan; Hahn, Greg; Freiberger, Bill (13 May 2017). "Robots From The Sky Part 2". Sonic Boom. Season 2. Episode 79. Boomerang.
↑ 18.0 18.1 Saisselin, Peter (10 June 2017). "Lightning Bowler Society". Sonic Boom. Season 2. Episode 83. Boomerang.
↑ Joly, Sandrine (15 July 2017). "The Haunted Lair". Sonic Boom. Season 2. Episode 88. Boomerang.
↑ James, Jake (26 August 2017). "If You Build It They Will Race". Sonic Boom. Season 2. Episode 94. Boomerang.