You're runnin' a good race!


— AGES, Sonic & All-Stars Racing Transformed
AGES is a character that appears in Sonic & All-Stars Racing Transformed, representing both the game and Sega as a whole. It speaks in various soundbites from Daytona USA, Sega consoles and After Burner Climax. It is modeled after several different Sega items (both in-game and real life), most noticeably as two different Dreamcast consoles.
Description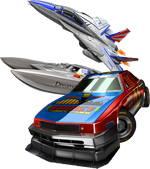 AGES is a Dreamcast VMU (Visual Memory Unit) which can literally transform into trademarks of Sega's past. It starts most races off as a Hornet Stock Car from Daytona USA, then when it hits water, it transforms into a Dreamcast controller. When it flies off into the air, it becomes an F-14 Tomcat from After Burner. Its home track is Race of AGES.
Trivia
"AGES" is "SEGA" spelled backwards.

Its name is a reference to the Sega Ages series and one of Sega's mottos: To Be This Good takes AGES/To Be This Good takes SEGA.

When transforming, it can either emit the trademark "SEGA!" soundbite, the end of the Japanese Sega Saturn boot-up jingle, or the SEGA Master System boot-up sound.
In its plane and car forms, AGES communicates through radio transmissions (After Burner and Daytona USA, respectively). In its boat form, AGES communicates through sounds from the Dreamcast's start up menu, the VMU's infamous no battery beep, and the Dreamcast's infamously loud disk reader noises.
The real-life VMU had the Dreamcast's signature swirl next to the word "Dreamcast"; this is absent in Racing Transformed for unknown reasons.
The Hornet form is based on a Chevrolet Lumina Nascar.

The car also appears as an unlockable, armoured fighter in the fighting game Fighters Megamix under the name "Hornet".
The designs of the Television vans in Studiopolis Zone are also a reference to the Hornet.
Gallery
Screenshots
---
Main article | Staff | Glitches | Gallery
Playable
characters
Sonic characters
Sonic | Tails | Knuckles | Amy | Dr. Eggman | Shadow | Metal Sonic
Sega characters
AGES | AiAi | Alex Kidd | Amigo | B.D. Joe | Beat | Gilius Thunderhead | Gum | Jacky Bryant | Joe Musashi | MeeMee | NiGHTS | Pudding | Reala | Ryo Hazuki | Ulala | Vyse
Third-party characters
Xbox Live Avatar | Mii | Danica Patrick
Tracks
Dragon Cup
Ocean View | Samba Studios | Carrier Zone | Dragon Canyon
Rogue Cup
Temple Trouble | Galactic Parade | Seasonal Shrines | Rogue's Landing
Emerald Cup
Dream Valley | Chilly Castle | Graffiti City | Sanctuary Falls
Arcade Cup
Graveyard Gig | Adder's Lair | Burning Depths | Race of Ages
Classic Cup
Sunshine Tour | Shibuya Downtown | Roulette Road | Egg Hangar
Bonus
OutRun Bay
World Tour
Sunshine Coast | Frozen Valley | Scorching Skies | Twilight Engine | Moonlight Park | Superstar Showdown
Events
Battle Arena | Battle Race | Boost Challenge | Boost Race | Capture the Chao | Drift Challenge | Pursuit | Race | Ring Race | Sprint | Traffic Challenge | Versus
Vehicles
Ava-car 720 | Crazy Taxi | Danicar | Egg Monster | G.U.N. Auto Tread | Gum's vehicle | Land Breaker | Metal Booster | Pink Cabriolet | Spacebird 42 | Speed Star | Super Zoomer | Tails' vehicle
Moves/
Techniques
General
Drift | Start Line Boost | Stunt
All-Star Moves
Amy's All-Star Move | Gum's All-Star Move | Eggman's All-Star Move | Knuckles' All-Star Move | Metal Sonic's All-Star Move | Shadow's All-Star Move | Sonic's All-Star Move | Tails' All-Star Move
Gimmicks and obstacles
Aero-Chaser | Boost Pad | Egg Squid | Slot machine | Transformation Gate
Items
Ammo | Gate | Item Box (All-Star Item, Blowfish, Boost, Drone, Firework, Glove, Hot Rod, Ice Cannon, Super Glove, Swarm, Twister) | License | Mod | Sticker | Warp Gate
Music
Songs
We Are Burning Rangers
Albums
SEGA ALL-STARS Premium Sound Collection | Sonic & All-Stars Racing Transformed Original Soundtrack
Other
Bonus Chance | Custom game | Freeze | Orca | Sonic Universe #45
Community content is available under
CC-BY-SA
unless otherwise noted.