OH BOY Are we not yet sick of these?
Hello everyone. My name is SplashTheHedgehog, as you can tell. I haven't been here in awhile aside from a few editing and some revists to the chat. What does this have to do with a sit redesign? Almosy everything, I feel like the number one thing that has bothered me is the use of background and how everything is based around it. I have asked people around to see if they can do anything about, and while some minor changes were made to the chat colors I feel like the whole color idea has been poorly done in general, and other agree with what I'm about to say... The colors are far too intense and both shades of blue create a contrast that actually starts to bother my eyes, what I am saying here is that there is not enough contrast and the hues are too similar, along with the blue itself being too much compared to the white, where most of our text is. White isn't really a problem but I feel as if Blue interfers with the white making somewhat hard to focus on the actual articles. Now I probably have no right to actually say this is all wrong as this is how I interpret the site, I am no profosessional in making websites other than a semester class about 1-2 years ago in high school. However I am an artist, who's art actually specializes in color, me being artist doesn't say I know more or think i can do better, but I think I could help in compremizing a color scheme that could help this site get better at it's current design. I have created 3 mock ups, of course these are mock-ups and all so poorly crafted as I lack tools such as photoshop and I just simply put these in Easy Paint Tool Sai,  a drawing program not really an editing software. These are mostly just expanding off the idea of out current design and background, so I tried to kept with whatever out theme was, (this may also be a problem, as although we are the Sonic News Network, I feel like a lot of stuff mostly the gradients are too much like a news broadcast than an Encylopedia, I think the News thing could actually work in out twitter sections and such however. I also feel like we have an idea of a "dark theme" going on so I kept than in mind in one of my redesigns.
Thank you for your time. :) ~ SplashTheHedgehog
Edit: appearntly my mock ups aren't working let me try and upload them onto the actual site.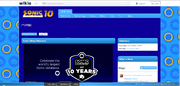 (edited by administrators)